Develop Solutions that Educate People in Health Care
Work with faculty who hold expertise in cybersecurity, intelligent medical diagnosis systems, healthcare systems analysis and design–among others. Join classmates from across the country and world who work in healthcare and hold positions like emergency physicians and nurse practitioners. This distance-learning, research-based MS maintains the high standards of Michigan Tech graduate education.
Play My Michigan Tech: Ryan Higbie video
Continuing education for career advancement? Ryan Higbie knew he could count on Michigan Tech to deliver–even online.
Customize Your Online Education
Choose a health care informatics focused area of study to get the most out of your accredited MS degree. Areas include:
Electronic Health Records
Health Information Management
Health Information Systems
Imaging Informatics
Medical Decision Support Systems
Medical Image Processing
Medical Sciences and Management
Mobile Applications in Health
Population Health
Healthcare Cybersecurity
Telemedicine and e-Health
Value and Prestige

"The course requirements for students on-campus and online are identical within the Health Informatics graduate program. They are exactly the same in terms of value and prestige."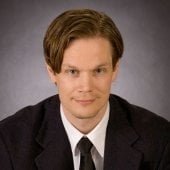 Advance Your Health Informatics Career
Enhance your medical informatics career by opening new job opportunities with an advanced degree. Commit to growing your knowledge areas and to becoming an expert. Employers recognize advanced training—a master's degree may qualify you for leadership opportunities, project management responsibilities, or the chance to work on more complicated or sophisticated projects. Stand out by graduating from the #2 public university where grads make six figures (Money Magazine).
---