Earn Your Graduate Certificate in Security and Privacy in Healthcare from the Best University in the Midwest for an Online Degree in Health Informatics.
The healthcare industry relies on technology and its connection to the internet. Disrupted systems, intentionally or accidentally, can jeopardize patient safety, privacy, and health outcomes, leading to rising healthcare costs. Protecting patient data, stored or in transit, is critical. Therefore, healthcare security professionals must have crucial knowledge of medical compliance, interoperability, and security and privacy concepts. In short, these professionals are at the vanguard of data privacy and internet safety to protect and maintain patients' sensitive health information.
Earning an online graduate security and privacy in healthcare certificate from Michigan Technological University will provide you with the experience and expertise to move into leadership positions in healthcare and related fields. Our intensive online healthcare privacy certificate program helps you build a solid foundation in computer science, risk management, and cybersecurity. When you graduate, you'll be ready to help safeguard healthcare information and data privacy.
You still may be wondering, "What is data privacy in healthcare and why is it important?" Nearly any provider of health-related services (hospitals, clinics, private practices, security firms, corporations, governments) must comply with regulations such as the Health Insurance Portability and Accountability Act (HIPAA) to ensure the security of patients' health information. Healthcare organizations are also increasingly being targeted for cyber attacks. As a result, securing sensitive data is of growing importance.
Healthcare security and privacy professionals protect health care information through these important tasks:
identifying applicable regulations, compliance frameworks, and privacy policies to protect information security
understanding the disparate nature of sensitive data and storage and handling implications
acquiring, preserving, investigating, and recovering data and digital devices
developing and implementing safeguards to protect sensitive information
Prepare for a Future Graduate Degree with a Certificate in Healthcare Compliance.
Earning your online graduate healthcare privacy certificate from Michigan Tech is a significant step toward earning a graduate degree, either sometime soon or later down the road. Every course you take as you earn your healthcare certificate can count toward credit for our health informatics master's program—saving you both time and money.
Why Get an Online Certificate in Healthcare Compliance from Michigan Tech?
What is data privacy in healthcare at Michigan Tech? It's about solving some of the most important issues in healthcare and internet safety today. It's about connecting patients and providers in ways that protect everyone — and finding a career helping others while doing what you love.
Explore the reasons that our program is ranked among the top healthcare certificates in the region.
Active community. When you earn your online security and privacy in healthcare certificate at Michigan Tech, you'll join an ever-growing, global network of students and alumni who often form lasting personal and professional relationships with each other.
Career preparedness. We are proud of our nearly 100 percent job placement rate for graduates of our healthcare certificate program. Earning a certificate in healthcare compliance from Michigan Tech gives you the best chances of finding your ideal career in the healthcare field.
Industry systems readiness. Earning your certificate in healthcare compliance online doesn't mean missing out on the experience of in-person classes. You'll use the same advanced virtual machine clusters as on-campus healthcare certificate students, mastering the tools and software you'll use every day in your career.
Connect to other Security and Privacy Professionals.
All students in this program receive free membership in HIMSS (Healthcare Information Management Systems Society), a member-based, global society that connects professionals who are aligned in serving and improving the global health community. Read more about HIMSS and the advantages of membership.
Take Flexible Online Security and Privacy in Healthcare Courses.
Being a working professional with a hectic schedule shouldn't keep you from earning one of the top certificates in healthcare compliance in the state. With flexible course delivery, you can study healthcare privacy on your own time in the comfort of your home or office. You'll also get plenty of chances to meet and collaborate with your peers, as well as have one-on-one meetings with faculty to gain industry knowledge and discuss assignments.
Each student will take three healthcare certificate classes over two semesters, selecting from the following:
Machine Learning in Security
Information Governance and Risk Management
Digital Forensics
Security Penetration Testing and Audit
What Can You Do With a Certificate in Security and Privacy in Healthcare from Michigan Tech?
Healthcare security professionals work in a wide range of settings, including hospitals, clinics, insurance agencies, private practices, security firms, government agencies, and even tech startups. Basically, wherever sensitive health information is shared either virtually or on paper, professionals with expertise in healthcare compliance are needed.
The mean salary for information security analysts with a bachelor's degree is $102,600, with predicted employment growth of 33 percent through 2030, according to the U.S. Bureau of Labor Statistics. Earning your graduate healthcare privacy certificate opens the door for even higher salaries and a much better job outlook.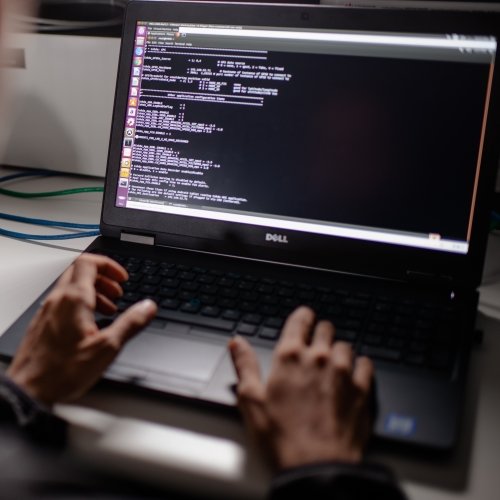 Popular Careers:
Healthcare solutions architect
Cybersecurity analyst
Chief information security and privacy officer
IT security architect
Information security analyst
Artificial intelligence engineer
Cybersecurity engineer
Learn About Financial Aid Options
Get Started on Your Online Certificate.
Take the next step on your educational journey at Michigan Tech. We are here to answer your questions and to help you succeed in your online program.