The PhD in Environmental Engineering is an interdisciplinary degree designed for the pursuit of advanced environmental engineering studies at Michigan Tech. As identified by the American Academy of Environmental Engineers, the professional discipline of environmental engineering is defined as "the application of engineering principles to improve and maintain the environment for the protection of human health, for the protection of nature's beneficial ecosystems, and for the environment-related enhancement of the quality of human life."
What you'll work on
Graduate students in all programs develop a deeper understanding of how human systems impact the natural environment and how to engineer systems to protect human health and ecosystems. Sustainability is integrated throughout the curriculum, and faculty and students regularly work on interdisciplinary research projects that interface with the Sustainable Futures Institute; the Earth, Planetary and Space Sciences Institute; the Center for Water and Society; the D80 Center; and faculty in the areas of biological sciences, chemistry, forestry, geological engineering and sciences, chemical and mechanical engineering, and environmental policy.
Sample Areas of Interest
Air Quality
Subsurface Remediation
Surface Water Quality
Who you'll work with
Our expert faculty have made our graduate program one of the best in the nation. Because this is an interdisciplinary program, you may collaborate with faculty in biological sciences, chemistry, forestry, math, physics, material science, geological engineering and sciences, chemical and mechanical engineering, and environmental policy to help get the entire picture.
Faculty Spotlight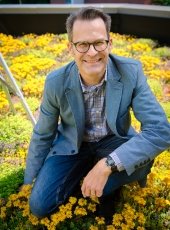 Eric Seagren
Professor, Civil and
Environmental Engineering
"Inspired by the challenge of harnessing naturally-occurring microbial processes to solve environmental problems."
Seagren applies environmental microbiology and engineering tools to investigate and solve challenges including biological wastewater treatment, bioremediation of contaminated subsurface environments, treatment of urban storm water runoff, and the improvement of the engineering properties of soils.
Where you'll work
Graduate students have access to more than 43,000 square feet of research and teaching labs with state-of-the-art equipment for drinking water and wastewater treatment, organic and inorganic contaminant characterization, air- and water-quality monitoring, and sediment analysis. Lab spaces can accommodate a variety of research from small-scale batch studies to large-scale simulations. The department also maintains its own research vessel, the R/V Agassiz, which allows researchers to take advantage of the largest freshwater laboratory in the world: Lake Superior.
PhD Requirements
To complete a doctoral degree, students must complete the following milestones:
Complete all course work and research credits (see credit requirements below)
Pass Qualifying Examination
Pass Research Proposal Examination
Prepare and Submit Approved Dissertation
Pass Final Oral Defense
The minimum credit requirements are as follows:
| | |
| --- | --- |
| Total Credit Requirements | |
| MS–PhD (minimum) | 30 credits |
| BS–PhD (minimum) | 60 credits |
Individual programs may have higher standards and students are expected to know their program's requirements. See the Doctor of Philosophy Requirements website for more information about PhD milestones and related timelines.
---