Leveraging Michigan Technological University's strengths in engineering, science, and business, the Master's of Engineering Management focuses on managerial knowledge, business literacy, and other skills for successful operations in the engineering-technology industry - ensuring graduates are business savvy. Are you ready?
Accelerated Master's Program is available for current Michigan Tech students.
Program Overview
The master's of engineering management degree program teaches graduate students how to evaluate and manage innovation and technology in harmony with current business practices. Graduates of this 30-credit, coursework degree program will be poised to manage people, lead scientific or engineering operations, and pursue entrepreneurial endeavors in high-technology industries.
Accredited by the Association to Advance Collegiate Schools of Business International, we meet a strict set of standards designed to ensure quality in education and research. Fewer than 5 percent of business schools worldwide hold this accreditation.
Delivery Options

Accelerated: MEM
On-Campus: MEM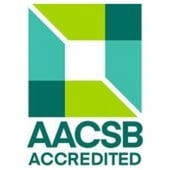 ---
Engineering Management Program Details
Choose a specific degree option or delivery type to learn more about the engineering management program at Michigan Tech. For international students, Engineering Management is a designated STEM program.
On-Campus Programs
MEM, Engineering Management: Coursework Option
This option requires a minimum of 30 credits be earned through coursework. A limited number of research credits may be used with the approval of the advisor, department, and Graduate School. See degree requirements for more information.
A graduate program may require an oral or written examination before conferring the degree and may require more than the minimum credits listed here:
Distribution of Coursework Credit

| Distribution | Credits |
| --- | --- |
| 5000-6000 series (minimum) | 18 Credits |
| 3000-4000 (maximum) | 12 Credits |
Accelerated MEM, Engineering Management
Bachelor's + 1 Year = Master's Degree
Our accelerated master's degree program is a faster, easier way for Michigan Tech students to earn a master's degree. Up to approved six credits from your bachelor's degree can be applied towards your accelerated master's degree. Consult your graduate program director for your individualized plan. If you're thinking about pursuing a master's following your bachelor's this option may be the right choice for you.
Additional Program Information
Want to learn more about engineering management—including career outcomes and course options—at Michigan Tech? Visit our College of Business for more information:
Sample Areas of Interest
Select areas of interest to help customize your engineering management MEM. Sample areas include:
Operations Management
Managing Technology
Computer Security