For current Michigan Tech students, this program will also be available as an accelerated Master's degree.
Leveraging Michigan Technological University's strengths in engineering, science, and business, the Master of Engineering Management focuses on managerial knowledge, business literacy, and other skills for successful operations in the engineering-technology industry - ensuring graduates are business savvy.
What you'll work on
This degree teaches graduate students how to evaluate and manage innovation and technology in harmony with current business practices. Graduates of this 30-credit, coursework degree program will be poised to manage people, lead scientific or engineering operations, and pursue entrepreneurial endeavors in high-technology industries.
Accredited by the Association to Advance Collegiate Schools of Business International, we meet a strict set of standards designed to ensure quality in education and research. Fewer than 5 percent of business schools worldwide hold this accreditation.
Who you'll work with
Collaborate with classmates in the Tech MBA® program on projects in some business core graduate classes. Faculty have strong ties with industry and help students make connections for networking, internships, co-ops, and employment.
Faculty Spotlight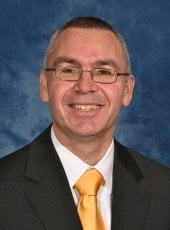 Ulrich Schmelzle
Assistant Professor of Supply Chain and Operations Management
"Future engineering managers - gear up to master tomorrow's challenges."
Integrate technological knowledge with business competence to solve complex problems. Future career opportunities include a broad range of managerial roles in technology market environments.
Where you'll work
Career opportunities include a broad range of managerial roles in technology market environments. Depending on their technical specialization, MEM graduates might progress to become managers of engineering or operations, new product development managers, technical project managers, or planning managers.