What you'll work on
The department supports research in computer engineering, energy systems, signals systems, and solid-state electronics. Our research is funded by multiple agencies and corporations, including the NSF, the US Army and Air Force, American Electric Power, and Consumers Energy.
Sample Areas of Interest
Robotics
Electromagnetics
Biomedical Engineering
VLSI
Who You'll Work With
Be part of a working laboratory where students and faculty collaborate to find answers to some of the world's most relevant questions. We are a close-knit community, with accomplished faculty dedicated to mentoring students.
Faculty Spotlight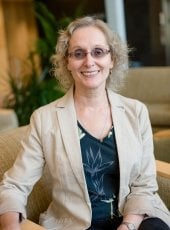 Associate Professor of Electrical and Computer Engineering
"Novel devices can be created, operating from radio frequencies to visible light."
Semouchkina engineers artificial materials with unusual properties and employs them to control electromagnetic wave paths. This makes it possible to modify antenna radiation patterns and build devices with unprecedented functionalities, such as invisibility cloaks.
Where you'll work
Our department occupies more than 50,000 square feet of space and maintains a variety of laboratories and facilities, including the Microfabrication Facility, the Paul and Susan Williams Center for Computer Systems Research, the Wireless Positioning Laboratory, the Energy Storage Laboratory, the Smart Grid Control Center, and a host of other spaces for research in power, photonics, microgrids, and robotics.
PhD Requirements
To complete a doctoral degree, students must complete the following milestones:
Complete all course work and research credits (see credit requirements below)
Pass Qualifying Examination
Pass Research Proposal Examination
Prepare and Submit Approved Dissertation
Pass Final Oral Defense
The minimum credit requirements are as follows:
| | |
| --- | --- |
| Total Credit Requirements | |
| MS–PhD (minimum) | 30 credits |
| BS–PhD (minimum) | 60 credits |
Individual programs may have higher standards and students are expected to know their program's requirements. See the Doctor of Philosophy Requirements website for more information about PhD milestones and related timelines.
---