Kaitlyn Bunker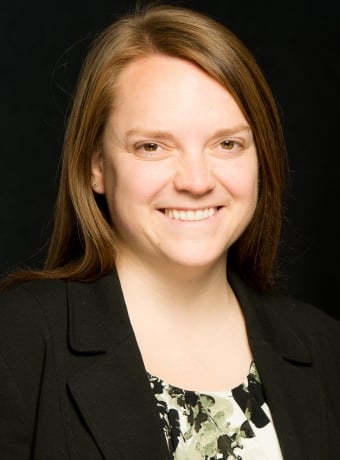 BS Electrical Engineering 2010
MS Electrical Engineering 2012
PhD Electrical Engineering 2014
Working as a principal at Rocky Mountain Institute's Island Energy Program, Kaitlyn Bunker '10 '12 '14 is helping develop clean energy systems for numerous islands in the Caribbean.
"I've enjoyed working deeply with stakeholders in Saint Lucia, Saint Vincent and the Grenadines, Belize, the British Virgin Islands, the Turks and Caicos Islands, Bermuda, and the Bahamas to chart their optimal pathways to meet their energy system priorities," she said. "Our work is making a direct positive impact for their communities and demonstrating what is possible in other geographies."
Bunker's journey to making a difference wound through Michigan Tech and gaining three degrees. She earned a bachelor's in electrical engineering in 2010 followed by a master's and PhD in EE in 2012 and 2014, respectively.
While at Michigan Tech, Bunker was involved in many activities including Society of Women Engineers (SWE), Circle K Service Fraternity, Catholic Campus Ministries, and Full Throttle Motorcycle Club. She was recognized as a Michigan Tech Woman of Promise in 2010 and earned fellowships from the National Science Foundation.
"Michigan Tech was a great fit for me," she said. "I loved the location and all of the outdoor activities I could do in different seasons."
Once a collegiate member of SWE, Bunker has taken the opportunity to volunteer as a professional member. She currently serves as a SWE senator.
"I volunteer with the Society of Women Engineers because of the organization's powerful mission to empower women to achieve their full potential in careers as engineers and leaders, expand the image of the engineering and technology professions as a positive force in improving the quality of life, and demonstrate the value of diversity and inclusion. I've gained mentors, role models, and opportunities to practice and build leadership skills through my involvement."
Upon completion of her PhD, Bunker joined Rocky Mountain Institute, a global nonprofit working to transform the global energy system to secure a clean, prosperous, zero-carbon future for all. She initially worked on projects focused on the U.S. electricity system. She now partners with Caribbean islands to transition from diesel fuel for electricity generation to more resilient, distributed clean energy sources that benefit all.
"We're working on solutions that bring more resilience, lower energy costs, local economic development, and reduced emissions. The progress we've made can inform similar efforts in other regions of the world."
Bunker was chosen as a Michigan Tech Outstanding Young Alumni Award recipient in 2021. The award is presented each year to alumni under the age of 35 who have distinguished themselves in their career.
"I built a strong technical foundation for myself at Michigan Tech along with experiences working with teams and the value of understanding various perspectives," she said. "I've been able to shape my career and focus in new areas that I hadn't imagined working in."
Posted August 2021