Steven Ma, PE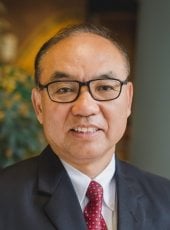 Professor of Practice, Mechanical Engineering–Engineering Mechanics
PhD, Structure Dynamics, State University of New York at Buffalo
MS, Beijing Polytechnic University
BS, Beihang University
Biography
Dr. Steven Ma is a Professor of Practice in the Mechanical Engineering-Engineering Mechanics department at Michigan Technological University. He earned his PhD from the State University of New York at Buffalo in 1991, MS degree in 1986 from Beijing Polytechnic University and BS degree in 1983 from Beihang University.
Prior to joining the Michigan Tech faculty in 2018, Steven was a Chief Engineer at Kobelco for its Rubber Processing Machinery Division where he worked on the design of rubber mixing equipment. Steven also held an Engineering Manager position at Atlas Copco Drilling Solution where he led many product design projects involving capital mobile drilling equipment design, analysis, test, hydraulics, electro-hydraulic control, buckling, welding, and fatigue.
Steven is a co-adviser to Michigan Tech Baja Enterprise team and instructor for Vehicle Dynamics, Advanced CAD/CAM, Mechanism Synthesis, and Machine Design.
Areas of Expertise
Autonomous Wheeled Vehicles
Machine Design
Mechanism
Hydraulics and Electro-Hydraulic Control
Welding and Fatigue
Bolted Joints Design
FEA in Structural, Thermal, and Fluid Dynamics
Research Interests
Drilling Technology
Hydraulics
Buckling
Welding & Fatigue
Dr. Ma teaches courses in mechanical system design and analysis, advanced CAD and CAM methods, mechanism synthesis, dynamic modeling, and vehicle dynamics.