Bring Your Class to Michigan Tech
The Department of Materials Science and Engineering provides demonstration visits to allow K-12 school students an opportunity to explore the field of materials science and engineering. These visits provide "hands-on" activities in addition to demonstrations of instruments and processes used in the materials field. Students observe objects at magnifications by tens of thousands in the scanning electron microscope, and see molten metal poured into a sand mold in our foundry.
Visits can be tailored depending on available time and age of participants.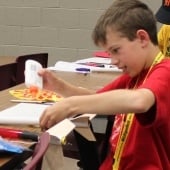 Early Elementary School Activities
This program is designed to introduce students to the concept of science and engineering. The students conduct an experiment to understand the science of why cockleburs stick to you, clothing, and animals. Based on the science of how cockleburs adhere, an understanding of how Velcro was engineered is discussed.
Additional examples of activities include:
Creating ice cream using liquid nitrogen
Measuring velocity and speed using lighting and toy cars
Experimenting with Bernoulli's principle using pennies
---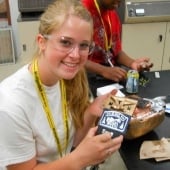 Middle and High School Activities
This program is designed to introduce high school students to the structure - properties - processing - performance relationships that are the foundation of materials engineering. Each visit is customized to the interests of the visitors and we include as many hands-on projects as the group size allows.
Additional examples of hands-on activities include:
Creating a wire shape using a unique material called shape memory alloy
Competing in a slime and silly putty contest
Changing the properties of steel by heat treatment
Polishing and cleaning the MSE logos cast in the foundry
Making rubber balls out of silicone elastomers
Investigating mechanical properties of materials
Topics that are covered in demonstrations for the visitors include:
Demonstration of a tabletop scanning tunneling microscope (STM) and a presentation on nanotechnology and carbon nanotubes.
See how to make complex shapes from metal powders using a cold isostatic press (CIP), develop an understanding of how complex shapes are produce by metal casting using a sand mold technique to produced the desired shapes, and witness red hot molten metal being poured into the molds.
Learn the effect on how metals fracture when cooled in liquid nitrogen (Charpy impact test), see how aluminum foil is made (rolling), and how we can change, then restore, flexibility in piano wire (dilatometer).
Use a microscope to observe a material and from these observations predict what properties a material will have.
---