Join us for live webcasts throughout the year. We'll cover different topics including admissions, financial aid, and life on campus so you can connect with Michigan Tech from wherever you are. You'll get the information you need in 30 minutes or less with time at the end for a live Q&A—just use the chat to send us your questions during the session and hear the answers live!
Can't make it during the scheduled time? Don't worry—each session is recorded so you can watch it when you have time.
Live Information Sessions
All session times are Eastern. Links will be published on this page prior to each session.
Financial Aid & Scholarships
Understanding Your Award Letter | Monday, March 11 at 6 p.m.


Housing & Residential Life
Roommate Matching | Thursday, April 24 at 5:30 p.m.
Watch Recorded Sessions
If you've been accepted, congrats! Watch the recorded Next Steps After Acceptance session. If you're just starting to explore Michigan Tech, check out the recorded Get to Know Michigan Tech session.
Play Financial Aid 101 video
Financial Aid 101
Paying for college is a big deal. Nearly 90% of Michigan Tech students receive scholarships and/or financial aid to help cover the costs of a world-class education. Learn more about the financial aid process, types of aid available, and important dates and deadlines. Learn why filing your Free Application for Federal Student Aid (FAFSA) by March 1 is critical to be considered for the most opportunities.
Play Understanding Your Financial Aid Award video
Understanding Your Financial Aid Award
EFC. COA. Awards, subsidized, and unsubsidized loans. You may have some questions about your financial aid award! Joe Cooper, Director of Student Financial Services, has answers.
Play Housing and Residential Life: Halls to Home video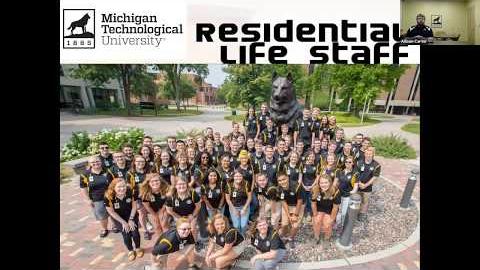 Housing and Residential Life: Halls to Home
Sean Brown, Residence Life Coordinator, and Trish Bennett, Associate Director of Housing, discuss life in Michigan Tech's residence halls and answers questions through the livestream.