Cell: 906-487-2156
Walker Arts and Humanities Center 201
Sylvia Matthews
Program Director, General Sciences and Arts
Advisor for Exploring Students
906-487-3558
Waino Wahtera Center Administration Bldg 160
Karen Salo
Director of College Administration
906-487-3182
Walker Arts and Humanities Center 201B
Digital Services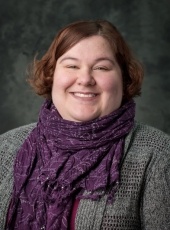 Heather Powers
Digital Content Manager, College of Sciences and Arts/UMC
906-487-2185
Administration Building G10C

Superpowers
OU Campus, Events, Blogs
⚡
Web Design/Content Strategy
⚡
About Heather
Represents the College of Sciences and Arts (CSA) regarding content management system (CMS) services, web strategy and design.
She assists with webpage development, collaborating on strategy/marketing for departmental news blogs and event calendars, and CMS training for CSA departmental liaisons.
She enjoys quilting, knitting, gaming, hiking, movies, reading, and spending time with her pets.
Pre-Health
Health Professions Coordinator
Instructor