The College of Sciences and Arts looks to recognize students who are leaders in their work and stand out. We provide a listing of scholarships that defines each scholarship available to students within the College as well as the criteria to qualify. We want to express a huge thank you to our donors and scholarship providers.
"The scholarship graciously gifted to me during a cadet and student allowed me to focus more on academics and less on stressing to find work to pay for school. Working multiple jobs in college to fund my degree while participating in AFROTC and other organizations was very demanding."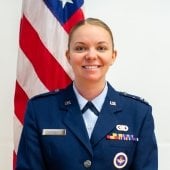 Air Force ROTC
In-College Scholarship Program
Cadets are nominated for in-college scholarships based on performance. To be eligible for a scholarship nomination, cadets must meet their retention standards and the following requirements:
Be a United States citizen
Be a full-time enrolled student
Have an approved academic degree plan
Have a cumulative GPA of 2.5 or higher
Pass the medical physical for Air Force entry
Pass the Air Force physical fitness assessment
Be enrolled in Air Force ROTC
Army ROTC
The Two-, Three-, and Four-Year Scholarship
Requirements
Be a US citizen
Be between the ages of 17 and 26
Have a high school GPA of at least 2.50
Have a high school diploma or equivalent
Score a minimum of 920 on the SAT (math/verbal) or 19 on the ACT (excluding the required writing test scores)
Agree to accept a commission and serve in the army on active duty or in a reserve component (army reserve or army national guard)
Commitment—Two-, Three-, and Four-Year Scholarship
Serve full time in the army for four years
Selected cadets may choose to serve part-time in the army reserve or army national guard while pursuing a civilian career
Green to Gold Scholarship Option
Interested in going back to school? The Green to Gold Scholarship option is designed for you. These scholarships are awarded for two, three, or four years, depending on how long you require to complete your degree.
Requirements
US Citizen (non-waivable)
Age: under 31 years of age on December 31 of the year you complete all requirements for a commission and a college baccalaureate degree. This is a statutory requirement and there are no waivers authorized.
Cannot have been convicted of a Domestic Violence Crime
Have a minimum of two years of active duty as well as three months of active duty for every one month of specialized training (waiver can be requested)
GT score of 110 or greater
Pass the APFT within the last six months with a score of 180 or higher—minimum of 60 points in each event
Be a high school graduate or equivalent
Cumulative high school or college GPA of 2.5
Letter of acceptance to school of choice offering AROTC
Letter of acceptance from the PMS of that AROTC Battalion
Favorable National Agency Check (or have initiated the action)
DODMERB medical qualification
Be eligible to reenlist
Not be a conscientious objector
No more than three dependents, including spouse (waivable)
Biological Sciences
Chemistry
Rebecca Sandretto and Susan Stackhouse Summer Fellowship
The Sandretto-Stackhouse Summer Research Fellowships are made possible by a generous gift from the estate of Rebecca M. C. Sandretto. This award is selected by the department chair upon a recommendation by faculty in support of undergraduate summer research.
Recipients
2018 - 19: Samuel Willard
2017 - 18: Alexis Ferrier
2016 - 17: Emily Lilla
2016 - 15: Erin Mathews
2015 - 14: Anna-Catherina Wilhelm
2014 - 13: Daniel Beegle
2013 - 12: Sarah Riutta
Humanities
Graduate Student Scholarships
We do not have any dedicated graduate lines for research for Rhetoric, Theory, and Culture(RTC) graduate students, only for teaching. This scholarship for a research graduate student line would be a wonderful way to create strong affiliations and career trajectories. Students do not receive stipends in the summer but there are no classes so it is a great time to work on research and writing. A summer scholarship would allow a graduate student to focus on dissertation work without worrying about how to pay rent. Awards for best conference papers and/or publications would incentivize graduate students to engage in these professionally important activities
Give Now
Undergraduate Student Scholarships
Special scholarships for under-represented or first-generation students.
Scholarships directed to majors in Scientific and Technical Communication(STC), English, or Communication, Culture, and Media(CCM)
Student travel: We would love to have funding to support undergraduate student conference travel, collaborative projects with programs in other universities, on-site visits to major employers, and study abroad classrooms. Taking a group of students on such a trip can make a life-long impression.
Scholarship for internship travel/moving expenses. When students take an internship that is far from the U.P., they are often stuck paying the expenses out of pocket and this can deter them from accepting such opportunities. A fund to defer expenses so that they can travel both ways and set up a living space would be a real boon to our internship program.
We would like to fund $100-$200 awards recognizing undergraduate majors in each of the undergraduate programs. This is an important recognition for students from their programs about the quality of their work. We would like to do named awards for best coursework paper, best digital/visual project, and best presentation in class or at a conference.
Anthony Marchinda Scholarship
$1,000 annually for two undergraduate majors, one in STC and one in ROTC, in memory of STC graduate, the late Anthony Marchinda. Contribute to this memorial scholarship fund.
Give Now
Math
Joyce Burchenal Endowed Scholarship
The Scholarship was established in 1980 by Joyce M. DeRosiers Burchenal, a 1950 Michigan Tech Graduate with a BS in General Science, specializing in mathematics. She continued her education earning a BS in education from the University of Detroit, and a Master's degree from Michigan in mathematics. We are able to award approximately $12-14K each year. Make a Gift to the Joyce Burchenal Endowed Scholarship.
Recipients
2018 - 19: Brooke Basto, Shaun Burriss, Noah Roubal, Daniel Stebic, Matthew Wilder
2017 - 18: Shaun Burriss, Meghan Campbell, Jacob Goud, Tehya Heyrman, Erin Johnson, Benjamin Judd Nicholas Olinger, Andrea Spencer, Kyle Sutela
Tom Drummer Memorial Scholarship
Tom Drummer, Professor of Statistics in the Department of Mathematical Sciences, was a member of the department for 28 years, during which time he taught and mentored numerous students and conducted or collaborated on a large number of wildlife studies, using his expertise in statistics to guide the research and analyze the results.Tom was highly valued as a classroom teacher, mentor, colleague, collaborator, and friend. This scholarship will be awarded annually to a deserving undergraduate student majoring in Statistics. In two parts, a small endowment and an annual fund. We award $1-2K each year. For statistics majors. Make a Gift to the Tom Drummer Endowed Scholarship.
Recipients
2021 - 22: Caleb Hiltunen
2018 - 19: Brendon Schuenke, Michael Thorburn
2017 - 18: Brendon Schuenke
Alumni and Friends Scholarship
Gifts made directly to the scholarship fund will support undergraduate mathematics majors. In two parts, a small endowment and an annual fund. We award $1-2K each year.
Recipients
2018 - 19: Brandi Bousley, Kailee Kovach, Kyle Travis
2017 - 18: Meghan Campbell, Jacob Gould, Tehya Heyrman, Nicholas Olinger, Amanda Veenstra
Physics
Marc R. Blackford Endowed Scholarship
Established in 1973 by Marc's parents, Frank and Winifred Blackford, the Marc R. Blackford Endowed Scholarship was created in memory of their son who was killed by a drunk driver in a 1973 car accident in Houghton. At the time of his death, Marc was a junior at Michigan Tech, majoring in physics. Consider supporting this scholarship.
Recipients
2018 - 19: Alyn Leversee
2017 - 18: Kaelan Anderson, Benjamin Manning
2016 - 17: Benjamin Manning
2015 - 16: Kevin Rocheleau
2014 - 15: Kevin Rocheleau
2013 - 14: David Furlich
2012 - 13: Emily Makoutz
Sam and Brenda Ochodnicky Annual Scholarship
The Sam and Brenda Ochodnicky Annual Scholarship fund was established in 2011. Sam received his Bachelor of Science in Applied Physics in 1963. The scholarship was established for a Michigan resident physics major, and carries with it a required minimum 2.5 GPA and demonstrated financial need. Your donation is appreciated.
Recipients
2018 - 19: Daniel Koshar
2017 - 18: Kevin Rocheleau
2016 - 17: Kevin Rocheleau
2015 - 16: Kevin Rocheleau
2014 - 15: Kevin Rocheleau
2013 - 14: Kevin Rocheleau
2012 - 13: Kathryn Cox
Thomas C. Sermon Endowed Scholarship
Tom Sermon joined the Math and Physics department in 1926. Along the way, he would serve as Professor and Head of the Physics department from 1949 to 1953, and then as registrar from 1954 until 1970. This endowed scholarship was created in his honor, your donation to this fund is appreciated.
Recipients
2018 - 19: Robert Stenger
2017 - 18: Robert Stenger
2016 - 17: Robert Stenger
2015 - 16: Robert Stenger
2014 - 15: Robert Stenger
2013 - 14: Robert Stenger
2012 - 13: Ethan Miltenberger
Social Sciences
Legal Education Scholarship
The Legal Education Fund supports the pre-law program in the Department of Social Sciences. The pre-law program prepares students for the practice of law and the multifaceted challenges presented by a legal career.
Edmund Vandette Endowed Scholarship
The Edmund Vandette Endowed Fund supports undergraduate scholarships that originate from the Copper Country. The family of the late local politician and professor Edmund Vandette, who taught history and political science at Michigan Tech, established this fund in his memory. If you would like to support the Edmund Vandette Endowed Fund, your generosity is appreciated.



Social Sciences Scholarship
Supports student research in the form of travel to research sites, attending conferences to present papers, study abroad opportunities, and supplies for workshops, special software, and the like. Gifts can also be targeted for specific purposes.
Visual and Performing Arts
Milton Olsson Endowed Scholarship
This award is given for outstanding participation in the Keweenaw Symphony Orchestra and/or the choirs of Michigan Tech (conScience: Michigan Tech Chamber Singers or Michigan Tech Concert Choir). The award is granted to a student in the second to fourth year. Make a Gift to the Milton Olsson Endowment Scholarship.
Don Keranen Endowed Scholarship
This Fund provides cash awards to students for Outstanding Jazz Musician and Most Improved Jazz Musician. Individuals who participate in the Jazz Lab Band and the Research and Development Big Band are eligible. Make a Gift to the Don Keranen Endowed Scholarship.
Martha and Hugh Winn Scholarship
Many students participate in art, music, sound, and theatre during their studies at Michigan Tech, without majoring in Visual and Performing Arts Programs. This award is given to engineering students who are active in the arts at Michigan Tech.
Visual and Performing Arts Talent Award
Visual and Performing Arts Talent Awards recognize high school seniors with exceptional talents in the arts including instrumental or vocal music, visual arts, theatre performance, technical theatre, sound design/audio production, and/or music composition. Incoming first-year students pursuing any major at Michigan Tech who plan to actively participate in musical ensembles, stage productions, take coursework in visual arts, or work toward a degree, second degree, or minor offered through the Visual and Performing Arts (VPA) Department are welcome to apply to the VPA Talent Award.