Michigan Tech Advanced Technology Development Complex (ATDC)
1402 Sharon Ave
Houghton, MI 49931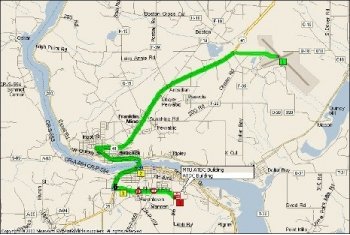 1. Depart Houghton County Memorial Airport Entrance Road (West) to Highway 41.
Turn LEFT (South-West) onto US-41 for 8.0 mi
Stay on US-41 South / M-26 South across bridge to Houghton.
2. Once on the bridge, stay in the right lane and follow M-26 South for 1.2 mi
Turn LEFT (East) onto (W) Sharon Ave at the stoplight and follow for 1.5 mi through two stop signs.
3. Arrive ATDC Building, Houghton, MI 49931 on your left.
Other Helpful Resources