The overall process of Technology Commercialization includes an Assessment Phase and an Implementation Phase as generally described in the flow chart below. Specific activities and milestones within the general process vary on a case by case basis but always involve the recruitment of applied and translational research funding through a collaboration of the research team and OIC representatives.
Technology Commercialization and Implementation Process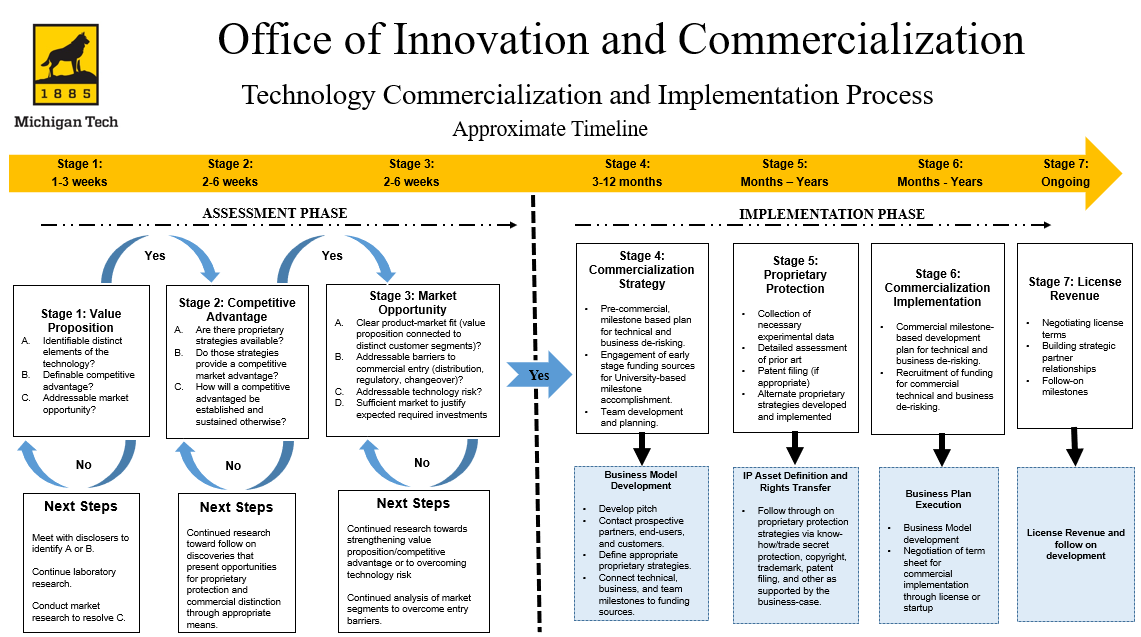 Licensing
The Commercialization Process concludes with a transfer of intellectual property rights to a company that is willing and able to move the technology from the lab into use by the general public. This transfer occurs through a license which may be provided to an existing company or to a startup company that is created for the purpose of transferring the technology to public use. If a startup company is the most suitable means to transfer the technology that startup can be founded by members of the original research team or by others recruited to follow through on the opportunity.
Each commercialization project unique and license strategies are tailored to each opportunity to maximize both university and partner benefits. Some common examples of licensing strategies include:
Option-to-license
Most often used to secure rights to a technology for a limited time frame. Options typically grant exclusive rights for a limited time frame to allow the partners a chance to evaluate the available opportunity and move forward with preliminary commercialization steps.
Exclusive License
Allows access to technology by a sole licensee and can be provided to either an established company or a startup company. This agreement provides exclusive rights, most often to a patented technology, in exchange for some financial consideration. Terms often include a royalty based on sales with some diligence provisions in future years such as milestone events and payments or annual minimum royalties.
Non-Exclusive License
Allows non-exclusive access to the technology by numerous industry partners. Terms typically include a royalty based on sales which are lower relative to exclusive license terms. Non-exclusive licenses do not often include diligence provisions but may include an agreement maintenance fee structure or other means of ensuring that the licensee actively pursues commercial implementation of the technology.
These are a few of the more common strategies for securing rights to Michigan Tech's inventions, however there are unique situations that may require hybrid or non-traditional license structures such as know-how licensing. Each technology commercialization path has unique challenges that require careful planning and solid relationships to efficiently work through any development barriers. Michigan Tech has a long and successful history of working closely with our licensees as partners in the transfer technology from the lab to end-users.
Find available technologies with TechFinder, the searchable database providing summaries of technologies available for license.
To learn more about practical applications and advantages of licensing our technologies as well as information about technologies available and terms for licensing contact Mike Morley, Director of Technology Commercialization at mcmorley@mtu.edu or 906-487-2228.