Michigan Technological University's commitment to broad-spectrum research with far-reaching real-world effects makes it the perfect place for aspiring medical researchers to make a difference on a global scale now and what's next. Are you ready?
Program Overview
With our doctorate in integrative physiology program, we take a systems-level approach to understanding the role of physiology in human health. Our work is conducted across the entire spectrum—fundamental basics at the molecular level, animal- and human-based research, and population studies—to translate research into cardiometabolic health outcomes.
---
Integrative Physiology Program Details
Learn more about the integrative physiology program at Michigan Tech. For international students, Integrative Physiology is a designated STEM program.
On-Campus Programs
PhD Requirements, Integrative Physiology
To complete a doctoral degree, students must complete the following milestones:
Complete all coursework and research credits (see credit requirements below)
Pass Qualifying Examination
Pass Research Proposal Examination
Prepare and Submit Approved Dissertation
Pass Final Oral Defense
The minimum credit requirements are as follows:
Total Credit Requirements

| Degrees | Credits |
| --- | --- |
| MS-PhD (minimum) | 30 Credits |
| BS-PhD (minimum) | 60 Credits |
Individual programs may have higher standards and students are expected to know their program's requirements. See the Doctor of Philosophy Requirements website for more information about PhD milestones and related timelines.
Additional Program Information
Want to learn more about integrative physiology at Michigan Tech? Visit the department for more information:
"I have had a lot of fun and have grown significantly as a teacher and researcher throughout my time at Michigan Tech."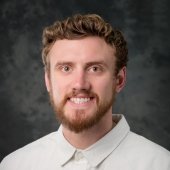 Sample Areas of Interest
Select areas of interest to help customize your integrative physiology PhD. Sample areas include:
Exercise and Stress Physiology
Neural Control of Circulation
Biomechanics of Human Movement
Muscular Fatigue in Humans