The perfect place to study our natural world? This is it. Our abundance of habitats and biodiversity make Michigan Technological University ideal for researching ecosystems and organismal functions. We're surrounded by one of the largest forested areas in the eastern United States and have incredible access to multiple water resources, including Lake Superior, the largest freshwater lake in the world. Come grow with us.
What you'll work on
Our research ranges from global climate change to photosynthesis and microbial processes. We specialize in ecology, forest science, genetics and biotechnology, natural resource policy, and wildlife, including the longest-running predator-prey study in the nation on Isle Royale.
Sample Areas of Interest
Forestry
Fire Ecology
Forest Biomaterials
Forest Biometry
Where you'll work
We are active in the Ecosystem Science Center and the University-wide Michigan Forest Biomaterials Initiative. Our faculty actively participate in other multidisciplinary centers and institutes at Michigan Tech, including the Life Science and Technology Institute, the Michigan Tech Research Institute, the Sustainable Futures Institute, and the Michigan Tech Transportation Institute. We also partner with the USDA Forest Service Northern Institute of Applied Climate Science. Our research projects have been conducted in national forests and national parks.
Faculty Spotlight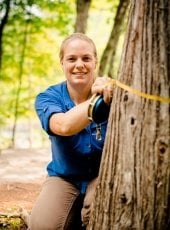 Yvette Dickinson
Assistant Professor
"We use forests every day. Sustainable forest management affects everyone."
Silviculture applies ecological knowledge to management of forests for wildlife habitat, ecosystem health, timber, and other benefits. Dickinson investigates new techniques for sustainably managing forests, so that they will continue to provide benefits for future generations.

Who you'll work with
From studying sustainable landscapes with Audrey Mayer, to peatland and wetland restoration with Rodney Chimner, our faculty are collaborative and interdisciplinary. They'll work with you to create a program that matches your career goals.
---