Ranked one of the top in the nation among Forestry Science graduate programs, our doctorate in forest science students make significant contributions to knowledge in the areas of forest ecology, soils, silviculture, tree improvement, forest wildlife ecology and management, economics, inventory, geographic information systems, growth and yield, wood science, and forest biology. Are you ready?
Program Overview
Our doctorate in forest science program is advanced and intensive. Studies range from forest vegetation dynamics, intensive silviculture, bioinformatics programming, and applied genetics to natural resources policy. Work in our facilities, including 4,609 acres of our nationally recognized model research forest, Ford Center and Forest. Michigan Tech leads the world's longest study on predator-prey relationships, the 50 year investigation of wolves and moose on Isle Royale National Park.
---
Forest Science Program Details
Learn more about the forest science program at Michigan Tech. For international students, Forest Science is a designated STEM program.
On-Campus Programs
PhD Requirements: Forest Science
To complete a doctoral degree, students must complete the following milestones:
Complete all coursework and research credits (see credit requirements below)
Pass Qualifying Examination
Pass Research Proposal Examination
Prepare and Submit Approved Dissertation
Pass Final Oral Defense
The minimum credit requirements are as follows:
Total Credit Requirements

| Degrees | Credits |
| --- | --- |
| MS-PhD (minimum) | 30 Credits |
| BS-PhD (minimum) | 60 Credits |
Individual programs may have higher standards and students are expected to know their program's requirements. See the Doctor of Philosophy Requirements website for more information about PhD milestones and related timelines.
Additional Program Information
Want to learn more about forest science at Michigan Tech? Visit the department for more information: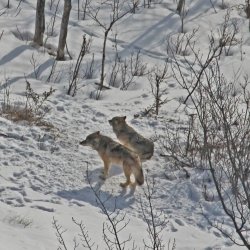 Isle Royale is the site of the world's longest continuous study of any predator-prey system in the world. Every winter, researchers spend seven weeks at Isle Royale observing the lives of these wolves and moose to better understand the ecology of predation and what that knowledge can teach us about our relationship with nature.
Isle Royale illuminates one of the oldest questions in all ecology, "Is Nature best understood as the result of predictable law-like patterns that ecologists take as their task to discover?" Or, is Nature better understood as the result of innumerable contingencies, essentially a historical process that can be explained and understood but not very well predicted.
Sample Areas of Interest
Select areas of interest to help customize your forest science PhD. Sample areas include:
Conservation Genetics
Hydrology
Invasive Flora and Fauna
Predator-Prey Relationships