This interdisciplinary PhD program responds to a national and international need for more researchers to address problems in the areas of human health, disease treatment, and sustainable environment at a molecular level. Advanced education in biochemistry, molecular biology, and related fields is essential for creative and productive approaches to these problems.
What you'll work on
The program's areas of emphasis allow for specialization depending on a student's goals. Areas include but are not limited to algal polymers, tree genetics, gene silencing and microRNAs, human diseases including diabetes and cancer, plant- microbe interactions, nanotechnology and nanomedicine, and protein misfolding and aggregation diseases.
Sample Areas of Interest
Bioinformatics and Systems Biology
Biotechnology
Conservation Genetics
Genomics
Who you'll work with
This diverse program includes faculty from biological sciences, chemistry, kinesiology and integrative physiology, as well as faculty from the College of Forest Resources and Environmental Science and the College of Engineering.
Faculty Spotlight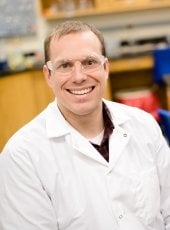 Stephen Techtmann
Assistant Professor,
Environmental Microbiology
"All of life depends on microbes, but we know so little about this unseen majority."
Microbes are essential to all of life and have amazing potential for biotechnological applications. Techtmann's research seeks to employ genomics and bioinformatics to study environmental microbial communities to better understand their utility for biotechnological applications.
Where you'll work
At Michigan Tech, you will work with researchers to develop tools to analyze and model complex processes and systems in the areas of human health, medicine, forestry, and agriculture. Map complete genomes, create multi-scale computer models, and use technologies such as pharmacogenomics. These are some of the projects our students contribute to.
PhD Requirements
To complete a doctoral degree, students must complete the following milestones:
Complete all course work and research credits (see credit requirements below)
Pass Qualifying Examination
Pass Research Proposal Examination
Prepare and Submit Approved Dissertation
Pass Final Oral Defense
The minimum credit requirements are as follows:
| | |
| --- | --- |
| Total Credit Requirements | |
| MS–PhD (minimum) | 30 credits |
| BS–PhD (minimum) | 60 credits |
Individual programs may have higher standards and students are expected to know their program's requirements. See the Doctor of Philosophy Requirements website for more information about PhD milestones and related timelines.
---