This interdisciplinary PhD program responds to a national and international need for more researchers to address problems in the areas of human health, disease treatment, and sustainable environment at a molecular level. Advanced education in biochemistry, molecular biology, and related fields is essential for creative and productive approaches to these problems. Are you ready?
Program Overview
The doctorate in biochemistry and molecular biology program's allows for specialization depending on your goals. Areas include but are not limited to algal polymers, tree genetics, gene silencing and microRNAs, human diseases including diabetes and cancer, plant- microbe interactions, nanotechnology and nanomedicine, and protein misfolding and aggregation diseases.
---
Biochemistry and Molecular Biology Program Details
Learn more about the biochemistry and molecular biology program at Michigan Tech. For international students, Biochemistry and Molecular Biology is a designated STEM program.
On-Campus Programs
PhD Requirements: Biochemistry and Molecular Biology
To complete a doctoral degree, students must complete the following milestones:
Complete all coursework and research credits (see credit requirements below)
Pass Qualifying Examination
Pass Research Proposal Examination
Prepare and Submit Approved Dissertation
Pass Final Oral Defense
The minimum credit requirements are as follows:
Total Credit Requirements

| Degrees | Credits |
| --- | --- |
| MS-PhD (minimum) | 30 Credits |
| BS-PhD (minimum) | 60 Credits |
Individual programs may have higher standards and students are expected to know their program's requirements. See the Doctor of Philosophy Requirements website for more information about PhD milestones and related timelines.
Additional Program Information
Want to learn more about biochemistry and molecular biology at Michigan Tech? Visit the department for more information:
Biochemistry and Molecular Biology Student Research
"Using fruit flies, my doctoral research focuses on understanding how animals develop their color patterns and discover the regulatory pathways involved in complex color pattern formation in animals."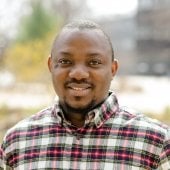 Sample Areas of Interest
Select areas of interest to help customize your Biochemistry and Molecular Biology program. Sample areas include:
Bioinformatics and Systems Biology
Biotechnology
Conservation Genetics
Genomics