Improve your understanding of atmospheric processes and impacts related to climate change, emissions, transport, and transformation of air pollution. Learn new fundamental physical and chemical processes that govern the behavior of the atmosphere and its interactions with human activities, solar radiation, and the natural world. Are you ready?
Program Overview
With our doctorate in atmospheric sciences program, students take a series of core courses and have access to a variety of elective courses in other areas. Core courses share the physical, chemical, and biological processes affecting the atmosphere and specific atmospheric systems. Faculty provide the fundamentals of atmospheric processes and properties, so you can grow with this exciting field. From field measurements to computer modeling to studies of air pollution transport and chemistry.
---
Atmospheric Sciences Program Details
Learn more about the program at Michigan Tech. For international students, Atmospheric Sciences is a designated STEM program.
On-Campus Programs
PhD Requirements, Atmospheric Sciences
To complete a doctoral degree, students must complete the following milestones:
Complete all coursework and research credits (see credit requirements below)
Pass Qualifying Examination
Pass Research Proposal Examination
Prepare and Submit Approved Dissertation
Pass Final Oral Defense
The minimum credit requirements are as follows:
Total Credit Requirements

| Degrees | Credits |
| --- | --- |
| MS-PhD (minimum) | 30 Credits |
| BS-PhD (minimum) | 60 Credits |
Individual programs may have higher standards and students are expected to know their program's requirements. See the Doctor of Philosophy Requirements website for more information about PhD milestones and related timelines.
Additional Program Information
Want to learn more about atmospheric sciences at Michigan Tech? Visit the department for more information:
Collaborative, Open-Minded Approach

"Being part of the cloud chamber group, I experienced the synergy between theory, experiments, and numerical simulations first hand."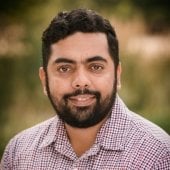 Sample Areas of Interest
Select areas of interest to help customize your atmospheric sciences PhD. Sample areas include:
Aerosols and Clouds
Atmospheric-Surfact Exchange
Atmospheric Chemistry
Atmospheric Modeling