Christopher W. Swanston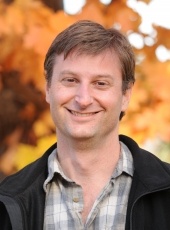 Contact
906-482-6303
Forest Service Building
Research Ecologist
Adjunct Professor
Director, Northern Institute of Applied Climate Science
PhD, Forest Science, Oregon State University
MS, Forest Science, Oregon State University
BS, Forest Ecology and Soils (NRPI), Humboldt State University
Research Ecologist
Dr. Swanston studies the processes that control organic carbon dynamics in forest soils. Soil carbon is a fundamental component of ecosystem structure, and understanding the forms and fate of belowground carbon helps us predict and mitigate the effects of management, natural disturbance, and climate change. Dr. Swanston is especially interested in how the physical and biological components of soil ecosystems interact to stabilize carbon, and how this interaction changes in different forest ecosystems. His research has made extensive use of radiocarbon and organic matter fractionation techniques to increase the sensitivity of estimates of soil carbon storage and flux.
Dr. Swanston also works with researchers and land managers to begin understanding the potential effects of climate change on forested ecosystems. Given the inherent uncertainties of the changing climate and forest responses, he is also interested in helping design approaches to adapting our forests to altered climate regimes.
Links of Interest
Areas of Expertise
Soil organic carbon stabilization and cycling
Radiocarbon analysis and interpretation
Forest response and adaptation to climate change
Landscape scale conservation
Virto, I., C. Moni, C. Swanston, and C. Chenu. 2010. Turnover of intra- and extra-aggregate organic matter at the silt-size scale. Geoderma 156:1-10.
Nave, L.E., E.D. Vance, C.W. Swanston, and P.S. Curtis. 2010. Harvest impacts on soil carbon storage in temperate forests. Forest Ecology and Management 259:857-866.
Torn, M.S., C.W. Swanston, C. Castanha, and S. Trumbore. 2009. Storage and Turnover of Organic Matter in Soil, p. 219-272, In P. M. Huang and N. Senesi, eds. Biophysico-Chemical Processes Involving Natural Nonliving Organic Matter in Environmental Systems. Wiley, Hoboken.
Sollins, P., M.G. Kramer, C. Swanston, K. Lajtha, T. Filley, A.K. Aufdenkampe, R. Wagai, and R.D. Bowden. 2009. Sequential density fractionation across soils of contrasting mineralogy: Evidence for both microbial- and mineral-controlled soil organic matter stabilization. Biogeochemistry 96:209-231.
Nave, L.E., E.D. Vance, C.W. Swanston, and P.S. Curtis. 2009. Impacts of elevated N inputs on north temperate forest soil C storage, C/N, and net N-mineralization. Geoderma 153:231-240.
Marin-Spiotta, E., W.L. Silver, C.W. Swanston, and R. Ostertag. 2009. Soil organic matter dynamics during 80 years of reforestation of tropical pastures. Global Change Biology 15:1584-1597.
Gaudinski, J.B., M.S. Torn, W.J. Riley, C. Swanston, S.E. Trumbore, J.D. Joslin, H. Majdi, T.E. Dawson, and P.J. Hanson. 2009. Use of stored carbon reserves in growth of temperate tree roots and leaf buds: Analyses using radiocarbon measurements and modeling. Global Change Biology 15:992-1014.