Rolf O. Peterson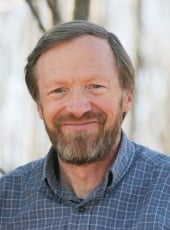 "The challenge of wild carnivore restoration."
Contact
906-487-2179
Noblet Building 173
PhD, Wildlife Ecology, Purdue University
BA, Zoology, University of Minnesota
"Blond, fit and Nordic" according to one popular writer.
One of the biggest recent changes in the wild ecosystems of North America is recovery of wild carnivores, exemplified by the gray wolf. My research, which concentrates on the ecology of the wolf and its prey, helps provide the scientific foundation for political, social, and ecological responses to carnivore recovery. This is a challenge because these species may compete directly with human interests and we have typically persecuted them for centuries.
My primary study site is Isle Royale National Park, where the wolf-moose study is the world's longest wildlife study. Recently I have had graduate students working with collaborators in government research in Yellowstone (National Park Service) and the Upper Peninsula of Michigan (MI Department of Natural Resources). The School of Forest Resources and Environmental Science at MTU is strategically placed, geographically and in terms of faculty expertise, to play a key role in understanding the broad implications of carnivore recovery.
Areas of Expertise
Mammalian ecology
Predator-prey relationships
Ecology and behavior of gray wolves
Wilmers, C, E. Post, R. Peterson, & J. Vucetich. 2006. Disease-mediated switch from top-down to bottom-up control increases moose population response to climate. Ecology Letters, in press.
Wright, G.J., R.O. Peterson, D.W. Smith, and T.O. Lemke. 2005. Selection of northern Yellowstone elk by gray wolves and hunters. Journal of Wildlife Management, in press.
Weise, JW, C Nagaswami, RO Peterson. 2005. River otter hair structure facilitates interlocking to impede penetration of water and allow trapping of air. Canadian Journal of Zoology 83:649-655.
Jost, C, G Devulder, JA Vucetich, RO Peterson, R Arditi. 2005. The wolves of Isle Royale display scale-invariant satiation and density dependent predation on moose. J. Anim. Ecol., in press.
Potvin, MJ, D Beyer, TD Drummer, RO Peterson, JA Vucetich, & J Hammill. 2005 Monitoring and habitat analysis for wolves in Upper Michigan. J. Wildlife Management, in press
Vucetich, JA, & RO Peterson. 2004. The influence of top-down, bottom-up, and abiotic factors on the moose (Alces alces) population of Isle Royale. Proceeding Royal Soc Lond, B 271:183-189.
Potvin, M.J., R.O. Peterson, and J.A. Vucetich. 2004. Wolf homesite attendance patterns. Canadian Journal of Zoology 82:1512-1518.