Ann Maclean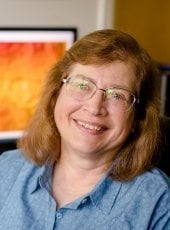 "The practical application of knowledge is what moves us forward."
Contact
906-487-2030
Noblet Building 189
PhD, Environmental Remote Sensing/Forestry, University of Wisconsin
MS, Environmental Remote Sensing, University of Wisconsin
MS, Forestry, University of Wisconsin
BS, Forestry, Michigan Technological University
The Use of Spatial Information in Today's World
The use of remote sensing and geographic information system (GIS) technologies allows us, as resource managers, to make timely, efficient and cost-effective decisions. Additionally, we can conduct unique and otherwise infeasible, analytic tasks. Whether it is looking backward and trying to reconstruct historical vegetation landscapes or looking forward to determine where and how much woody biomass can be grown for ethanol production, the use of remote sensing and GIS techniques are critical components of our decision making process.
Remote sensing and GIS have long been used by natural resource managers in land use planning, natural hazard assessment, wildlife habitat mapping, and timber management. In recent years, these technologies have been utilized in crime analysis, emergency response planning, land records management, siting of retail stores, precision farming and infrastructure upgrading. The use of these technologies is truly interdisciplinary, and can no be considered tools for specialists. With the development of user-friendly interfaces, powerful and affordable computer hardware and software, and widespread distribution of digital data all resource managers now have access to broad array of spatial analysis tools.
However, it is important to remember that these technologies are more than simply hardware and software. It is also about people. As such, they do not lend themselves to traditional classroom teaching alone. Only by a combination of approaches can critical components, such as principles, technical issues, practice, management, ethics and accountability be learned. It is the practical application of knowledge that promotes the wise use of our natural resources.
Areas of Expertise
Remote sensing
Digital image processing
Geographic information systems
Spatial modeling
Mason, L.A., A.L. Maclean and R.E. Froese. 2009. GIS Modeling Of Riparian Zones Utilizing Digital Elevation Models And Flood Height Data. Environmental Modeling and Assessment. (in revision).
S. Saunders, M. Mislivets, K. Brosofske, D. Cleland, and A. Maclean. 2009. Predicting burns in subregional ecological and climatic units of the northern Great Lakes Region. International Journal of Wildland Fire. (in review).
Shonnard, D.R., J.R. Jensen, J.D. Naber, Q. Zhang, A.L. Maclean, K.E. Halvorsen, T.L. Jenkins, C. Polonowski, and J.W. Sutherland. 2008. Wood-to-Wheels: A Multidisciplinary Research Initiative in Sustainable Transportation Utilizing Fuels and Co-Products from Forest Resources. In: Proceedings from Convergence 2008, SAE International, October 20-22, 2008, Detroit, MI USA 2008-21-0026.
Cleland, David T., Thomas R. Crow, Sari C. Saunders, Donald I Dickmann, Ann L. Maclean James K. Jordan, Richard L. Watson, Alyssa Sloan, Kimberly Brosofske. 2004. "Characterizing Historical and Modern Fires Regimes in Michigan: A Landscape Ecosystem Approach." Forest Ecology. 19(3):311-325.
VanLuven, D.M., J.E. Huntoon, and A.L. Maclean. 1999. Determination of the Influence of Wind on the Keweenaw Current in the Lake Superior Basin as Identified by Advanced Very High Resolution Radiometer (AVHRR) Imagery. Journal of Great Lakes Research. 25 (3):631- 647.
Owens, K.E., A.J. Londo, D.D. Reed., A.L. Maclean and G.D. Mroz. 1999. A landscape level comparison of pre-European settlement and current soil carbon storage of a forested landscape in upper Michigan. Forest Ecology and Management. Vol. 113, pp. 179-189.
Budd, J.W., W.C. Kerfoot and A.L. Maclean. 1998. Documenting complex surface temperature patterns from Advanced Very High Resolution Radiometer (AVHRR) imagery of Saginaw Bay, Lake Huron. Journal of Great Lakes Research 24(2): 582-594.