Fengjing Liu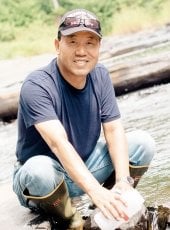 "Water is the new oil: a resource long squandered and soon to be overwhelmed by insatiable demand."
—The Economist
PhD, Hydrology and Biogeochemistry, University of Colorado at Boulder
MS, Hydrology and Water Resources, Lanzhou Institute of Glaciology & Geocryology, Chinese Academy of Sciences
BS, Hydrogeology and Engineering Geology, Lanzhou University, China
Hydrology
Human perturbation and climate change have been altering the ecosystem and the environment we live in. Hydrology plays an extremely important role in helping us understand the processes that control the alteration. By studying hydrology, we may be able to find solutions to mitigate the changes that adversely affect our living. My studies focus on ecohydrology, watershed hydrology, and biogeochemistry. My main goal is to understand how human perturbation and climate change affect water quantity and quality and to find solutions to sustainably manage our water resources. Specifically, I am interested in (1) how forest management affects stream water quantity, water quality and flow regime in black ash forests; (2) how changes in surface water and groundwater interactions in response to changes in climate and land uses affect streamflow generation at watershed scales across the U.S. West; and (3) how landscape and climate interact to control the fluxes of water and green-house gases in the Great Lakes region.
Areas of Expertise
Ecohydrology in forests
Watershed hydrology in montane and lake-dominated catchments
Biogeochemistry in snow-dominated, agricultural and forested catchments
Numerical modeling in watershed hydrology
Forensic hydrology with natural geochemical and isotopic tracers
Recent Publications
Liu, F., M. Conklin, and G. Shaw (2017), Insights into concentration-discharge and endmember mixing analyses in the mid Merced River basin, Water Resources Research, 53, doi:10.1002/2016WR019437.
Al-Qudah, M. O., F. Liu, R. N. Lerch, N. Kitchen, and J. Yang (2016), Controls on nitrate-N concentrations in groundwater in a Missourian claypan watershed, Earth and Space Science, 3: 90-105, doi: 10.1002/2015EA000117.
Shaw, G., M. H. Conklin, G. Nimz, and F. Liu (2014), Groundwater and surface water flow to the Merced River, Yosemite Valley, California: 36Cl and Cl- evidence, Water Resources Research, 10.1002/2013WR014222.
Liu, F., C. Hunsaker, and R. C. Bales (2013), Controls of streamflow generation in small catchments across snow/rain transition in the Southern Sierra, California, Hydrological Processes, 27, 1959-1972, DOI: 10.1002/hyp.9304.
Frisbee, M. D., F. M. Phillips, A. R. Campbell, F. Liu, and S. A. Sanchez (2011), Streamflow generation in a large, alpine watershed in the southern Rocky Mountains of Colorado: Is streamflow generation simply the aggregation of hillslope runoff responses? Water Resources Research, 47, W06512, doi: 10.1029/2010WR009391.
Liu, F., R. C. Bales, M. H. Conklin, and M. E. Conrad (2008), Stream flow generation from snowmelt in semi-arid, forested and seasonally snow-covered catchments, Valles Caldera, New Mexico, Water Resources Research, 44, W12443, doi:10.1029/2007WR006278.
Liu, F., R. Parmenter, P. Brooks, M. Conklin, and R. C. Bales (2008), Intra- and inter-annual variation of streamflow pathways in semiarid, forested catchments, Valles Caldera, New Mexico, Ecohydrology, 1(3), 239-252, doi: 10.1002/eco.22.
Liu, F., M. Williams, and N. Caine (2004), Source waters and flow paths in an alpine catchment, Colorado Front Range, USA, Water Resources Research, Vol. 40, W09401, doi: 10.1029/2004WR003076.