Nancy Langston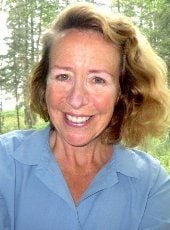 Contact
Academic Office Building 220
Distinguished Professor of Environmental History, Social Sciences
Affiliated Professor, CFRES
Ph.D., University of Washington
M.Phil, Oxford University
B.A., Dartmouth College
Biography
I am an environmental historian who explores the connections between waste, water, climate change, and wildlife in northern watersheds. Author of 5 books, 52 peer-reviewed articles, and public-facing journalism, I have been Principle Investigator on over $1.2 million in external funding. I served as President of the ASEH and Editor-in-Chief of the journal Environmental History.
Recent awards include:
the Distinguished Scholar Award from the American Society of Environmental History;
the Distinguished Service Award;
Mellon Foundation award in environmental humanities;
Fulbright Research Scholar Award (Canada);
American Council of Learned Society sabbatical award;
American Philosophical Society sabbatical.
I spent 17 years at the University of Wisconsin-Madison in the Nelson Institute of Environmental Studies and the Department of Forest and Wildlife Ecology. I started at MTU in 2013. During 2012-2013, I was the King Carl XVI Gustaf Professor of Environmental Science, in residence in the Department of Historical, Philosophical and Religious studies at Umeå University.
Learn more about my current research at www.nancylangston.net
To contact me, email is best: nelangs3@mtu.edu
---
STUDENTS
I am particularly interested in students who wish to focus on environmental history and Great Lakes wildlife policy.
Potential graduate students, please read!
1. The Statement of Purpose is a research statement. Your goal is to provide a brief history of your past research experience and the future research you intend to complete. The research statement is the primary way that the search committee determines if your interests and past experience make you a good fit for the EEP program.
Start by articulating the broader field that you are working within and the larger environmental policy questions that you are interested in answering.
Then move on to articulate your specific environmental policy interest. Give us a specific example of a research question in environmental policy that you want to work on.
Discuss how you want to approach that research question. What tools, experiences, and skills have you already developed? What additional tools do you want to develop?
Then tell us why this particular environmental policy program is ideal for your chosen research. Be specific! Tell us what courses you want to take and why, and tell us who you want to work with and why.
2. The Personal Statement allows you the opportunity to explain your career goals and experiences.
Start by describing your specific career goals in environmental policy.
Then tell us how this specific graduate degree will help to achieve those career goals.
Describe the work, education, research, or personal experiences that have prepared you for graduate study. Give specific examples.
Explain any discrepancies in your record, such as low grades or standardized exam scores.
Links of Interest
Areas of Interest
Toxics, forested watersheds, and northern lakes
Environmental history
Watershed change and water quality
Mining history
Langston, N. In press. Climate Ghosts: Restoring Migratory Species in the Anthropocene. Brandeis University Press.
SV Nguyen, N Langston, A Wellstead, M Howlett. 2020. Mining the evidence: Public comments and evidence-based policymaking in the controversial Minnesota PolyMet mining project, Resources Policy 69, 101842
Langston, N. 2019. "Environment and sustainability in mining." Chapter for Environment and Sustainability in a Globalizing World, Ed. A. Nightingale and T Bohler, Routledge.
Baeten, J. P., Langston, N., Lafreniere, D. J. 2018. "A Spatial Evaluation of Historic Iron Mining Impacts on Current Impaired Waters in Lake Superior's Mesabi Range." Ambio 47 (2): 231-244.
Langston, N. and K. Christen. 2019. Conservation policies threaten Indigenous reindeer herders in Mongolia. The Conversation, Oct. 10, 2019.
Langston, N. 2019. "Closing nuclear plants will increase climate risks." NICHE: The Otther, Jan. 30, 2019. http://niche-canada.org/2019/01/30/closing-nuclear-plants-will-increase-climate-risks/ Co-published with Activehistory.ca and Historicalclimatology.org
Langston, N. 2019. "Will woodland caribou survive in the Lake Superior basin?" Agate Magazine Jan. 14, 2019. http://www.agatemag.com/2019/01/will-woodland-caribou-survive-in-the-lake-superior-basin/
Langston, N. 2018. "Are woodland caribou doomed by climate change?" Historical Climatology July 26, 2018. https://www.historicalclimatology.com/blog/are-woodland-caribou-doomed-by-climate-change
Langston, N. 2018 "The Syllabus Project: Diversifying the Environmental History Syllabus." NICHE: The Otter. July 5, 2018. http://niche-canada.org/2018/07/05/the-syllabus-project/
Langston. N. 2017 Sustaining Lake Superior: An Extraordinary Lake in a Changing World. Yale U. Press. Paperback March 2019.
Langston, N. 2017 "Iron Mines, Toxicity, and Indigenous Communities in the Lake Superior Basin," pp. 313-338 in Mining North America, eds. G. Vrtis and J. McNeil, U of CA Press.
Langston, N. 2017. "Resiliency and Collapse: Lake Trout, Sea Lamprey, and Fisheries Management in Lake Superior." Pp. 239-262 in Lynne Heasley and Daniel Macfarlane, eds Border Flows: A Century of Canadian-American Water Relations, U. Calgary Press.
John Baeten, Nancy Langston, and Don Lafreniere. 2016. "A geospatial approach to uncovering the hidden waste footprint of Lake Superior's Mesabi Iron Range." The Extractive Industries and Society 3(4): 1031-1045.
Thistle, J. and N. Langston. 2016. "Entangled histories: Iron ore mining in Canada and the United States." TheExtractive Industries and Society 3(2): 269-277. 10.1016/j.exis.2015.06.00 Read More
Mårald, E., N. Langston, A. Stens, and J. Moen. 2015. "Changing ideas in forestry: a comparison of concepts in Swedish and American forestry journals during the early 20th and 21st centuries." Ambio. Read More
Steen-Adams, M. M., Langston, N., Adams, M. D., & Mladenoff, D. J. 2015. "Historical framework to explain long-term coupled human and natural system feedbacks: application to a multiple-ownership forest landscape in the northern Great Lakes region, USA." Ecology and Society, 20(1). Read More
Nancy Langston. 2013. Mining the Boreal North. American Scientist. April
Nancy Langston. 2010. Toxic Bodies: Hormone Disruptors and the Legacy of DES. New Haven: Yale University Press. Read More
Langston, N. 2015. "Thinking Like A Microbe: Borders and Environmental History." Canadian Historical Review. 95(4): 592-603 Read More
Michelle Steen-Adams, David J. Mladenoff, Nancy E. Langston, Feng Liu, and Jun Zhu. 2011. "Influence of Biophysical Factors and Differences in Ojibwe Reservation Versus Euro-American Social Histories on Forest Landscape Change in Northern Wisconsin, USA." Landscape Ecology 26 (8) (August 21): 1165-1178. Read More
Michelle Steen-Adams, N. Langston, and D. J. Mladenoff. 2010. "Logging the Great Lakes Indian Reservations: The Case of the Bad River Band of Ojibwe." American Indian Culture and Research Journal 34: 41-66. Read More
American Society for Environmental History Distinguished Scholar Award, 2021.
Fulbright Research Chair in Sustainability, Lakehead University, 2020.
Mellon Visiting Scholar in Environmental Humanities, Center for Environmental Futures, University of Oregon, 2019.
National Science Foundation Research Grant, PI, STS Program, Migratory Wildlife in the North, $396,000.
American Society for Environmental History Distinguished Service Award, March 2018.
Honorary Doctorate, Umeå University Sweden, 2014.
National Science Foundation Research Grant, PI, STS Program, Toxic Mobilizations in Lake Superior, 2014-2017, $239,000.
Selected Keynote and Invited Presentations
ASEH Environmental History Week, invited moderator, "Fostering Diversity in Environmental History," April 2021, via Zoom.
Wisconsin Water Week Workshop, invited keynote, "Sustaining Lake Superior: Hope and Resilience in the Warming World," March 2021, via Zoom.
Umea University, Sweden, Science Days Celebration, keynote: "Climate Ghosts: Sustaining Migratory Species of the North in a Warming World," via Zoom, Nov. 2020.
ASEH Conference workshop "Retributive Justice and Indigenous Histories," speaker, March 2020, (cancelled because of COVID)
Northern Michigan University, Water is Life public talk, "Climate Change, Energy Extraction, and Common Loons," March 2020 (cancelled because of COVID).
Lakehead University, Thunder Bay ON, Canada. Invited Fulbright Keynote Lecture, "Climate Change, Policy Choices, and the Future of Woodland Caribou," March 2020.
Lakehead University, Thunder Bay ON, Canada. Invited wildlife Fulbright seminar, "Mongolian reindeer migrations and management in a changing climate." Feb. 2020.
Pub Science Talk series, Eugene OR. "A Voyage to the Reindeer People," Nov. 2019.
Oregon State University, invited lecture, Nov. 2019. "Environmental justice and Indigenous water protection," Corvallis OR.
Center for Environmental Futures, University of Oregon keynote: "Loons, migrations, and climate grief." Nov. 2019.
Center for Environmental Futures, University of Oregon keynote: "The new mobilities of the Anthropocene: Climate Change and Wildlife Migrations in the North," Oct. 2019.
Cornucopia Climate Lecture Series, invited lecture: "Climate change, mining, and reindeer herding in Mongolia." August 2019.
Lake Superior Cooperative Science and Monitoring Workshop, July 2019, Duluth. Keynote: "Observations on Contaminants in Lake Superior."
Renmin University, China, Center for Ecological History Keynote Lecture: "Climate Change, Toxics, and an Ecology of Health," June 2019, Beijing.
KBOCC, April 2019, "Lake Superior Climate Change and Resilience" lecture.
ASEH Conference April 2020. "The Syllabus Project: Diversifying Environmental History Syllabi"
Rolf Buchdahl Lecture in Science, Technology, and Human Values, March 2019, North Carolina State.
Mandel Lectures in the Humanities, Brandeis University, March 2019
State of Lake Superior Conference, Invited Keynote: Sustaining Lake Superior, Oct. 2018.
Agrarian Seminar, Yale University, Oct 2018, Sustaining Lake Superior.
Forest Stewards Guild keynote speaker, "Malheur and public lands," July 2016.
International Association for Society and Natural Resources keynote speaker, "Sustaining Lake Superior," June 2016.
William O. Douglas Lecture, Whitman College, Washington. Toxics, mining, and indigenous communities. October 2015.
Wallace Stegner Lecture, Montana State University April 27, 2015. "Mining Justice and the Anishinabeg."
Columbia University Fellows, NY. Hybrid Ecologies keynote. March 2014.
Umea University, Sweden. Oct. 18 2014. Invited keynote for the Umea University Celebration;
Hall Humanities Lecture. University of Kansas, KS. Sustaining Lake Superior. Nov. 7, 2014.
Mining the Boreal North. Lecture to the King of Sweden and the Royal Society, Stockholm, May 2013.
Hybrid Ecologies and the Environmental Humanities. Keynote for Science and Technology Days, Umea University, Sweden, March 2013.
Toxaphene in Lake Superior: The Convergence of Medical and Environmental Health. Keynote for Endocrine Disruptor Conference, Paris, December 2013.
Why Blame the Non-native? Invasive species, fisheries collapse, and Lake Superior. Resilience Center, Stockholm, November 2013.
What happened to the lake trout? Historical perspectives on multiple stressors in Lake Superior. Aalborg University, Denmark, October 2012.
After the collapse: Comparing societal responses to sudden environmental change in boreal watersheds. Umea University, October 2012.
Ecological History and an Ecology of Health. Renmin University, Beijing, China. Keynote speaker for opening ceremonies of the Center for Ecological History. May 2012.
Rachel Carson's Silent Spring and 50 years of environmental health concerns. Rachel Carson Center and the Deutsches Museum, Munich, Germany. Keynote speaker. April 2012