Leah M. Vucetich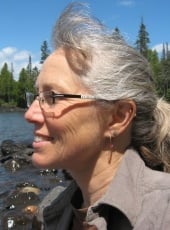 "Whether working with students in the lab, field or classroom, nothing beats seeing the spark of understanding ignite a passion for learning."
Contact
906-370-2374
Noblet Building 188
Research Assistant Professor
PhD, Forest Science, Michigan Technological University
BS, Biology, Colorado State University
Unlocking the secrets in scat
I direct the Molecular and Foraging Ecology Lab. In this lab, we seek to unlock the secrets of scat. We assay the genetic properties of animal populations sampled via noninvasive techniques such as hair or scat and old bones and teeth. These techniques are primarily focused on the assessment of the genetics of Isle Royale wolves and moose. We also assess the diet of Isle Royale moose by microhistological analysis of scat, and the forage quality of Isle Royale moose by chemical analysis of forage plants. I also participate annually in summer and winter field operations for the Isle Royale wolf-moose research.
Links of Interest
Areas of Expertise
Isle Royale wolf genetics
Field research methods
Recent Publications
Oelfke, J, RO Peterson, JA Vucetich, & LM Vucetich. 2003. Wolf handling at Isle Royale: Can we find another approach? George Wright Soc. 20(3):50-58.
Vucetich, LM; JA Vucetich, CP Joshi, TA Waite, RO Peterson. 2001. Genetic (RAPD) diversity in Peromyscus maniculatus in a naturally fragmentation landscape. Mol. Ecol. 10(1): 35-40.
Vucetich, LM, Vucetich, JA, Cleckner, LB, Gorski, PR, & RO Peterson. 2001. Mercury concentrations in deer mouse (Peromyscus maniculatus) tissues from Isle Royale National Park. Environmental Pollution 14(1):113-118.
Paquet, P, JA Vucetich, MK Phillips, LM Vucetich. 2001. Mexican wolf recovery: three-year program review and assessment. Prepared by the Conservation Breeding Specialist Group for the United States Fish and Wildlife Service.
Oelfke, J, RO Peterson, JA Vucetich, and LM Vucetich. 2000. Wolf research in the Isle Royale wilderness: Do the ends justify the means? In Cole, D. and S. McCool (eds.). Proceedings: Wilderness Science in a time of change. Proc. RMRS-P-000, UT: U.S. Dept of Agriculture, Forest Service, Rocky Mountain Research Station.
Nelson, MP, JA Vucetich, RO Peterson, LM Vucetich. 2011. The Isle Royale Wolf-Moose Project (1958-present) and the Wonder of Long-Term Ecological Research. Endeavour 35(1):30-38.
Adams JR, LM Vucetich, PW Hedrick, RO Peterson, JA Vucetich. in 2011. Genomic sweep and potential genetic rescue during limiting environmental conditions in an isolated wolf population. Proceedings Royal Soc B 278:3336-3344 (doi:10.1098/rspb.2011.0261)
Vucetich JA, Vucetich LM, Peterson, RO. 2012. The causes and consequences of partial prey consumption by wolves preying on moose. Behavioral Ecology and Sociobiology 66: 295-303, DOI: 10.1007/s00265-011-1277-0.
Vucetich JA, Huntzinger BA, Peterson RO, Vucetich LM, Hammill JH, Beyer DE. 2012. Intra-seasonal variation in wolf Canis lupus kill rates. Wildlife Biology 18:1-12.
Marucco F, Vucetich LM, Peterson RO, Adams JR, Vucetich JA. 2012. Evaluating the efficacy of non-invasive genetic methods and estimating wolf survival during a ten-year period. Conservation Genetics (DOI 10.1007/s10592-012-0412-4) (Sept 2012) 13(6):1611-1622.
Peterson RO, JA Vucetich and LM Vucetich. 2013. Osteoarthritis in nature: osteoarthritis phenotypes are sexually dimorphic in moose (Alces alces). Osteoarthritis and Cartilage 21:S69.
Räikkönen J, Vucetich JA, Peterson RO, Nelson MP, Vucetich LM. 2013. What the inbred Scandinavian wolf population tells us about the nature of conservation. PLOS ONE 8(6): e67218. doi:10.1371/journal.pone.0067218.