Leah M. Vucetich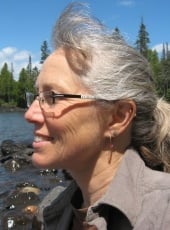 "Whether working with students in the lab, field or classroom, nothing beats seeing the spark of understanding ignite a passion for learning."
Contact
906-370-2374
Noblet Building 188
Research Assistant Professor
PhD, Forest Science, Michigan Technological University
BS, Biology, Colorado State University
Unlocking the secrets in scat
I direct the Molecular and Foraging Ecology Lab. In this lab, we seek to unlock the secrets of scat. We assay the genetic properties of animal populations sampled via noninvasive techniques such as hair or scat and old bones and teeth. These techniques are primarily focused on the assessment of the genetics of Isle Royale wolves and moose. We also assess the diet of Isle Royale moose by microhistological analysis of scat, and the forage quality of Isle Royale moose by chemical analysis of forage plants. I also participate annually in summer and winter field operations for the Isle Royale wolf-moose research.
Links of Interest
Areas of Expertise
Isle Royale wolf genetics
Field research methods
Jacqueline A. Robinson, Jannikke RaÃàikkoÃànen, Leah M. Vucetich, John A. Vucetich, Rolf O. Peterson, Kirk E. Lohmueller1, Robert K. Wayne. 2019. Genomic signatures of extensive inbreeding in Isle Royale wolves, a population on the threshold of extinction. Science Advances 29 May 2019, Vol. 5, no. 5, eaau0757 DOI: 10.1126/sciadv.aau0757
Hoy SR, Vucetich JA, Liu R, DeAngelis DL, Peterson RO, Vucetich LM, Henderson JJ. 2019. Negative frequency-dependent foraging behaviour in a generalist herbivore (Alces alces) and its stabilizing influence on food-web dynamics. Journal of Animal Ecology doi.org/10.1111/1365-2656.13031
Peterson, R. O., Hoy, S. R., Vucetich, L. M., Vucetich, J. A., Kraus, V. B., & Huebner, J. L. (2018). Urinary biomarkers to non-invasively evaluate health in wild moose (Alces alces). Osteoarthritis and Cartilage, 26, S196-S197.
Long-term trends in prevalence and ecology of Echinococcus in wolves (Canis lupus) in Isle Royale National Park, Michigan, USA. JR Cerda, D Buttke, LR Ballweber, RO Peterson, LM Vucetich, JA Vucetich. 2014. Poster to be presented at the European Scientific Counsel Companion Animal Parasites conference, Lithuania, October, 2014.
Hedrick, P.W., Peterson, R.O., Vucetich, L.M., Adams, J.R., & Vucetich, J.A. (2014). Genetic rescue in Isle Royale wolves: genetic analysis and the collapse of the population. Conserv. Genet. DOI 10.1007/s10592-014-0604-1