Evan S. Kane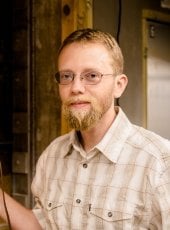 "If trees could run away from their place of establishment, believe me many of them probably would!"
Contact
906-482-6303
Forest Service Building 123
PhD, Interdisciplinary Forest Ecology, University of Alaska Fairbanks
MS, Forestry, Michigan Technological University
BS, Ecology and Environmental Science, Michigan Technological University
Belowground Processes
I am broadly interested in nutrient dynamics in terrestrial and aquatic ecosystems, particularly in "hotspots" of soil carbon storage. As such, research has focused on belowground changes in northern peatlands, boreal ecosystems, and temperate forests, and the corresponding changes in dissolved chemistry. Ecosystem change is a pretty relative concept, but study designs incorporating experimental manipulation or natural disturbances can be particularly persuasive in learning an ecosystem's secrets.
Natural disturbances offer great opportunities to determine how ecosystems reorganize, and wildfires in particular can dramatically alter how long carbon can stay in above and belowground components of an ecosystem. Besides, getting outside and seeing first-hand how disturbances such as flooding or wildfire have altered the functioning of an ecosystem is just really exciting!
Areas of Expertise
Soil carbon
Plant/soil relationships
Decomposition
Dissolved organic carbon
Wildfire
Black carbon
Recent Publications
Euskirchen ES, Kane ES, Edgar CW, Turetsky MR. 2020. When the Source of Flooding Matters: Divergent Responses in Carbon Fluxes in an Alaskan Rich Fen to Two Types of Inundation. Ecosystems, https://doi.org/10.1007/s10021-019-00460-z.
Kane ES, *Veverica TJ, Tfaily MM, Lilleskov EA, *Meingast KM, Kolka RK, *Daniels AL, Chimner RA. 2019. Reduction-oxidation potential and dissolved organic matter composition in northern peat soil: interactive controls of water table position and plant functional groups. Journal of Geophysical Research- Biogeosciences, https://doi.org/10.1029/2019JG005339.
*Rupp DR, Kane ES, Dieleman C, Keller JK, Turetsky MR. 2019. Plant functional group effects on peat carbon cycling in a boreal rich fen. Biogeochemistry, https://doi.org/10.1007/s10533-019-00590-5.
*McPartland MY, Falkowski MJ, Reinhardt JR, Kane ES, Kolka R, Turetsky MR, Douglas TA, Anderson J, Edwards JD, Palik B, Montgomery RA. 2019. Characterizing Boreal Peatland Plant Composition and Species Diversity with Hyperspectral Remote Sensing. Remote Sensing. doi:10.3390/rs11141685.
Haynes KM, Kane ES, Potvin L, Lilleskov E, Kolka RK, Mitchell CPJ. 2019. Impacts of experimental alteration of water table regime and vascular plant community composition on peat mercury profiles and methylmercury production. Science of the Total Environment, https://doi.org/10.1016/j.scitotenv.2019.05.072.
*Coble AA, Marcarelli AM, Kane ES. 2019. Year-round measurements reveal seasonal drivers of nutrient uptake in a snowmelt-driven headwater stream. Freshwater Science, DOI: 10.1086/701733.
Herndon EM, Kinsman‐Costello L, Duroe KA, Mills J, Kane ES, Sebestyen SD, Thompson AA, Wullschleger SD. 2019. Iron (oxyhydr)oxides serve as phosphate traps in tundra and boreal peat soils. Journal of Geophysical Research- Biogeosciences. doi.org/10.1029/2018JG004776.