John A. Vucetich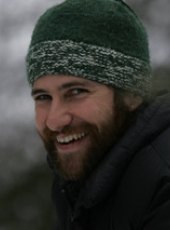 Contact
906-487-1711
Noblet Building 186
PhD, Forest Science, Michigan Technological University
BS, Biology, Michigan Technological University
Synthesizing ecological science and environmental ethics
Environmental ethicists and environmental scientists have a common goal, which is to better understand how we ought to relate to nature. Nevertheless, these two groups employ wildly different methods and premises, and sadly these scholars rarely interact.
Much of my work is aimed at developing insight that emerges from the synthesis of science and ethics. My work in this area is often inspired by carnivore conservation, in particular the wolves and moose of Isle Royale.
Links of Interest
Areas of Expertise
Demographic and genetic elements of population biology
Ecology of wolves and moose
Environmental ethics
Vucetich JA, Burnham D, Macdonald EA, Bruskotter JT, Marchini S,
Zimmermann A, Macdonald DW. (2018). Just conservation: What is it and
should we pursue it?. Biological Conservation, 221, 23-33,
https://doi.org/10.1016/j.biocon.2018.02.022
Vucetich JA, Burnham D, Johnson PJ, Loveridge AJ, Nelson MP,
Bruskotter JT, Macdonald DW. (2019). The value of argument analysis
for understanding ethical considerations pertaining to trophy hunting
and lion conservation. Biological conservation, 235, 260-272,
https://doi.org/10.1016/j.biocon.2019.04.012
Offer-Westort T, Feltz A, Bruskotter JT, Vucetich JA. (2020). What is
an endangered species?: judgments about acceptable risk. Environmental
Research Letters, 15(1), 014010,
https://doi.org/10.1088/1748-9326/ab5cc8
Bruskotter JT, Vucetich JA, Slagle KM, Berardo R, Singh AS, Wilson RS.
(2018). Support for the US Endangered Species Act over time and space:
Controversial species do not weaken public support for protective
legislation. Conservation Letters, 11(6), e12595,
https://doi.org/10.1111/conl.12595
Vucetich JA, Nelson MP, Bruskotter JT. (2020). What Drives Declining
Support for Long-Term Ecological Research?. BioScience. 70:168–173,
https://doi.org/10.1093/biosci/biz151
Hoy SR, MacNulty DR, Smith DW, Stahler DR, Lambin X, Peterson RO,
Ruprecht JS, Vucetich JA. Fluctuations in age structure and their
variable influence on population growth. Functional Ecology. 2020
Jan;34(1):203-16,
https://doi.org/10.1111/1365-2435.13431
Hoy SR, Vucetich JA, Liu R, DeAngelis DL, Peterson RO, Vucetich LM,
Henderson JJ. (2019). Negative frequency‐dependent foraging behaviour
in a generalist herbivore (Alces alces) and its stabilizing influence
on food web dynamics. Journal of Animal Ecology, 88(9), 1291-1304,
https://doi.org/10.1111/1365-2656.13031
Hoy SR, Peterson RO, Vucetich JA. (2018). Climate warming is
associated with smaller body size and shorter lifespans in moose near
their southern range limit. Global change biology, 24(6), 2488-2497,
https://doi.org/10.1111/gcb.14015
Environmental Ethics
Wildlife Ecology & Management
Population Ecology
Wolves & Moose of Isle Royale
Mammalogy