Molly A. Cavaleri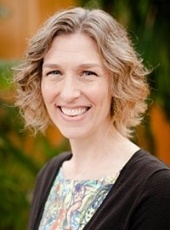 "The wonder is that we can see these trees and not wonder more."
—Ralph Waldo Emerson
Contact
906-487-2843
Noblet Building 162
PhD, Ecology, Colorado State University
MS, Forestry, University of Minnesota
BS, Molecular Biology with Certificate in Environmental Studies, University of Wisconsin
Uncovering the secrets of forest canopies
I have always liked to ask big questions, but invariably get caught up in the details of "how things work" at the smaller scale. Ecophysiology is the perfect discipline for this kind of thinking, as it involves a bottom-up framework of inquiry. I study how trees work using fine-scale physiology measurements, and then extrapolate what I learn to the ecosystem in order to answer those big ecological questions within the context of global change.
Global change ecology is an ever-expanding field that offers the opportunity for both exciting discovery and practical application. Understanding how plants interact with their environment is imperative if we want to understand how ecosystems are responding to climate change, land use change, and invasive species. I explore the movement of both CO2 and water through forests, as well as tree canopy structure as it relates to physiological function.
In both classroom teaching and laboratory mentoring, I strive to create a nurturing, unintimidating learning environment that fosters curiosity about science, facilitates critical thinking, and encourages students to actively participate in their own education. I enjoy teaching classes in tree physiology and forest ecophysiology, with emphasis on hands-on learning of practical skills such as field data collection and analysis.
To follow me on twitter: @MollyCavaleri
To learn more about my Tropical Responses to Altered Climate Experiment (TRACE) in Puerto Rico, please visit: www.forestwarming.org
Links of Interest
Follow on Twitter: @MollyCavaleri
Areas of Expertise
Forest canopy structure and function
Forest response to global change
Carbon and water cycling through forests
Tree ecophysiology
Stable isotope ecology
Invasive tree species
Recent Publications
Cavaleri MA, Reed SC, Smith K, and Wood TE. (2015) Urgent need for warming experiments in tropical forests. Global Change Biology 21(6):2111-2121.
Ma R-Y, Zhang J-L, Cavaleri MA, Sterck F, Strijk JS, and Cao K-F. (2015) Convergent evolution towards high net carbon gain efficiency contributes to the shade tolerance of palms (Arecaceae). PLoS ONE, doi:10.1371/journal.pone.0140384.
Coble AP, and Cavaleri MA. (2015) Light acclimation optimizes leaf functional traits despite height-related constraints in a canopy shading experiment. Oecologia, 177:1131-1143.
Cavaleri MA, Ostertag R, Cordell S, and Sack L. (2014) Native trees show conservative water use relative to invasive trees: results from a removal experiment in a Hawaiian wet forest. Conservation Physiology, 2(1): cou016. doi:10.1093/conphys/cou016.
Coble AP, and Cavaleri MA. (2014) Light drives vertical gradients of leaf morphology in a sugar maple (Acer saccharum) forest. Tree Physiology, 34: 146-158.
Coble AP, Autio A, Cavaleri MA, Binkley D, and Ryan MG. (2014) Converging patterns of vertical variability in leaf morphology and nitrogen across seven Eucalyptus plantations in Brazil and Hawaii, USA. Trees: Structure and Function, 28: 1-15.
Reed SC, Wood TE, Cavaleri MA. (2012) Tropical forests in a warming world. New Phytologist, 193: 27-29.
Wood TE, Cavaleri MA, and Reed SC. (2012) Tropical forest carbon balance in a warmer world: a critical review spanning microbial- to ecosystem-scale processes. Biological Reviews, 87: 912-927.
Cavaleri MA and Sack L. (2010) Comparative water use of native and invasive plants at multiple scales: a global meta-analysis. Ecology, 91: 2705-2715..
Cavaleri MA, Oberbauer SF, Clark DB, Clark DA, and Ryan MG. (2010) Height is more important than light in determining leaf morphology in a tropical rain forest. Ecology, 91: 1730–1739. .
Ryan MG, Cavaleri MA, Almeida de Campi A, Penchel R, Senock RS and Stape JL. (2009) Wood CO2 efflux and foliar respiration for Eucalyptus in Hawaii and Brazil. Tree Physiology, 29: 1213-1222.
Cavaleri MA, Oberbauer SF, Ryan MG. (2008) Foliar and ecosystem respiration in an oldgrowth tropical rain forest. Plant, Cell and Environment, 31: 473-483.
Cavaleri MA, Oberbauer SF, Ryan MG (2006) Wood CO2 efflux in a primary tropical rain forest. Global Change Biology, 12: 2442-2458.
Cavaleri MA, Gilmore DW, Mozaffari M, Rosen CJ, Halbach TR. (2004) Hybrid poplar and forest soil response to municipal and industrial by-products: A greenhouse study. Journal of Environmental Quality, 33: 1055-1061.