Molly A. Cavaleri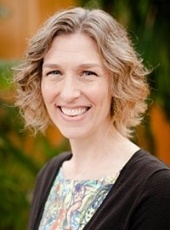 "The wonder is that we can see these trees and not wonder more."
—Ralph Waldo Emerson
Contact
906-487-2843
Noblet Building 162

Interim Associate Dean & Professor
Director of Graduate Studies
PhD, Ecology, Colorado State University
MS, Forestry, University of Minnesota
BS, Molecular Biology with Certificate in Environmental Studies, University of Wisconsin
Uncovering the secrets of forest canopies
I have always liked to ask big questions, but invariably get caught up in the details of "how things work" at the smaller scale. Ecophysiology is the perfect discipline for this kind of thinking, as it involves a bottom-up framework of inquiry. I study how trees work using fine-scale physiology measurements, and then extrapolate what I learn to the ecosystem in order to answer those big ecological questions within the context of global change.
Global change ecology is an ever-expanding field that offers the opportunity for both exciting discovery and practical application. Understanding how plants interact with their environment is imperative if we want to understand how ecosystems are responding to climate change, land use change, and invasive species. I explore the movement of both CO2 and water through forests, as well as tree canopy structure as it relates to physiological function.
In both classroom teaching and laboratory mentoring, I strive to create a nurturing, unintimidating learning environment that fosters curiosity about science, facilitates critical thinking, and encourages students to actively participate in their own education. I enjoy teaching classes in tree physiology and forest ecophysiology, with emphasis on hands-on learning of practical skills such as field data collection and analysis.
To follow me on twitter: @MollyCavaleri
To learn more about my Tropical Responses to Altered Climate Experiment (TRACE) in Puerto Rico, please visit: www.forestwarming.org
Links of Interest
Follow on Twitter: @MollyCavaleri
Areas of Expertise
Forest canopy structure and function
Forest response to global change
Carbon and water cycling through forests
Tree ecophysiology
Stable isotope ecology
Invasive tree species
Kennard D, Matlaga D, Joanne S, Clay K, Alonso-Rodriguez Aura, Reed SC, Cavaleri MA, and Wood TE. In press. Tropical understory herbaceous community responds more strongly to hurricane disturbance than to experimental warming. Ecology and Evolution.
Reed SC, Reibold R, Cavaleri MA, Alonso-Rodríguez AM, Berberich ME, Wood TE. (2020). Soil biogeochemical responses of a tropical forest to warming and hurricane disturbance. Advances in Ecological Research. https://doi.org/10.1016/bs.aecr.2020.01.007
Kramer R*, Ishii, HR, Carter KR, Miyazaki Y, Cavaleri MA, Araki M, Azuma W, Inoue Y, and Hara C. (2020). Predicting effects of climate change on productivity and persistence of forest trees. Ecological Reviews. https://doi.org/10.1111/1440-1703.12127
Benedicte B, Alonso-Rodríguez AM, Aldrich-Wolfe L, Cavaleri MA, Reed SC, Wood TE. (2020). Altered climate leads to positive density-dependent feedbacks in a tropical rainforest. Global Change Biology. https://doi.org/10.1111/gcb.15087
Kumarathunge DP*, Medlyn BE, Drake JE, Tjoelker MG, Aspinwall MJ, Battaglia M, Cano FJ, Carter KR*, Cavaleri MA, Cernusak LA, Chambers JQ, Crous KY, De Kauwe MG, Dillaway DN, Dreyer E, Ellsworth DS, Ghannoum O, Han Q, Hikosaka K, Jensen AM, Kelly JWG, Kruger EL, Mercado LM, Onoda Y, Reich PB, Rogers A, Slot M, Smith N, Tarvainen L, Tissue DT, Togashi HF, Tribuzy ES, Uddling J, Vårhammar A, Wallin G, Warren JM and Way DA (2019) Acclimation and adaptation components of the temperature dependence of plant photosynthesis at the global scale. New Phytologist, 222: 768-784. https://doi.org/10.1111/nph.15668
Wood TE, González G, Silver WL, Reed SC, and Cavaleri MA (2019) On the Shoulders of Giants: Continuing the Legacy of Large-Scale Ecosystem Manipulation Experiments in Puerto Rico. Forests, 10: 210. https://doi.org/10.3390/f10030210
Wood TE, Cavaleri MA, Giardina G, Khan S, Mohan JE, Nottingham A, Reed SC and Slot M. (2019) Soil warming effects on low-latitude forests with highly-weathered soils. In JE Mohan (Ed.), Ecosystem Consequences of Soil Warming: Microbes, Vegetation, Fauna, and Soil Biogeochemistry (pp. 385-439). London, UK: Academic Press, Elsevier. https://doi.org/10.1016/B978-0-12-813493-1.00015-6