Andrew J. Burton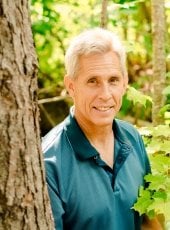 "Every day in the woods is a good day - don't get so caught up in the work at hand that you forget to look around and appreciate where you are."
Contact
906-487-2566
Noblet Building 174
Distinguished Professor
Interim Associate Dean for Research
Coordinator of Interdisciplinary, Multi-Institutional Research
PhD, Forest Science (Forest Ecology), Michigan Technological University, 1997
MS, Forestry (Soils and Hydrology), Michigan State University, 1986
BS, Forestry, Michigan State University, 1983
Below ground Processes and Ecosystem Ecology
Forest ecosystems have constantly changed through time. The difficulty today is understanding the influence of man relative to the background of natural change. We impact our forests both intentionally through management and unintentionally by creating pollution, introducing exotic pests, and altering our atmosphere. Are these impacts so severe that our forest ecosystems cannot be sustained? Will large-scale declines in forest health and productivity occur, or will our forests simply undergo gradual changes in composition as they adjust to a new environment? My research integrates soil science, hydrology, plant physiology and ecology in order to determine how ecosystems are affected by and adjust to environmental stresses and human manipulations. By understanding how forests are likely to change, we will be able to adjust our activities now to create a future in which forests can continue to provide the goods and services to which we have become accustomed.
Our students will manage the forests of the future. I enjoy taking them into the field so they can not only learn how our ecosystems work, but they also can see it, feel it and appreciate it. It is very important to me that our students learn and succeed. I am willing to work as hard as I can at making their education a success. I know I can contribute to our understanding of forest ecosystems through my research, but I also know that what I can do is far less than what hundreds of well-trained students will accomplish.
Links of Interest
Areas of Expertise
Forest responses to global change factors
Belowground processes
Carbon and nutrient cycling
Physiological ecology of tree roots
Undergraduate involvement in research
8/2016 – 6/2019 USDA Forest Service (subaward on DOE grant) "Wood Decomposition: Understanding Processes Regulating Carbon Transfer to Soil Carbon Pools Using FACE Wood at Multiple Scales", $219,896. A.J. Burton (PI), and M.F. Jurgensen.
6/2016 – 12/2018 USDA Forest Service "Measurement and Simulation of Carbon Stocks in African Mangroves", $150,613 (includes $30,119 in cost share). A.J. Burton (PI)
9/2013 – 8/2018 National Science Foundation "Collaborative LTREB Renewal: Long-Term Ecosystem Response to Chronic Atmospheric Nitrate Deposition", $156,056, A.J. Burton (PI)
10/2015 – 9/2018 USDA McIntire-Stennis "Effects of Climate Change on Northern Hardwood Productivity: Influences of Landscape Position and Population Genetics", $21,700 (includes $7,700 in waived overhead). A.J. Burton (PI)
9/2012 – 8/2017 National Science Foundation "SEP: Sustainable Forest-Based Biofuel Pathways to Hydrocarbon Transportation Fuels: Biomass Production, Torrefaction, Pyrolysis, Catalytic Upgrading, and Combustion", $1,800,000. D.R. Shonnard (PI), E. Bar Ziv, A.J. Burton (co-PI, Thrust 1 leader), A.L. Mayer, and J.D. Naber
Current Research Projects
Michigan Gradient Study - Long-term Effects of Nitrogen Deposition on Northern Hardwood Forests (1987 - present)
The FACE Wood Decomposition Experiment – FWDE (2011 - present)
Measurement and Simulation of Carbon Stocks in African Mangroves (2016 to present)
Sustainable Forest-Based Biofuel Pathways (2012 to present)
Carbon Sequestration in Tropical Forests (2009 to present)
FW3020 Forest Ecology (Fall Semester, 3 cr - 2 h lecture, 3 h lab)
FW5100 Advanced Terrestrial Ecology (Spring Semester, 3 cr - 3 h lecture)
FW4810 Integrated Resource Assessment ("Capstone", Fall Semester, 2 cr lab section)