Tara L. Bal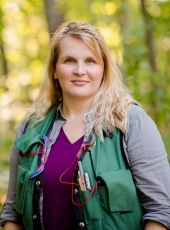 Contact
906-487-1898
Noblet Building 112
Assistant Professor, Forest Health
Master of Forestry Degree Program Director
Wood Protection Group, Microbiology/Pathology Lab Leader
Certified Forester, Society of American Foresters
PhD, Forest Science, Michigan Technological University
M.S. Forest Ecology and Management, Michigan Technological University
B.S. in Forestry, Purdue University
Biography
My research, which focuses on forest health, and its biotic and abiotic influencing factors, helps provide scientific foundation for management policies and the ecological response to changes in forest health conditions. Influencing factors I have studied include forest entomology, pathology, invasive species ecology, climate, nutrients, and anthropogenic impacts. Forest Health is a key driver of management in many forested systems and is becoming the main focus for managers more often as new diseases, pests and plants are introduced in our global economy.
Innovative research and monitoring of forest conditions are vitally important to the sustainability and diversity of our forests, but I also believe that well educated students and an informed public will do more for this than what research I could ever carry out. Besides, being outside and seeing people's amazed reactions to earthworms evading a mustard solution or aquatic insects coming up in a net is just great fun!
In addition to teaching and research, I'm also an advisor to the Master of Forestry students. My goal is to prepare students to be professionals across a range of forestry fields. Mentorship, networking, communication, and other professional skills are emphasized in addition to students coursework.
Teaching Interests
Forest Health
Insect Ecology
Maple Syrup Culture & Management
Natural Resources Communication
Vegetation and Pathology
Areas of Expertise
Forest Health Management and Monitoring
Earthworm Invasion Ecology
Wood Decay Testing
Insect, Fungi, and Environmental Education
Forest Education, Diversity and Inclusion in Forestry and Natural Resources
Recent Publications
Bal, Schneider, and Richter. 2020. Decay of birdseye sugar maple (

Acer saccharum

) and curly red maple (

Acer rubrum

) figured woods.

Wood and Fiber Science

, 52(3): 292-297

https://doi.org/10.22382/wfs-2020-027
Bal, T, Sharik T. 2019. Web content analysis of University forestry and related natural resources landing webpages in the United States in relation to student and faculty diversity. Journal of Forestry doi:10.1093/jofore/fvz024. Read More
Bal, T, Sharik T. 2019. Image content analysis of US natural resources-related professional society websites with respect to gender and racial/ethnic diversity. Journal of Forestry doi:10.1093/jofore.fvs023. Read More
Bal, T, Raj, J, Richter, D. 2019. Influence of Chaga (Inonotus obliquus) treatment of wood in decay tests. Current Research in Environmental & Applied Mycology 9(1): 85-91. Read More
Cladas, K, Bal, T, Storer, A. 2018. Is success in detection of Agrilus planipennis related to forest edges? Journal of Applied Entomology 143: 214-224 Read More
Bal, TL, Storer, AJ, Jurgensen, MF. 2018. Evidence of damage from exotic invasive earthworm activity was highly correlated to sugar maple dieback in the Upper Great Lakes region. Biological Invasions 20 (1): 151-164. Read More
Bal, TL, Storer, AJ, Jurgensen, MF, Doskey, PV, Amacher, MC, 2015. Nutrient stress predisposes and contributes to sugar maple dieback across its northern range: a review. Forestry 88 (1): 64-83. Read More
Bal, T.L., 2014. Forest Health Detectives. The American Biology Teacher. 76 (8): 532-537 Read More
Bal, T.L., Richter, D.L,. Storer, A.J., and Jurgensen, M.F. 2013. The relationship of the Sapstreak Fungus, Ceratocystis virescens, to Sugar Maple Dieback and Decay in North Michigan. American Journal of Plant Science 4(2A): 436-443. Read More
Evaluation of Sugar Maple Dieback in the Upper Great Lakes Region and Development of a Forest Health Youth Education Program. PhD Dissertation. Michigan Technological University. 2013. Read More
Teaching Experience
FW 3840 Forest Health
FW 3800 Insect Ecology
FW 3765 Maple Syrup Mgmt & Culture
FW 1050 Natural Resources Professional
FW 5081 Professionalism in Forestry
FW 4500 Wild Foods: People and Plants in the Northern Forest
FW 4800 Communication for Natural Resource Professionals (co-taught)