Michigan Tech strives for an inclusive learning environment by championing the principles of Universal Design for Learning (UDL). To support this effort, the university has adopted Ally, a tool in your Canvas courses that benefits all learners by helping to make digital course content more accessible and usable.
How Ally works
Helps instructors identify accessibility issues with instructional content uploaded to Canvas
Provides options for improving the accessibility of the content
Provides learners optional alternative formats to support flexibility in consuming instructional content.
Ally scans uploaded files (see supported formats below) and assigns an accessibility score and indicator (colored gauge icon) that is displayed to instructors near each supported file in Canvas. Scores are determined by the severity of issues in each file. The goal is a green gauge icon!

Accessibility scores and gauge icons are not visible to students. When an instructor selects the accessibility score indicator Ally provides a detailed feedback panel for the file showing the overall accessibility score and details on accessibility issues and how to fix them. File previews are also available for PDF, Word, and PowerPoint files highlighting where specific issues can be found in the document.
Ally supports the following file formats:
PDF
Microsoft Word
Microsoft PowerPoint
Image files (JPG, JPEG, GIF, PNG, TIFF)
OpenOffice/LibreOffice
Uploaded HTML
Benefits of Ally
Ally supports an instructor's ability to quickly identify accessibility problems with instructional materials and provides options for improving them. At the same time Ally generates and makes available alternative file formats for learners. This provides them choices in how they consume instructional content to meet their individual preferences and lifestyles. For example a PDF document can be downloaded as an HTML file for viewing on a mobile device, or as an MP3 audio file for playback while commuting or working out. Providing learners with options supports the UDL principle of multiple means of representation.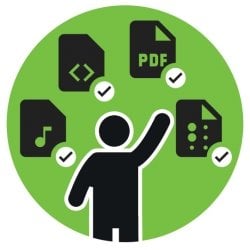 Ally generates the following alternative formats
Tagged PDF (structured PDF to support assistive technology)
Semantic HTML (for viewing in a browser or on a mobile device)
Audio MP3 (for listening on supported devices)
ePub (for use on e-book readers or iPads)
Electronic braille (for use on electronic braille displays)
Translated version (machine translation of original document)
Learn more about Ally
Ally Course Accessibility Report
The Ally course accessibility report provides a big picture overview with a course-level accessibility score as well as specific details about the accessibility of all your digital course content. The overview tab groups content by type along with a list of issues and guidance on those that are easiest to fix. The content tab lists all content issues in the course. This report is a great way to review the status of your digital course content and helps you plan your efforts to make improvements. The course accessibility report is only available to teachers in Canvas courses and is not visible to students.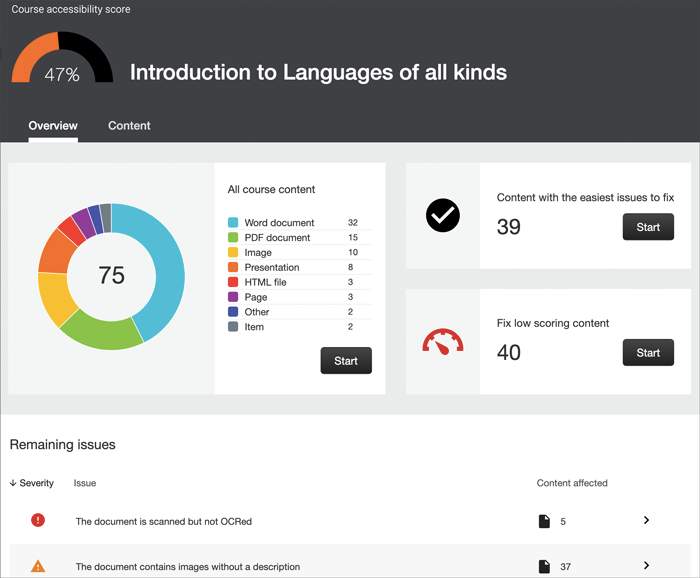 ---