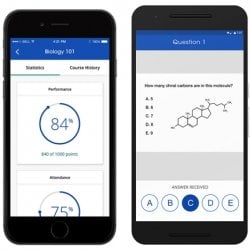 Polling students during a live class session has been an effective way to gauge comprehension of course content for many years. Previously a "clicker" (also called a personal response device) was used by students to submit their responses to multiple choice questions posed during class. Now students can participate in these same polling exercises with their mobile device or laptop computer, and can be located either in the classroom or remotely. Michigan Tech currently supports iClicker Cloud software for conducting robust polling with multiple choice, short answer, numeric, and target question types. The software allows instructors to quickly summarize, share, and react to student responses and even award points based on either participation or correct answers. If desired these points can also be uploaded to the Canvas course gradebook. An option to use iClicker Cloud software to register attendance only is also available for use without charge to students.
Instructors can download the iClicker Cloud software and get started by setting up a free instructor account and an iClicker Cloud course. If you plan to use a classroom PC to run the iClicker Cloud software make sure to confirm that you do not have admin rights for the computer from the iClicker Cloud download page. You should then be provided with a downloaded version of the iClicker Cloud software that will run on the classroom computer without the need to install or have administrative credentials.
Students join the iClicker course by using the iClicker student app (iOS, Android) on their mobile device, or from a browser on their computer and can then respond to the polling questions.
Watch the iClicker Cloud Polling Demo Below:
Pedagogical Suggestions
HOW a student response system is used during a class session is very important! Research shows that just "quizzing" students or taking attendance by clicker can actually diminish learning. The key to using response systems successfully is to focus on two things:
Systems should be used to promote interactions between students as they discuss and defend their responses. Richer student responses may mean LESS discussion. There's debate about whether higher-tech response systems take student attention and time away from "mainstream" class activities, and whether student "multitasking" results in better learning.
The instructor should use responses to direct and inform class activities in real time. Based on student feedback, instructors can add or eliminate examples, speed up or slow down, or address common misconceptions.
Student polling can be effectively used to gauge student opinions, review recently covered material, check prior knowledge, predict the outcome of a demonstration, or monitor progress.
Some instructors have experimented with "low-tech" paper clickers, where students respond to questions by revealing one of four colored letters. This usually provides more interaction and less risk for students, but does not allow tracking/grading responses.
Additional Resources