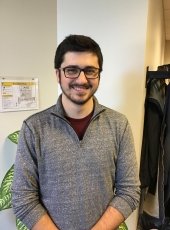 Josh is a third year Electrical Engineering student from Milwaukee WI. He will graduate in Spring of 2021 and will be pursuing a career in the Aerospace/Defense industry.
Jacob is studying Computer Engineering. He has zero wins in fortnite but that doesn't bring him down. He is the oldest of at least six siblings and is pursuing a career in embedded systems.
Manjere is studying Medical Laboratory Science. He spends his spare time playing indoor soccer, tennis, basketball, and long walks on the beach . He is a man of mystery and power, whose power is exceeded only by his mystery. He graduates in Spring 2019 and is pursuing a career as a nurse anesthetist.
Ethan is studying Mechanical Engineering and Electrical Engineering. He is a member of Triangle Fraternity at Michigan Tech and spends his spare time having fun with his Brothers and teaching new candidates of National Ski Patrol at Michigan Tech's Mont Ripley. He graduates in Spring 2019 and is pursuing a career in renewable energy and energy storage.
Rachel is studying Physics and Biomedical Engineering. Outside of school and work, she enjoys being a member of the Michigan Tech Women's Volleyball team.
Christa is a Chemical Engineering major. She is the President of InterVarsity Christian Fellowship at Michigan and enjoys spending time with friends and exploring the Keweenaw.