Charles Wallace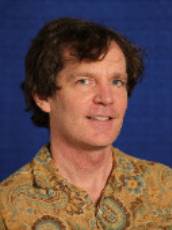 Contact
906-487-3431
Rekhi Hall 205
Associate Professor, Computer Science
Associate Dean for Curriculum & Instruction, College of Computing
Affiliated Associate Professor, Cognitive and Learning Sciences
PhD, Computer Science & Engineering, University of Michigan, 1999
MA, Linguistics, University of California, 1992
BA, Linguistics, University of Pennsylvania, Philadelphia, 1989
Biography
Wallace studied linguistics at the University of Pennsylvania and the University of California before earning his Ph.D. in computer science at the University of Michigan. His experiences as a computer scientist, linguist, and software developer drive his research exploring how humans can better understand, build, and use software. His work has been funded by the National Science Foundation, Google, Microsoft Research, and the U.S. Department of Defense. In 2010, he was awarded a Fulbright to visit Pontificia Universidad Católica de Chile in Santiago, and he served as a Fulbright Alumni Ambassador.
Wallace has been intimately involved with undergraduate Computer Science curriculum development since his arrival in 2000. He cofounded the Software Engineering degree program in 2003. Wallace currently serves as Associate Dean for Curriculum & Instruction in the College of Computing. In conjunction with his research projects, he founded local outreach efforts in computer education for middle and high school students and digital literacy for senior citizens. Wallace was presented with the University Distinguished Service Award in 2014 for these efforts, and he has been invited to the White House and Congress to speak about his work with seniors.
Links of Interest
Areas of Expertise
Digital technology adoption for older adults and other digital newcomers
K-12 computing education
Undergraduate software engineering and computer science education
Communication in software development
Lightweight formal methods
Agile software development
Recent Publications
"Understanding relaxed memory consistency through interactive visualization" (Tool Demo). With O. Thorsen. ASM Symposium on Software Visualization (SOFTVIS), Salt Lake City, 2010.
"Abstract State Machines and the inquiry process". With J.K. Huggins. In A. Blass, N. Dershowitz and W. Reisig (eds.), Fields of Logic and Computation. Lecture Notes in Computer Science 6300, 2010.
"Making and acting: Ethnographic development of a case study approach". With M. Seigel and T. Vosecky. Technical Communication, 55(4), 2008.
"Speaking of software: Case studies in software communication". With A. Brady, M. Seigel and T. Vosecky. In H.J.C. Ellis, S.A. Demurjian and J.F. Naveda (eds.), Software Engineering: Effective Teaching and Learning Approaches and Practices. IGI Global, 2008.
"Addressing communication issues in software development through case studies". With A. Brady, M. Seigel and T. Vosecky. Conference on Software Engineering Education & Training (CSEET), Dublin, Ireland, 2007.
"RFID cards: A new deal in accessibility for the elderly". With R. Pastel and J. Heines. International Conference on Human-Computer Interaction (HCII), Beijing, China, 2007.
"Automated verification of UPC memory consistency". With Oystein Thorsen. Workshop on Verified Software: Theories, Tools, Experiments (VSTTE), Seattle, WA, 2006.