Koloud Al Khamaiseh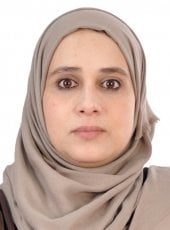 ""My success comes only through Allah. In Him I trust and to Him I turn""
—Surah Hud - 88
Assistant Teaching Professor
PhD, Electrical and Computer Engineering, Western Michigan University, 2023
MSc, Computer Engineering, Jordan University of Science and Technology, 2010
BSc, Computer Engineering, Mutah University, 2006
Biography
Koloud Alkhamaiseh is an Assistant Teaching Professor of Computer Science at Michigan Technological University Koloud has a background in Computer Engineering - B.S. from Mutah University, Computer Engineering - M.S.c. from Jordan University of Science and Technology, and Electrical and Computer Engineering - Ph.D. from Western Michigan University
Her research interests lie in the fields of Image Processing and Machine Learning for Medical Applications, Cybersecurity for Medical Applications, HTML Parsing and Information Retrieval, and pattern recognition.
Areas of Interest
Machine Learning for Medical Image Processing
Machine Learning in CyberSecurity
HTML Parsing and Information Retrieval
Pattern recognition
N. Alkhamaiseh, Grantner, J.L., Shebrain, S. et al. Towards reliable hepatocytic anatomy segmentation in laparoscopic cholecystectomy using U-Net with Auto-Encoder. Surg Endosc 37, 7358–7369 (2023). https://doi.org/10.1007/s00464-023-10306-4
N. Alkhamaiseh, J. L. Grantner, S. Shebrain and I. Abdel– Qader, "Towards Automated Performance Assessment for Laparoscopic Box Trainer using Cross-Stage Partial Network," 2021 Digital Image Computing: Techniques and Applications (DICTA), 2021, pp. 01-07, doi: 10.1109/DICTA52665.2021.9647393.
N. Alkhamaiseh, J. L. Grantner, S. Shebrain and I. Abdel–Qader, " Towards Real-Time Multi-Class Object Detection and Tracking for the FLS Pattern Cutting Task", Accepted to be published in Advances in Science, Technology and Engineering Systems Journal (ASTES), 2023.
N. Alkhamaiseh, J. L. Grantner, S. Shebrain and I. Abdel–Qader, " A Summative Assessment of the Pattern-Cutting Task in the Laparoscopic Box Trainer using Color Tracking and Fuzzy Logic", Accepted to be published in Jordan Journal of Electrical Engineering (JJEE), 2023.
Aldwairi, Monther; Al-Khamaiseh, Koloud; Alharbi, Fatima; and Shah, Babar (2016) "Bloom Filters Optimized Wu-Manber for Intrusion Detection," Journal of Digital Forensics, Security and Law: 11: No. 4, Article 5.
Monther Aldwairi, Koloud AL_Khamaiseh, "Exhaust: Optimizing Wu-Manber Pattern Matching for Intrusion Detection using Bloom Filters". The 2nd IEEE World Symposium on Web Applications and Networking
Koloud Al-Khamaiseh, Shadi ALShagarin, "A Survey of String-Matching Algorithms", Journal of Engineering Research and Applications July 2014.
Business Information Systems Department, Western Michigan University.
Data Communications Practical Lab (CISCO lab)
Tafila Technical University, Electronics and Communication Engineering and Computer Engineering Department
Electrical Circuits
Numerical
Digital Logic
Computer Organization and
Computer
Computer Interfaces and Peripherals
Object Oriented
Data Structure and
Microprocessor and Assembly Language
Engineering
Electrical Circuits
Electronics
Microprocessor and Assembly Language
Digital Logic Design
Computer Organization and Architecture
Computer Interfaces and Peripherals
Computer Networks
Digital Communication
I believe that teaching is an art for which there is no one best approach, and students are the center of this art. To craft this art, I have five basic beliefs in my teaching philosophy: (1) Educate students in recognizing and understanding the key fundamentals of math, physics, networking, security, and computer programming. This can be achieved by using the best tools and resources available to give lectures (e.g., slides, whiteboard, textbooks, sample problem sets, assignments, projects, etc.) (2) Encourage students to strengthen their critical thinking skills so that they may apply the fundamentals to many more advanced concepts. To accomplish this, I may ask thoughtful and open-ended questions, discuss real-life problems, or use analogies. (3) Communicate with the students to encourage them to become independent thinkers which will allow them to ultimately excel in their careers. (4) Apply two sides frequently to corrective feedback to improve the teaching process. (5) The most important goal, that I always try to achieve, is to make students go down in thinking like computing machines. Students need to know what they are doing correctly AND incorrectly. On the other side, the instructor also needs to know the effectiveness of his teaching way and if he needs to change it. I believe that a successful teaching process should be assessed periodically, so a feedback mechanism should be provided and students' opinions have to be listened to and appreciated.