Our departmental Honors Program conveys special recognition to students majoring in Biological Sciences, Medical Laboratory Sciences, Biochemistry, and Computational Biology. To complete the program, students take designated honors courses, which require planning, completing, and presenting the results of a research project conducted in collaboration with one of our department's faculty. Students should apply for admission to the Honors Program during the spring semester of their third year. Induction into the program takes place in their fourth year. Students may begin their research any time after their acceptance into the program.
Admission to the Honors Program
Students must have a 3.30 minimum GPA in all academic work, and a 3.30 GPA in all biological sciences, mathematics, chemistry, and physics courses.
Students must identify a full-time faculty member in the department to serve as an honors research advisor. They must also identify one additional faculty member, from either our department or another science department, to serve as a reader for their project.
Prior to admission, students write a research proposal in conjunction with their chosen advisor.
Students then submit their proposal to the honors committee for admission. The committee will accept students if they meet the GPA requirements and if their research project, research advisor, and reader are deemed appropriate.
Honors Program Requirements
Students must complete at least 3 credits of BL4001 (Honors Problems in Biological Sciences).
Students must present their research findings in two ways:


A written report
A departmental seminar

For more information on Honors Program requirements, contact the program director.
Honors Program Recognition
A student who completes the Honors Program will be recognized in several ways:
"Honors in Biological Sciences" will be noted on the Commencement program and will be announced as part of the commencement proceedings.
"Honors in Biological Sciences" will appear on the student's final transcript.
The student will receive a certificate of accomplishment.
Honor Societies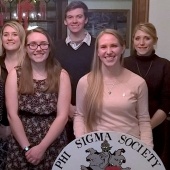 Phi Sigma National Biological Honor Society
The Phi Sigma National Biological Honor Society is the only recognized honor society for the biological sciences. The organization promotes research within the biological sciences, and is exclusive to high-achieving students nationwide.
In order to be a member of Phi Sigma, students must meet eligibility requirements, including being ranked in the upper 35 percent of their class, and must also have a GPA of at least 3.0.
Phi Sigma members pay a one-time initiation fee for lifetime membership.
The Michigan Tech chapter of Phi Sigma—Beta Chi—awards an undergraduate research grant every year.
Phi Sigma members can:
attend various formal lectures;
visit research labs;
participate in Phi Sigma social activities;
assist with departmental exhibits;
provide high-school science teaching assistance; and
take advantage of diverse field trips.
For more information, contact the program director at phisigma-l@mtu.edu.
---
Looking for more opportunities to enhance your college experience? The Michigan Tech Pavlis Honors College supports highly motivated Michigan Tech students from all programs as they achieve the highest standards of academic excellence. The College serves undergraduate students University-wide by providing an academic home for engaging educational programs in leadership, innovation, research, and service.
Students can learn more about Scholars and Leaders Programs, Enterprise, and national scholarships and grants.
---