Michigan Tech Research Institute (MTRI) provides the tools needed to monitor worldwide water quality.
The Institute has developed a remote sensing water quality toolbox that generates a suite of geospatial products used by federal, state, and local agencies to track changes in water quality in the Laurentian Great Lakes and other large lakes throughout the world. MTRI uses innovative in situ optical instrumentation and physics-based bio-optical algorithms to generate lake water quality monitoring products from satellite, airborne, UAV, and field remote sensing datasets.
Recent Citations
Projects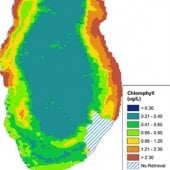 The Great Lake Primary Productivity Model (GLPPM) was developed under the NASA ROSES Carbon Monitoring System Program as well as under Great Lakes Observing System (GLOS) funding to help determine if and when the Great Lakes act as sources or sinks of carbon to the atmosphere.
Discover more about the project.
---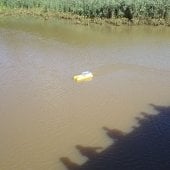 BathyBoat is a cost-effective, easily-deployable, water-depth mapping tool for restricted harbors and other hard-to-access remote locations such as bridges. The newly redesigned BathyBoat is three feet in length and weighs less than 40 pounds.
See how it works.
---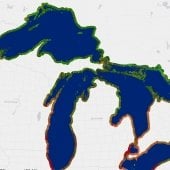 Long-term monitoring of Great Lakes coastal wetlands is accomplished using SOLEC (State of the Lakes Ecosystem Conference) or GLEI (Great Lakes Environmental Indicators) indicators. Our map is the first comprehensive wetland delineation of the bi-national coastal Great Lakes, and includes adjacent land use and at least two invasive plant species: Typha spp. and Phragmites australis.
Learn how invasive species impact the economy.
---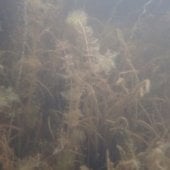 In this collaborative Great Lakes Restoration Initiative project, we tool a multi-faceted analysis and extension approach aimed at arresting Eurasian Watermilfoil in its early stages in the Upper Great Lakes so similar invasions do not become the norm.
---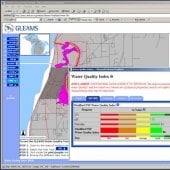 The Great Lakes Environmental and Molecular Sciences (GLEAMS) Center addressed the effects of urban, industrial, agricultural, and other non-point source pollution on the Great Lakes through investigations conducted on multiple spatial and temporal scales. The Center created a unique interdisciplinary web-based portal to address the Kalamazoo watershed.
Find out how the work was used.
---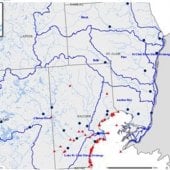 The MTRI Lake St. Clair watershed data management system was an Internet web/portal-based water quality information management system. Our system combined IBM QuickPlace (web/portal) geographic information system (GIS), Microsoft Excel documents, and SQL Server (relational database) technology to inventory, perform quality control, analyze, approve release, and disseminate data to government, industry, academia, and the public.
See what the portal offered.
---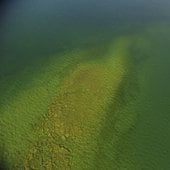 Lake trout rehabilitation has been an elusive goal in most of the Great Lakes despite stocking and habitat protection/restoration efforts. In collaboration with the Great Lakes Fishery Commission, MTRI conducted a feasibility study to determine whether commercial high-resolution satellite imagery can be used to identify spawning sites over larger areas.
Dive deeper into the project.
---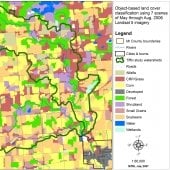 The USDA contracted with the MTRI to examine the ecological effects of NRCS programs retroactively and to develop a method for ongoing future evaluations. NRCS also asked MTRI to develop and provide tools for improved communication and feedback to NRCS management.
Find out more about the tools.
---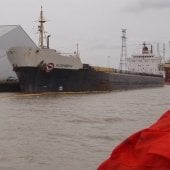 The goal of this project was to develop a framework to systematically improve and update geospatially enabled geographic response plans, also known as protection strategies to support the mission of the Western Lake Erie Area Committee.
Learn how seeing more can improve response.
---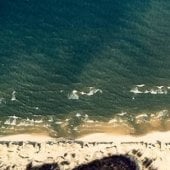 For each Michigan State Park located on a Great Lake, a DNC Hazard Map was created based on an analysis of high-resolution aerial and satellite imagery compiled from several sources. The results of this effort are shared in the form of a web map to support public safety outreach efforts to educate Michigan beach users about this common coastal natural hazard.
Find out how the tool helps beachgoers be safer.
---
---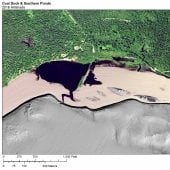 In Gay, Michigan, a large metal-rich 'halo' exists in sediments around the Keweenaw Peninsula, a consequence of past copper mining. Waste rock from coastal tailings has migrated along extensive stretches of shoreline, threatening critical fish breeding grounds and coastal benthic invertebrate communities, damming stream outlets, and intercepting wetlands and recreational beaches.
Learn how the team is using a combination of LiDAR and imagery to update analyses on stamp sand encroachment.
---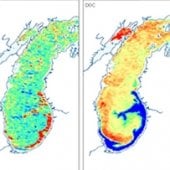 Michigan Tech Research Institute (MTRI) and the Nansen International Environmental and Remote Sensing Center (NIERSC) of St. Petersburg, Russia have developed a new algorithm for the retrieval of color producing agents (CPAs) for the Great Lakes.
Delve into a project with global impact.
---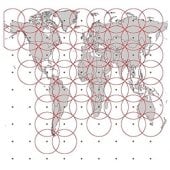 By providing models that provide potentially less biased estimates of fish production as well as some key variables that could predict fish production, managers would have better information to both currently manage these key fisheries and perhaps prepare for future climate-induced changes on their fisheries.
Discover how the work can enhance fisheries management.
---