How do you get to wow?With Michigan Tech students (and increasingly, alumni) in yellow jerseys. Cool experiments designed to make kids give science a second (or first) look. And a passion to take those experiments anywhere in the country.
Cody Kangas, director of the Center for Educational Outreach, says it's a program—with more than 175 experiments and demonstrations—and a 10-year track record of reaching thousands of students across the country with an unwavering message: STEM is incredible.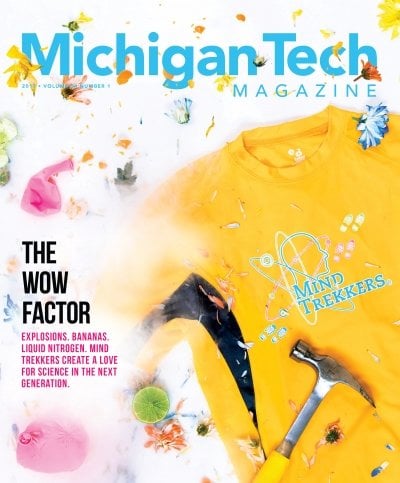 On the cover: The Wow Factor—Explosions. Bananas. Liquid nitrogen. How Mind Trekkers create a love for science in the next generation.
---
Published by University Marketing and Communications
Ian Repp—Director of University Marketing and Communications
Scott Balyo—Editorial Director
Jackie Johnson—Art Director
Vassilissa Semouchkina—Graphic Designer
Sarah Bird—Photographer
Shannon Rinkinen—Articles Editor
Adam Johnson, Ian Maddox—Freelance photographers
Crystal Verran—Director of Operations
Ben Jaszczak—Multimedia Specialist
Megan Ross—Digital Services Coordinator
Comments to the editor
magazine@mtu.edu
Class Notes submissions and mailing address changes:
alumni@mtu.edu