Class Notes
See what our Michigan Tech alumni are doing.
1960s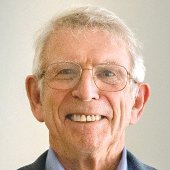 Richard Job PE '63 (Mechanical Engineering) is the recipient of the 2016 Evelyn E. Rosentreter Standards Award in recognition of his outstanding leadership and contributions in the development and harmonization of national and international agricultural equipment and tractor standards.
James Mitchell '65 (Chemistry) has again been chosen by his peers as one of the Best Lawyers in America for his high caliber of work in the practice areas of litigation, intellectual property law, patent law, and trademark law. Mitchell says he is humbled by this honor and thanks his clients for giving us the opportunity to make this possible.
Nancy Mitchell '65 (Business Administration) had the honor of planting the tree of her choice in the Salt Lake City International Peace Gardens when she retired as president of the Salt Lake Council of Women in May. Mitchell has lived in Canada, Switzerland, and the US and traveled to Greece, Israel, England, Russia, and China. She spends her summers on Wolseley Bay on the French River in Northern Ontario. She is president-elect of the Salt Lake Branch of the American Association of University Women and serves on the Executive Board of the Utah Health Policy Project. Her career included executive director of the Women's Business Center for 11 years, certified financial planner with Utah Retirement Systems for four years, and 11 years in journalism.
1970s
Robert Harsel '70 '77 (Forestry, Business Administration) recently retired from the North Dakota Forest Service (a department of North Dakota State University) after more than 38 years of service (October 1, 1978–December 31, 2016). Since 2011, Harsel served as forest stewardship manager. He lives in Lisbon, North Dakota with his wife Nancy and his adopted grandson. He follows Michigan Tech hockey even though his son is a University of North Dakota graduate and a fan of the Fighting Hawks.
Kerry Irons '72 '73 (Chemical Engineering, Business Administration) is retired and lives in Holland, Michigan. He enjoys being close to his two granddaughters and living near Lake Michigan. Irons volunteers for the Adventure Cycling Association and enjoys skiing and road biking.
Robert Eastley '73 '74 '84 (Civil Engineering) is an associate professor of construction technology and management at Ferris State University in Big Rapids, Michigan, and was elected as director of the School of the Built Environment at Ferris. He published a book of general humor called The Daily Gripe and has been a high school tennis coach for more than 20 years.
Peter Volk '74 (Mechanical Engineering) is retired from the Dow Chemical Company/Dow AgroSciences after a 40-year career. He and his wife Barbara live in Carmel, Indiana.
1980s
Paul Juodawlkis '86 (Electrical Engineering) has been named an Institute of Electrical and Electronics Engineers Fellow for his contributions to optically sampled converters and waveguide amplifiers.
1990s
Lisa Fernstrum '91 (Biological Sciences) is the current board president of the Menominee Marinette Area Community Foundation.
Jeffrey Blank '97 (Computer Science) is a site reliability engineer at New Relic, Inc. and lives in Portland, Oregon.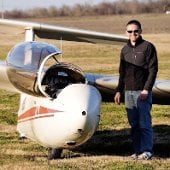 Todd Hahn '97 (Computer Science) was awarded a Private Pilot Certificate with the glider rating in August 2016. In February 2017, Hahn was elected president of the board of directors of the Greater Houston Soaring Association, a 501(c)(3) organization dedicated to educating the public and its members about aviation and the sport of soaring.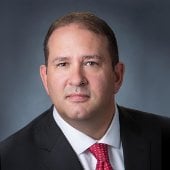 Edward Spicer '97 (Chemical Engineering) was named chief operating officer of Continuum Services, a single-source, full-service building maintenance and facility services company, headquartered in Southfield, Michigan. He and his family reside in Livonia, Michigan.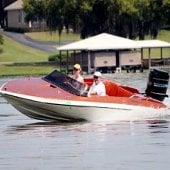 Shannon Knight '99 (Mechanical Engineering) was elected to the International Board of Directors of the Antique and Classic Boat Society (acbs.org) for a three-year term. She also is a director for the Michigan Chapter of ACBS, where she is responsible for the website and sits on the long-range planning committee. She and Scott '93 (Mechanical Engineering) enjoy two classic boats, a 1972 Chris-Craft XK-19 and a 1977 Glastron CVX-16 complete with its original Mercury 115 "tower of power."
2000s
Andrew Walz '00 (Mechanical Engineering) and Stephanie (Criss) Walz welcomed their third little Husky, Benjamin Matthew, who was born July 2016.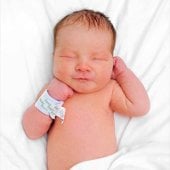 Jody (Kositzky) Mathias '01 (Chemical Engineering) and Frank Mathias '05 proudly announce the birth of their son, Conor Kendrick on July 6, 2016.
Julie Marinucci '02 (Mining Engineering) has been appointed by Minnesota Governor Mark Dayton to be on the state's higher education committee.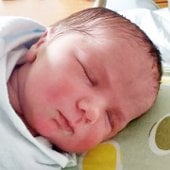 Ariana (Jeske) Occhipinti '05 (Civil Engineering) and Christopher Occhipinti '04 (Physics), and their daughter Aurora announce the newest addition to their family, Dario Patrick who was born on October 25, 2016 in Grand Rapids, Michigan. The family lives in Sparta, Michigan. Christopher is employed by NTH Consultants, Inc. and Ariana is employed by Prein & Newhof, both located in Grand Rapids.
Jennifer (Bzura) Lanzafame '05 (Chemical Engineering) married Jeff Lanzafame in August 2015 at Squaw Valley Resort in Lake Tahoe. The couple met playing kickball in the San Francisco Bay Area and reside there today. Lanzafame received her PMP certification and started a new job as a senior project manager for process improvement in the Development Sciences group of BioMarin Pharmaceutical Inc.
Derek Botero '07 (Mechanical Engineering) and Alexis Mizrahi-Botero welcomed their son, Eli Joseph, on September 5, 2016 in Charlotte, North Carolina. Proud aunt, A. Tara Botero '05 (Business Administration), also lives in Charlotte and is excited to share in their joy.
Michael Truskoski '07 (Civil Engineering) and wife Hannah welcomed a baby girl.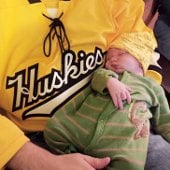 Adam Umbarger '09 (Software Engineering) and Alison (Springer-Wilson) Umbarger '11 (Chemical Engineering) announce the birth of their son, Nathan Adam, born on October 31, 2016.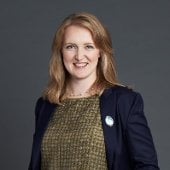 Cassandra Thiel '09 (Civil Engineering) joined the faculty of New York University as assistant professor in the Department of Population Health, NYU Langone Medical Center, with a joint appointment in the NYU Wagner Graduate School of Public Service, and an affiliated appointment in the Tandon School of Engineering. Her research utilizes sustainable engineering tools such as environmental life cycle assessment and industrial ecology to improve hospitals, health care delivery, and medical waste streams.
2010s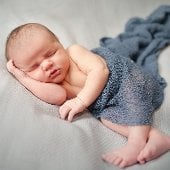 Steven Tangney '10 (Mechanical Engineering Technology), his wife Alyssa Tangney, and their three-year-old daughter Addison Avarie welcomed a new baby boy, Callahan Grey, to their family July 7, 2016 in Ann Arbor, Michigan.
Jacob Heck '10 (Surveying Engineering) and Amanda Kelmer '10 (Chemical Engineering) were married November 25, 2016 in Monroe, Michigan. Amanda spent six years working for BASF. Jacob is a geodesist for the National Geodetic Survey and a PhD candidate at Ohio State. The couple resides in Germantown, Maryland.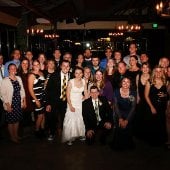 Kristine Guzak '10 '12 (Environmental Engineering) and Nick Johnson '10 '11 (Materials Science and Engineering) had a flannel-themed wedding on November 14, 2015 at the Frankenmuth Brewery complete with KBC beer. "We didn't realize it at the time, but about a third of the attendees were from Michigan Tech," the couple says. "It was so great to have a part of our Husky family there to help us celebrate."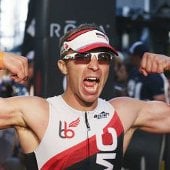 Tyler Leroy '10 '11 (Mechanical Engineering) won the Ironman Louisville—one of only 10 Ironman races in the US—with an overall time of nine hours and one minute. He is believed to be one of only nine Americans to win an Ironman this year (also the youngest to win an Ironman this year). The Ironman is a 2.4-mile swim, 112-mile bike, and a 26.2-mile run. Leroy graduated with his master's in noise and vibration as a mechanical engineer and is working at Kohler.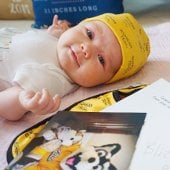 Jennifer Julien '12 '15 (Civil Engineering, Environmental Engineering) and Jonathan welcome Esrey Marlin, who was born on January 24, 2017. Thank you for the thoughtful gift, Blizzard. I have a feeling we are going to be friends for a very long time!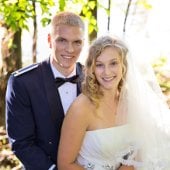 Alyssa (Smith) Bender '14 '15 (Civil Engineering) and Dylan Bender '16 (Environmental Engineering) were married September 10, 2016 in Wisconsin Rapids, Wisconsin. They celebrated their wedding day with their favorite beer, KBC Widowmaker, and were surrounded by friends, family, and fellow Techies. The couple lives at the base of the Rockies in Great Falls, Montana, with their dog, Curly.
---
In Memoriam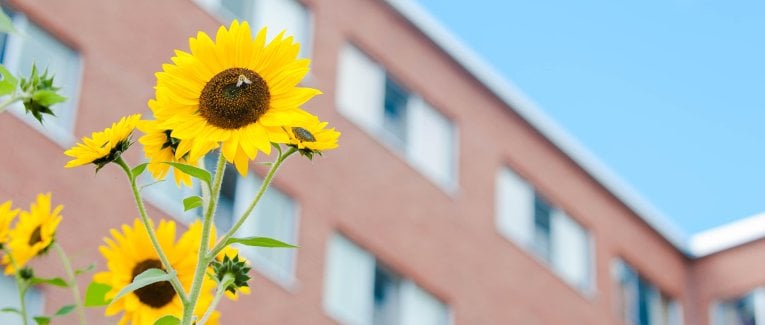 1943

John N. Harris
Harold B. Vincent

1944

Guy W. Caspary

1947

Ruth V. Krupp

1948

Richard W. Henes
Tauno B. Kilpela
John J. Lewis

1949

Robert B. Botsford
Oiva F. Hedberg
Joan C. Holland
Arthur E. Lewandowski
James E. Muschell

1950

Dr. Norman G. Ainslie
James I. Barbier
Ronald R. Bekkala
Raymond Hosking
John H. McRae
Glenn R. Yeakey

1951

Richard J. Heynen
David R. Vaughn
Larry G. Watson

1952

Richard B. Chappell
Donald J. Smith
John B. Tornberg

1953

Robert H. Destrampe
George L. Schutte
Robert W. Zeindler

1954

Lennis G. Byers
Harry L. Taylor Jr.
Wallace A. Techentien

1955

Harold J. Nyquist

1956

Max A. Beach
Merrill K. Colby
Prof. Wesley S. Harjala
Joseph J. Koteles
Gerald E. Kotila
Rollo J. Krueger
Myrna S. Marseille Cfp
Bland H. Reynolds
Stanley P. Shezko
Jerome J. Sibrt

1957

Donald L. Decker
Raymond J. Hendrikse
Raymond L. Roe Jr. PE
Thomas D. Shaffner
Hubert K. Tossava

1958

G. Robert Adams
Bayrd B. Berger
Donald C. Johnson
John F. Mueller
John G. Winquist
Donald J. Zelenka

1959

Hubert L. Bartol
Norman J. Beauchamp
Eugene A. Lilley
Chalmers A. McGreaham PE
James A. Mulka
Grant Nuttall
Sven E. Ostlund
Arthur F. Pearce

1960

Dr. Theodore A. Grzelak PE
Robert W. Kirkpatrick
William B. Larson
James A. Larson

1961

C. Theodore Amelse
George D. White

1962

Peter H. Hruska
Robert B. Rafferty
Harbans Singh

1963

Richard A. Currier PE
Michael M. Dyer
William G. Rowe
Paul R. Swanson

1964

Frank A. Wythe

1965

Anthony W. DeGroot
Peter R. Hampton
Albert G. Hicks
James S. Jazdzyk
Michel S. Le Duc
Dale A. Zaug

1966

Edward A. Crawford
Barbara A. Truax

1967

Leon E. Brown
Kenneth G. Buchanan
Mary K. Kent
David M. Ng
Ronald A. Rees
Leroy O. Sterbenz

1968

Joseph B. Schomer
David E. Toolanen

1970

Paul D. Horn

1971

Rosemary Gembolis
Ronald J. Putala
Gary L. Stanley

1972

David E. Wellman

1973

Glen A. Edgar
Thomas W. Edinborough
Carol A. Svisco
Robert J. Waltanen

1974

Andrew C. DePuydt

1975

Norman K. Dollhopf PE
James R. Freundl
Ross S. Hill

1976

Brian K. Lindquist
Herold R. Oelke

1977

Jane L. Jordon
Michael J. Jutila
Robin S. Swartz

1978

Clifford D. Nelson Jr.

1979

Gordon W. Danke Jr.
Gerald J. Jalkanen
David P. Sinclair

1980

Paul J. Cramer Jr.
Merlin R. Jacobs

1982

Stephen J. Feldpausch
Douglas A. Rajala

1983

Donald J. Holso
David M. Lampinen

1985

Donna L. Jaaskelainen

1986

John J. Pastore

1987

Jaysen D. Salo

1988

Marc Colvin

1989

James E. Shilling

1990

John C. Crump

1991

David J. Schneider

1994

Stephen M. McCormick

2000

Kevin J. Herrera

2001

Timothy W. Dohrenwend

2004

Danielle S. Jones

2006

Steven H. Hafer

2009

Chris A. Anderson

2010

Nick C. Fenner

2016

John H. F. Wheeler

2017

Hali Burchfield
Michigan Technological University is a public research university founded in 1885 in Houghton, Michigan, and is home to more than 7,000 students from 55 countries around the world. Consistently ranked among the best universities in the country for return on investment, Michigan's flagship technological university offers more than 120 undergraduate and graduate degree programs in science and technology, engineering, computing, forestry, business and economics, health professions, humanities, mathematics, social sciences, and the arts. The rural campus is situated just miles from Lake Superior in Michigan's Upper Peninsula, offering year-round opportunities for outdoor adventure.