New York Times bestselling author, cultural critic, and professor Roxane Gay has Michigan Tech roots.
Before she wrote Ayiti, An Untamed State, Bad Feminist, Difficult Women, and Hunger, Gay '10 was a graduate student in Tech's Rhetoric and Technical Communication program.
Even back then, Gay's classmates took notice of her knack for eloquently cutting to the chase, for getting to the heart of the matter. And really, any matter—from the theoretical and philosophical, to pop culture and celebrities. Regardless of the topic, Gay was at the ready with provocative, thoughtful comments.
It's something her many fans admire, too. With a New York Times op-ed column, 202,000-some Twitter followers, and events that sell out in a matter of minutes, Gay is in high demand. But during her Michigan Tech days, some of us were lucky enough to have front-row access to Gay, back when she hosted a weekly gathering of—dare I say it—bad feminists in her Hancock apartment. A group of those friends—Laurence Jose '10, Karen Koethe '08, Rebecca Miner '15, and Joanna Schrieber '13—came up with the following questions.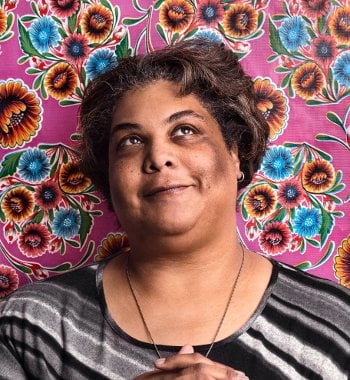 As a graduate instructor at Michigan Tech, you assigned an infamous project that required students to write an entire essay using only one-syllable words. Using only one-syllable words, describe your experience as a graduate student at Tech.
My time in grad school was quite a chance to grow, to think about how to best take a stand, to learn how to give back, to learn how to teach, to write, to live in a far-off place, and to love.
You are a bestselling author, you've interviewed icons like Toni Morrison and Madonna, and given a TED Talk. What stands out as one of the most surreal moments of your career?
Interviewing Madonna was absolutely one of the most surreal moments. When I got the call with the offer to do the interview, I couldn't quite believe it because she had read Bad Feminist and requested me for the interview. And then a couple weeks later I was sitting in her living room and drinking wine as she held forth and I thought, "How could this possibly be my life?"
Your friends would like to know when you are going to interview Beyoncé. Let's say you get to ask her only one question. What would it be?
I would like to know when I am going to interview Beyoncé, too. I would die. I would just die. If I only had one question, I would ask her what it takes to go from being part of Destiny's Child, where she sang pop anthems, to the craft and control she wielded in "Lemonade." How did she create the space to grow as an artist in an industry that doesn't really want women pop singers to think for themselves or to grow?
In both Bad Feminist and Difficult Women you take on labels that have negative connotations and turn them into something positive. What do you like about exploring—and challenging—preconceived notions about identity?
When I titled Bad Feminist and Difficult Women I was thinking about challenging preconceived notions of feminism in the former, and women who are shortsightedly labeled as difficult in the latter. I wanted to take these labels that are often wielded in demeaning ways and reclaim them, and challenge those preconceptions so many people have. Both titles have provoked some really interesting conversations, so mission accomplished, as they say.
You've described yourself as a private, shy person, but you now speak to massive crowds, interview celebrities, write for the New York Times, and are approached by fans whenever you leave your house. How do you cope with fame?
I don't think of myself as having fame, which helps quite a lot with coping. I also try not to take for granted any of the opportunities I've been afforded in recent years. I recognize the blessings, and I am enjoying them very much.
In what ways has your rhetoric and technical communication degree informed your writing today?
My coursework and the intense amount of research I had to do in writing my dissertation really taught me about thinking about audience and constructing rigorous arguments. My degree also helped hone my ability to write under pressure.
Some of your stories take place in the Upper Peninsula, written in such a way that the location is almost another character. Why is the UP a compelling place to write about?
I've never lived anywhere as distinct as the UP. Place is indeed a character in many of my stories. The UP in particular is so isolated and so insular that to be a part of it, and not be a part of it, offered a lot of creative opportunities. And after five years in the UP, I admit I grew fond of the place. The stories I write set there are, in many ways, a love letter, particularly North Country.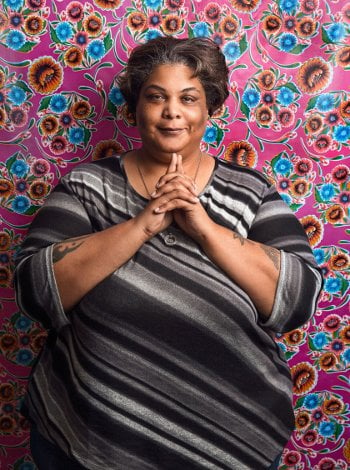 You've accomplished so much. What do you want to do that you haven't done yet?
There is so much I want to do—take a vacation, mostly. I also want to write a television series and a Sweet Valley High book.
One of your friends describes you as a public intellectual, the likes of which society has not seen for a long time. Why do you think it is important to bring scholars like bell hooks and Michel Foucault into public conversation?
That is a very kind thing for my friend to say. I struggle with the label of public intellectual, mostly because that title feels very fancy and I do not feel very fancy. That said, it is important for scholars to be part of the cultural conversation, particularly when they can do so in accessible ways. They often bring invaluable perspectives to how this world works and the choices people make. I don't want to imagine a world without the likes of a bell hooks or Michel Foucault or Helene Cixous and so on.
How do you cope with disagreement? Have there been instances when it became a positive and productive element?
It really depends on the origin and nature of the disagreement. If someone disagrees with me in good faith, I try to both respect and hear where they are coming from, even if I can't change my mind. When someone disagrees with me for the sake of being obtuse or contrary, well, I respond accordingly.
What keeps you up at night?
The current administration and the long-term effects of their ignorance, xenophobia, racism, and destructive policies.
What is something you believe in that almost nobody agrees with you on?
I DON'T believe in weather reports. I know this makes me an outlier.

What are your superpowers? What is your kryptonite?
My superpowers are an ability to watch an exhaustive amount of television and read quickly. My kryptonite is Channing Tatum. He is so charming, and I am powerless in his thrall.
Michigan Technological University is a public research university founded in 1885 in Houghton, Michigan, and is home to more than 7,000 students from 55 countries around the world. Consistently ranked among the best universities in the country for return on investment, Michigan's flagship technological university offers more than 120 undergraduate and graduate degree programs in science and technology, engineering, computing, forestry, business and economics, health professions, humanities, mathematics, social sciences, and the arts. The rural campus is situated just miles from Lake Superior in Michigan's Upper Peninsula, offering year-round opportunities for outdoor adventure.