The Good, The Bad, And the Sweaty
An interview without speaking. Not even a bark or yelp or ruff. Hmmm. That can only leave one option; I had to do what any good Husky would do. I had to follow—chase—him around in his natural habitat. And actually, the he of this story isn't a he as we assume.
Blizzard T. Husky is gender neutral.
What do we really know about Blizzard anyway? And about the Huskies who play Blizzard? "They don't talk and they don't reveal their identities—those are the biggies. Beyond that our students shape Blizzard," says Joel Isaacson '01, associate athletic director for Michigan Technological University, and Blizzard's manager.
Officially named through a campus-wide vote in 1997, the mascot is celebrating 2-0 this year.
I arranged to meet not one, but two Blizzards deep inside the inner workings of the Student Development Complex on a Saturday hockey night in Houghton. Not just any hockey game. Game two in a WCHA playoff series against Lake Superior State University.
Of our 7,268 crazy smart students, five are employed as Blizzard. "Someone will email and express interest. We send them a questionnaire—what's your height, weight, stature; can you skate, what animal do you identify with, does sweat bother you, the basics—then we see how they look in the suit, their energy, crowd interaction," Mike, as we'll call him, tells me.
"Too short, too skinny and the suit makes you look like a flying squirrel—no offense," he says, shrugging apologetically.
None taken.
Mike has played Blizzard since his undergraduate years. Now a biochemistry master's student, it's his sixth and final year as Blizz.
During hockey games like tonight, with so many details to coordinate, two Blizzards work the John MacInness Student Ice Arena. The addition of the video scoreboard in 2013 overhauled the fan experience. Now with replays, highlights, and promotions, it's a theater-like production behind the scenes.
Our other Blizzard tonight is a second-year mechanical engineering major. Prior to this year he had never even been on skates. Today, for the first time ever, he'll lead the pre-game crowd warm up.
He's nervous. And I'm nervous for him. Let's call him Dave.
"I still get jitters when I take the ice," Mike says. And, yes. "We've all bitten it and wiped out. It happens. Thankfully our fans are pretty understanding."
Dave's taken every Learn-to-Skate class offered through Michigan Tech Recreation this year. He shows up in uniform and kids think Blizzard is there for fun, but he's really working on backward skating, crossovers, and generally not running the little Huskies over. Tenacious.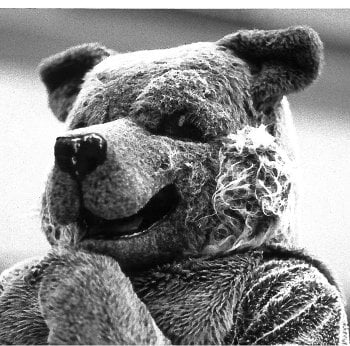 Underneath the fur, it's white basketball shorts and a white t-shirt. "Helps keep the suits drier for the next person," Mike says. "Sometimes kids will give me a hug and then ask, 'Hey, Blizzard, why are you all wet?'"
I was relieved to learn the plush suit gets washed after every weekend.
Besides Dave's big debut, tonight's other challenge includes adjusting to the new, heavier head. "The old-new head is the best head—it's the best looking. The old-old head is hard to see out of. This one is perfectly oval," Mike says, showing me.
That Swagger
"Since Blizz can't talk, we have to pantomime big," Mike says. "Walk around like you own the place," Dave adds.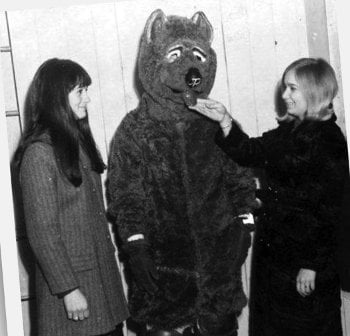 "We're never malicious, even opposing fans seem to enjoy Blizzard. He's one of the nicer looking suits out there," Mike says. "Boundlessly positive."
Mike knows. He was Lead Blizzard from 2011 to 2013. Of course there are off nights with too little energy. "Five days after tonsil surgery I was back in the suit. There's nights when we show up looking a little flat. It happens."
"Cherry Festival in Traverse City is the worst because of the heat. The sweat is overwhelming. We tried to rig a Camelback, but it's really awkward," Mike recalls.
On average, Blizzard laps up four to five water bottles in a shift.
Sometimes things go off script. Like tonight when Blizzard decided visit a fan with a health condition. It brought a massive smile to her face. Blizzard smiled, too. ("Yes, you smile inside the suit. It's a gut reaction," Dave explains.)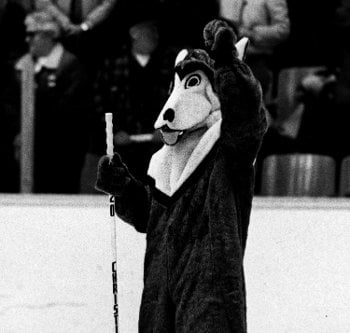 "And every time someone calls my name—and I have a fairly common name—I turn. I can't help it," Dave says, shaking his head.
Friends get suspicious. "It's, 'Where were you Saturday night?' You just have to hope they don't look too closely in my car. A new suit sheds for three months," Mike says.
"It's a very interesting experience to encounter someone you know at a game. You have to read them a little more and you have to mess with them a little more," Dave says.
Dog Treats
It's too hectic to really watch a game, but there are perks. "In a lot of ways we're student athletes. There's even modest scholarship opportunities," Mike says.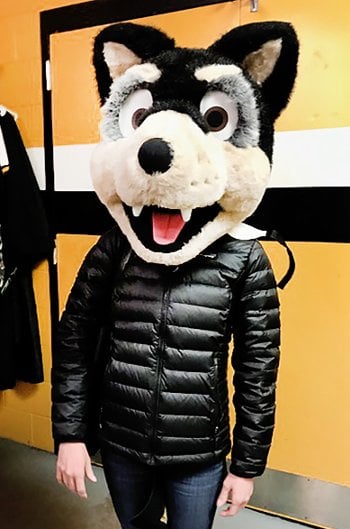 "We hold babies, shake hands with the president. Being Blizzard connects you with very important people," Mike says.
"President Mroz has borrowed the suit twice for his grandkids' birthdays. Dr. Cook wore it to an alumni wedding once," Mike says.
"My mom just loves it," Dave says. "She has a picture of me skating as Blizzard on her phone. She's so proud."
I learned a lot following the stuffed dog(s) around. I learned it takes a lot of hard work and heart. But they said my assignment wasn't complete; I had one last thing to do, to truly understand what being Blizzard is all about. Ta-da!
And no, it didn't smell as badly as I imagined.
Michigan Technological University is a public research university founded in 1885 in Houghton, Michigan, and is home to more than 7,000 students from 55 countries around the world. Consistently ranked among the best universities in the country for return on investment, Michigan's flagship technological university offers more than 120 undergraduate and graduate degree programs in science and technology, engineering, computing, forestry, business and economics, health professions, humanities, mathematics, social sciences, and the arts. The rural campus is situated just miles from Lake Superior in Michigan's Upper Peninsula, offering year-round opportunities for outdoor adventure.