Four days, 12 visits, 28 hours of company tours—Silicon Valley Experience puts 20 students smack-dab in the middle of high-tech. But one week isn't enough. One place isn't enough. So the experience powered since 2011 by fellow Huskies and friends of Michigan Tech has a new name—14 Floors. And it's going nationwide.
"Fourteen Floors has become a signature program," says logistical mastermind Adam Johnson '98, based in the Office of Advancement at Michigan Tech.
"We can take this everywhere."
The program's incubator, Silicon Valley, reflects the entrepreneurial emphasis embedded in Michigan Tech's strategic plan—as well as geographical economic realities. The Bay area is where the action is. Huskies are infiltrating at a rapid rate.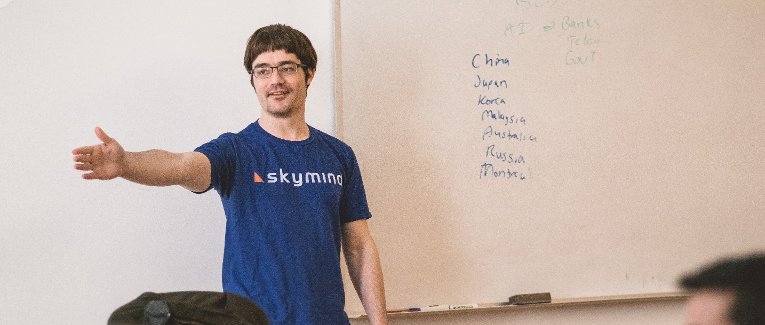 The tour is the brainchild of late School of Business and Economics Professor Bob Mark. "Attending a conference in Silicon Valley I toured a high-tech business and saw technology that blew my mind," he told Impact Magazine in 2011. "It hit me that Michigan Tech students would really benefit from seeing what's out there."
Michigan Tech alumni and friends are on hand at every stop, guiding tours, Q&As, and hosting receptions. Regulars on the circuit:
Cisco
Ford
Autodesk
Brocade
Porter Family Vineyards
Clari
Netflix
Twilio
Facebook
Evernote
Apple
Hewlett-Packard
Also Skymind and Handshake, two alumni start-up companies rocketing to success.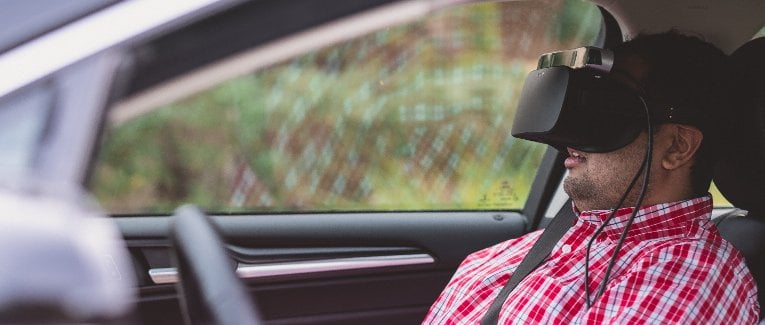 "It's fertile ground for being an entrepreneur. Students see themselves in these entrepreneurs, in some cases their former classmates who have raised tens of millions in startup funding, and are now running national and global operations," says Johnson.
Like Adam Gibson, co-founder and CEO of Skymind, himself a Silicon Valley Experience alumnus. "He is such a geek, and the students love him," says Johnson.
"Innovation is the major priority, not just a checkbox. The incentives are for innovation. It showed me the possibilities of what's out there in the world."
Gibson is frank about the all-consuming demands of startup culture. It was three years before he cut himself a company paycheck. Employees had to get paid first.
Newcomers don't eat much, sleep much—or have a social life, unless being crammed into a hacker hostel with dozens of other DevOps, nerds, and brogrammers counts. Life in the Valley is not all about blueskying and green meadows, bean bags and bike helmets, purple walls, and foosball tables. Even if your company stocks the fridge with craft beer, it doesn't negate the underlying, self-directed work ethic required to succeed.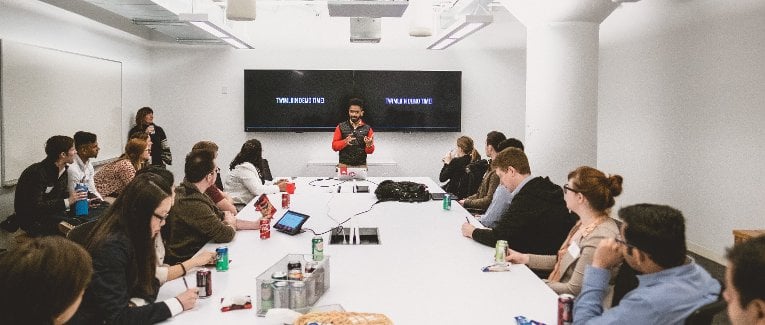 Work culture and values come into play everywhere, from companies with wide-open communal spaces and value statements painted on the walls, to traditional desks and cubicles. As Johnson notes, some students might prefer cubicles to beanbags. And that's OK. These trips are all about finding what works. On both sides of the hire.
Better Ideas for Ford
This year, Ford—the corporate sponsor for the trip—flipped the scenario at its Palo Alto research facility. Students donned virtual reality headsets, worked on matrix presentations, and watched in-vehicle demos based on artificial intelligence. They were also asked how points of connection with the company work for them.
"Ford wanted to use their week of experience," says Johnson. "What is Ford doing right, and wrong, to help the company improve recruitment? Is it open, friendly, team-spirited?" As Ford's Dave Kaminski '89 notes, the company motive is straightforward—they're all about filling a pipeline of future employees for the automobile and mobility company.
"I hope students recognize that there is a different culture here. The Silicon Valley culture can really accelerate the way we develop technology. That's why we're here."
At Twilio, students used company software and got a behind-the-scenes tour from Michigan Tech alumna Christine Roberts '91. At Handshake, more alumni greeted visiting Huskies.
"Should any of us get a job at Twilio, one of the rites of passage for new hires is to use Twilio's API to create an app or experience."
"I hope it opens up their eyes and inspires them to see the opportunities beyond what they might think of. You could start your own business, you could be involved in a startup, you could take a chance—there's a whole world out there."
More Huskies Meeting Huskies
The Husky connection went next-level at Brocade Communications, where executive chairman Dave House '65 met with students from his alma maters, Michigan Tech and Northeastern University. He and Devyani Kamdar also hosted the closing reception at House Family Vineyards. With a panoramic view of the entire Valley from the top of the Saratoga hillside, nearly 70 alumni networked with each other, and more importantly—with students.
"I got to meet and hear so many stories of how our alumni got to Silicon Valley. I made more connections than I ever thought possible. I got so many questions answered, a lot of advice, and I had fun! I even got to drive a Tesla. How neat is that?!"
At Clari, 1990 computational math graduate Amy Johnson's "What did I love most about Michigan Tech" list is a favorite:
Copper Country Cruising
The Dog House and Uphill 41
Blue Key Winter Carnival (especially skits and queens)
Alpha Gamma Delta and Panhellenic
Hockey
Campus size
Living off campus with awesome friends
Her take on startups? Build on relationships. "People in startups remember who they enjoyed working with before and come calling."
"This is my third startup. They get pretty addictive after you do them. I hope I can give back and let other people be a part of that as well."
At Hewlett-Packard, Tech alumnus Stuart Pann '81 sits on the executive team and is responsible for HP's global strategy. Stu spent 60 minutes showcasing large-scale 2-D and 3-D printing technology, geeked out over liquid-cooled computers with students, and held a Q&A session. More show-and-tell that can't be acquired in any campus course or cold-call job interview.
Who Gets to Go?
The trip is so popular that nearly 100 students compete for 20 slots with timed pitches to a panel with representatives from Pavlis Honors College, the School of Business and Economics, and the Office of Advancement.
"As an entrepreneur, my favorite part was hearing the startup company success stories. It was a reminder that hard work can get you anywhere."
Accepted students kick in $300. The buy-in is another exercise in entrepreneurial ingenuity. "Last year a startup transportation company provided a tour bus for us," says Johnson. This year, the group used public transportation, and Uber, often commuting on zero-emission electric buses.
Travel itself can be transformative, says Johnson. "One student had never been on a plane. To get off the plane and see palm trees ... "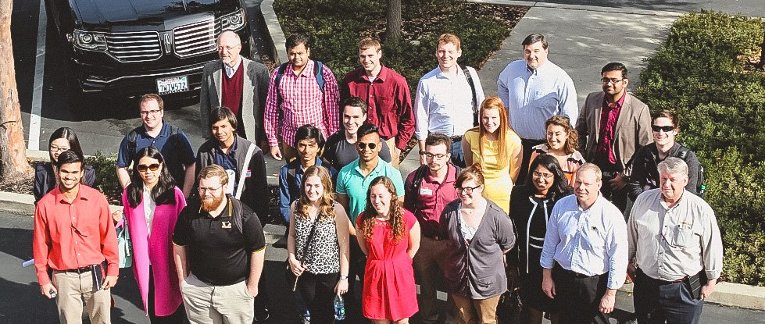 Silicon Valley regularly returns to Michigan Tech to spread what mentor and venture capitalist Kanwal Rekhi '69 refers to as a virus—the contagious entrepreneurial bug he wants every student to catch. "When you have a half-dozen of these very successful entrepreneurs spending a week here, it propels that message," says Johnson. "It infects them with that virus."
Image Gallery
Michigan Technological University is a public research university founded in 1885 in Houghton, Michigan, and is home to more than 7,000 students from 55 countries around the world. Consistently ranked among the best universities in the country for return on investment, Michigan's flagship technological university offers more than 120 undergraduate and graduate degree programs in science and technology, engineering, computing, forestry, business and economics, health professions, humanities, mathematics, social sciences, and the arts. The rural campus is situated just miles from Lake Superior in Michigan's Upper Peninsula, offering year-round opportunities for outdoor adventure.