Keweenaw Chapter raffle, broomball tournament, Alumni Award recipients, happy birthday Superior Ideas, and alumni profiles.
Keweenaw Chapter Raffle
Buy a ticket to support students.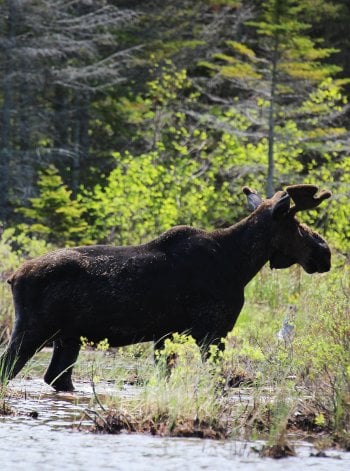 Sponsored by the Keweenaw Chapter of the Michigan Tech Alumni and Friends, the Keweenaw Royale Raffle proceeds will support scholarships for students in Baraga, Houghton, Keweenaw, and Ontonagon counties to attend Michigan Tech.
Raffle winners will experience the beauty of the Keweenaw. Prizes include an Isle Royale getaway, Lake Superior fishing charter trip, and a Copper Country bed and breakfast package. Drawing takes place September 8, 2017.
---
Broomball Tournament Recap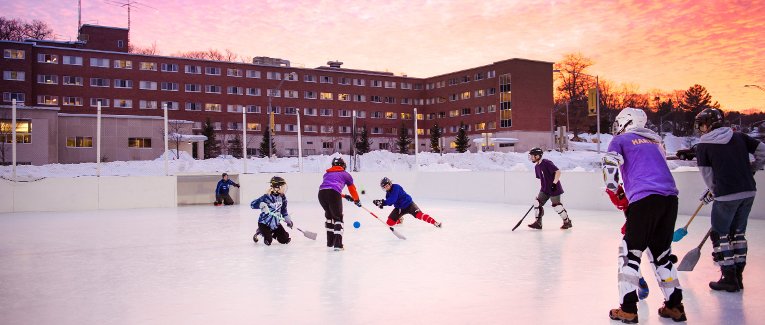 Brooms. Duct tape. Bruises. Memories.

This year's Alumni-Student Broomball Invitational during Winter Carnival brought a record 16 teams to campus. More than 140 Michigan Tech alumni and friends gathered for the weekend. Congratulations to the tournament champions, alumni team Pirate Sheep, on their second consecutive win.

A recording of the championship game and tournament photos are on the IRHC Broomball Facebook page.

Save the date for the 2018 Broomball Invitational on February 9-10!
---
Alumni Award Recipients Honored at Reunion
Michigan Tech Honors 2017 Alumni Award Recipients
Outstanding Young Alumnus/a
Kevin Baker, BS Biomedical Engineering '04 and MS Materials Science and Engineering '05
Outstanding Service Award
Paul Mikkola, BS Metallurgical Engineering '66 and Honorary PhD '89
Distinguished Alumni Award
John Rockwell, BS Business Administration '79
Honorary Alumni Award
John Dau, DTE Energy
Humanitarian Award
Sanna Roling, BS Biological Sciences '67
Humanitarian Award
Nicholas Schreiner, PCMI-MS Environmental Engineering '11
Board of Trustees Silver Medal
John L. Drake, BS Mechanical Engineering '64 and MBA '69
Norbert J. Verville Sr., BS Business Administration '60
Honor Alumni and Friends
The Michigan Tech Alumni Board of Directors seeks nominations for the 2018 Alumni Awards, including Outstanding Young Alumni, Outstanding Service, Distinguished Alumni, Honorary Alumni, and Humanitarian Award. Awards are presented each August at the Alumni Reunion.

Read award descriptions and download nomination forms online or contact 906-487-2400 or alumni@mtu.edu Deadline to nominate is December 1, 2017.
---
Superior Ideas Turns Five
Build a greener, cleaner snowmobile. Restore river habitats for coaster brook trout. Bring healthcare to Ghana.
Launched in 2012 and created by Michigan Tech, Superior Ideas offers researchers a new source of funding for small projects, pieces of larger research efforts, and public service projects.
Researchers share their projects, and anyone can contribute any amount to support them.
Natasha Chopp '06 '15 '17, director of research opportunities, says donors give to projects they feel connected to, and they also may be interested in the project's goals. "By providing support they gain a connection to the project and are making a difference," she says.
In five years, Superior Ideas has:
Reached 50 countries and 40 states.
Received 1,130 donations to 78 projects.
Raised $339,307 to fund projects.
Two newer Superior Ideas challenges:
Rekhi Innovation and Advanced Motorsports Enterprise Teams. These crowdfunding competitions are for Enterprise teams to promote and support student innovation, entrepreneurship, and collaboration. Prize money is awarded to teams who raise the most money.

For more information or to learn about current projects, visit Superior Ideas.
---
Alumni Profiles
Dan Madrid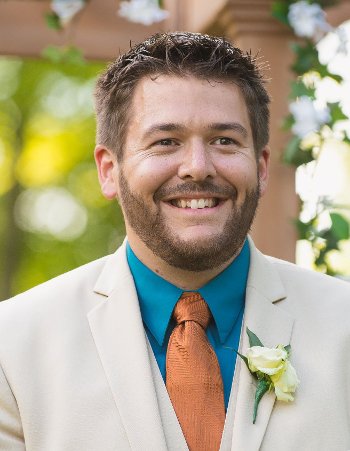 Setting up coffee for a networking event at Ford. Recruiting students at Career Fair. Selling pickled eggs.
Giving back.
"It's something that you can do," says Dan Madrid, BS Computer Network and Systems Administration '10. "It allows you to reconnect and revitalize your connection with Michigan Tech and Houghton."
Madrid, who is an IT product manager in connected vehicle IT at Ford, began volunteering to assist with company recruiting. "When I started at Ford, I really wanted to come back and be on the other side of the table, helping recruit new people."
That led to more volunteer opportunities. He and his wife Kaylee (Walsh) '12 sold pickled eggs during the Great Lakes Invitational. Madrid is working to start an official Michigan Tech alumni chapter at Ford.
And he's working on a new endeavor that combines study abroad and internships. While the project is still in the beginning stages, Madrid is working with Ford and Michigan Tech to offer an international internship at one of Ford's locations in India.
"This combines my work (which I love), Michigan Tech, and being able to help the students," he says.
And staying connected to Michigan Tech is important to Madrid.
"With volunteering for alumni gatherings, you are building that network and giving back to the school," he says. "I find it very rewarding."
Whether selling pickled eggs, reviewing a student résumé, or meeting alumni from across the globe, Madrid says there's always a connection with fellow graduates.
"With Huskies there is no introduction needed," he says. "We just have that automatic connection. We are all Huskies. We are all in this together."
Kayla Herrera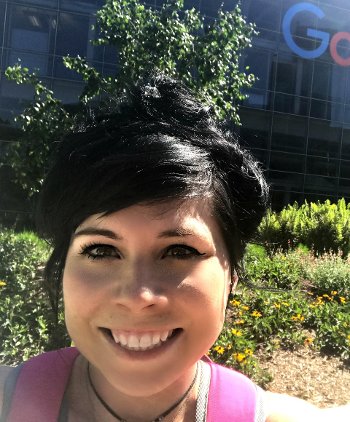 Michigan Tech has more than its fair share of engineers working in high-tech jobs. But it might come as a surprise to find a Michigan Tech humanities grad at Google.
A small fish in a big pond—that's what being a humanities major at Michigan Tech can feel like, says Kayla Herrera.
Herrera graduated from Michigan Tech's Department of Humanities in 2012 with a bachelor's degree in communication, culture, and media. She also earned a minor in journalism and a certificate in writing. Even without a degree in engineering or technology, today she works for one of the most recognizable names in the tech industry.
Herrera is the head of social media for Google Play. She oversees and approves postings for Google Play that appear on Twitter, Facebook, Google+, and Tumblr.
Her advice to humanities students at Michigan Tech is to brush off any negative feedback you may receive. She also recommends choosing a versatile major and emphasizes the importance of showcasing your skills outside the classroom.
Herrera notes it was her father, a mechanical engineering alumnus from Michigan Tech, who pushed her to pursue her passion. He told her to never settle in a career and to strive for what she wanted to do in life. "He taught me to not be afraid, to never doubt myself, and to keep trying, no matter what."
"When you sit in a job interview and you can talk extensively and passionately about what you are doing or want to do, you've found your passion," she says.
While her career options appear limitless, each day Herrera brings her passion to the social media platforms of Google Play.
In August, she and Steve Green '14 will be married in Chicago. Green is a sound designer for Giant Squid Studios in California and last year worked on the video game ABZÛ. He's working on his second game that he designed sound for, What Remains of Edith Finch, releasing soon.
Michigan Technological University is a public research university founded in 1885 in Houghton, Michigan, and is home to more than 7,000 students from 55 countries around the world. Consistently ranked among the best universities in the country for return on investment, Michigan's flagship technological university offers more than 120 undergraduate and graduate degree programs in science and technology, engineering, computing, forestry, business and economics, health professions, humanities, mathematics, social sciences, and the arts. The rural campus is situated just miles from Lake Superior in Michigan's Upper Peninsula, offering year-round opportunities for outdoor adventure.