Project Summary
Title: OISE-PIRE: Sustainability, Ecosystem Services, and Forest-related Bioenergy Development across the Americas
Principal Investigator: Dr. Kathleen E. Halvorsen,
Lead Institution: Michigan Technological University (MTU)
Scientists and policymakers grapple with one of our greatest challenges: Given enormous climate change-related uncertainty, how can we manage natural resources such that "Development … meets the needs of the present without compromising the ability of future generations to meet their own needs?" (Brundtland Commission 1987). Bioenergy may play a major role in meeting these challenges and helping mitigate climate change. Our project concentrates on forest-related bioenergy—for heat, power, and liquid transportation fuels--to investigate the following sustainability challenges and research questions:
How is forest-related bioenergy development impacting socio-ecological systems and associated ecosystem services, and how can those impacts best be measured, modeled, and mitigated? The goal of this PIRE project is to use six case studies across the Americas to address this question through these interconnected research subquestions:
How is bioenergy development affecting socioeconomic systems?
How is bioenergy development affecting ecological systems?
What sustainability indicators and metrics best assess bioenergy sustainability across highly variable Pan American socio-ecological systems?
How is policy addressing bioenergy-related socio-ecological impacts and how can policy be modified to minimize negative impacts?
Project efforts focus on woody bioenergy for heat and power, switchgrass used for cellulosic ethanol, and palm and jatropha oil for biodiesel in six case studies across Brazil, Mexico, Canada, Uruguay, Argentina, and the United States (US). This allows us to examine diverse socio-ecological systems in countries experiencing rapid bioenergy development. These systems' complexity enables the development of new approaches to studying and assessing sustainability as it relates to dynamic systems in general, while focusing on bioenergy in particular.
Our education program is integrating with and enhancing the research program through four strategies:
Immersive faculty and student exchanges,
Our cross-institutional graduate certificate program in Global Bioenergy Development Sustainability,
Our international, inter-university graduate course in Principles of Interdisciplinary Scientific Teamwork,
Production of international interdisciplinary PhD dissertations focused on Science, Engineering and Education for Sustainable Bioenergy.
By implementing these strategies, our team is creating a new sustainability research and education paradigm which:
Provides training in interdisciplinary research skills to develop future scientists, educators, and managers who understand complex global sustainability,
Enhances faculty and student proficiency in managing, studying, and communicating about global socio-ecological systems,
Creates, maintains, and enhances global linkages between professionals and students around the socio-ecological implications of biofuel development,
Builds skills and experience conducting international scientific research outside of country of residence.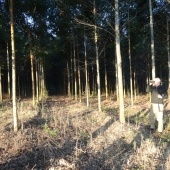 Intellectual Merit
This research is advancing sustainability science and understanding of impacts of Pan American forest-related bioenergy development on socio-ecological systems. It uses an in-depth case study approach to study bioenergy projects in Brazil, Canada, Uruguay, Mexico, Argentina, and the US. Data collection and analyses include:
Bioenergy- and ecosystem service-related cultural values, beliefs, and norms, and economic and sociological impacts,
On-the-ground bioenergy production-related ecosystem service impacts, including carbon storage, water quality and quantity, and biodiversity,
New sustainability science indicators and metrics using results from the socioeconomic and ecosystem service studies,
Bioenergy policy analysis tied to project ecosystem service and sustainability metrics.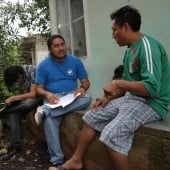 Broader Impacts
This project is training diverse students and faculty in international, interdisciplinary, sustainability science research and education, preparing them to study and manage complex global socio-ecological systems. It assists in policy improvement designed to increase local and national socioeconomic benefits, while reducing greenhouse gas emissions, increasing energy independence, enhancing socio-ecological resilience, and minimizing negative socio-ecological impacts.