Michigan ranks ninth nationwide in acres of forest cover. Emerging areas of Michigan's forest bioeconomy—from wood-based products, to tall wood buildings, and light-weighting cars—create exciting new ways to build on the state's sustainable resources, improving the quality of life for citizens with responsible use of renewable resources. The Michigan Forest Biomaterials Initiative is moving forward to innovate, build, and recycle.
Biomaterials are any organic materials extracted from ecosystems, green materials that include wood, mushrooms, edible berries, and plant sap in terrestrial ecosystems, and algae in aquatic ecosystems. From a life cycle perspective, we look at:
how to extract materials from ecosystems without compromising their integrity
how to process materials in a myriad of ways to fully utilize the resource
how to market them regionally, nationally, and globally
how to recycle green materials through the same or other materials, or back through ecosystems
Michigan Tech and the Michigan Society of American Foresters worked together in the fall 2013 to bring players from all aspects of the biomaterials life cycle together for the first Michigan Biomaterials Conference, which took place in Traverse City October 3-4, 2013. The conference, hosted by the Michigan Society of American Foresters (SAF), brought together various stakeholders from around the state to form the framework for a Michigan Biomaterials Initiative. Michigan Tech brought in delegations from the states of Maine, North Carolina, Virginia, and Oregon to share their successes in the biomaterials industry. The first goal of the conference was to identify barriers to biomaterials becoming a more significant part of the economic vitality and overall quality of life in the Michigan. Next, conference participants worked to define a biomaterials educational program (two-year, four-year, graduate, and continuing). Finally participants were charged with the task of identifying gaps in biomaterials research and technology.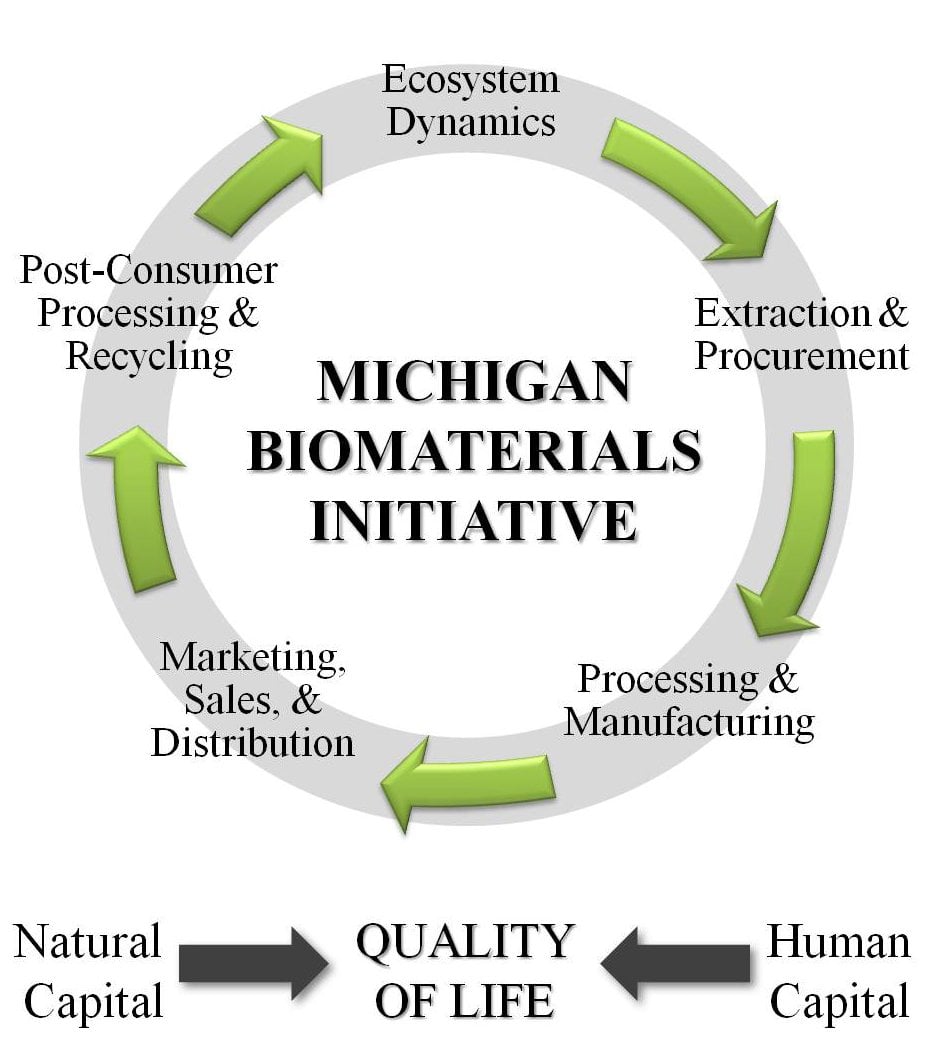 The Process
Next, we convened a statewide committee of all stakeholders with a vested interest in biomaterials to drill down on the major barriers to moving forward with biomaterials, and developed strategies for making gains. In March 2014, the Biomaterials Steering Committee met in Houghton, to draft a mission and vision for the Biomaterials Initiative. They identified critical issues using topical areas:
current and future biomaterial market trends
stability and potential for private lands to provide sustainable biomaterial sources
stability and potential for state and federal lands to provide sustainable biomaterials sources
health and integrity of biomaterials supply chains
policy issues related to biomaterials in Michigan
The Michigan Biomaterials Initiative Steering Committee (MiFBI) met again in September 2014 in East Lansing to draft a strategic plan, and continues to meet regularly.
In February 2017 MiFBI hosted the Michigan Forest Bioeconomy Conference on at Grand Valley State University in Grand Rapids. The conference focused on emerging areas of Michigan's forest bioeconomy – wood innovation, tall wood building construction and wood recycling.