Christopher R. Webster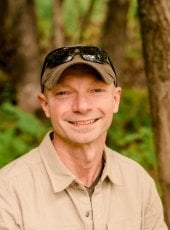 "Maintaining balance and stability in natural systems requires embracing their underlying chaos."
Contact
906-487-3618
Noblet Building 166
PhD, Forestry, University of Wisconsin
MS, Forest Science, Purdue University
BS, Wildlife Science, Purdue University
Quantitative Ecology
My research focuses on the interplay between disturbance, stability, and complexity in natural systems at local and landscape scales. While my approach to research is strongly field based, we also use a variety of techniques in my lab, such as tree-ring analysis, GIS, and statistical modeling, to assess questions at a variety of temporal and spatial scales.
Currently, we are working on a diverse array of projects including investigation of: landscape and stand level attributes that influence deer use of remnant hemlock stands in the Upper Peninsula of Michigan; trade-offs in productivity and diversity in forests and grasslands managed for biomass production; spatial patterning and heterogeneity in forest herbaceous plant communities; direct and indirect effects of herbivory on understory plant community structure and tree regeneration dynamics; and plant community response to disturbance in high-elevation spruce-fir forests. One of my main goals when mentoring students is to help them develop the quantitative skills necessary to successfully pursue their curiosity about the natural world.
Areas of Expertise
Gap dynamics and disturbance ecology
Invasion biology of exotic species
Landscape ecology
Plant community response to herbivory
Restoration silviculture
Wildlife habitat relationships
Janowiak, M.K., and C.R. Webster. 2010. Promoting ecological sustainability in woody biomass harvesting. Journal of Forestry 108(1):16-23. (featured on cover)
Stehn, S.E., C.R. Webster, J.M. Glime, and M.A. Jenkins. 2010. Elevational gradients of bryophyte diversity, life forms, and community assemblage in the southern Appalachians. Canadian Journal of Forest Research 40:2164-2174.
Stehn, S.E., C.R. Webster, J.M. Glime, and M.A. Jenkins. 2010. Ground-layer bryophyte communities of post-adelgid Picea-Abies forests. Southeastern Naturalist 9:435-452.
Powers, M.D, B.J. Palik, J.B. Bradford, S. Fraver, C.R. Webster. 2010. Thinning method and intensity influence long-term mortality trends in a red pine forest: implications for climate change mitigation. Forest Ecology and Management 260:1138-1148
Witt, J.C., and C.R. Webster. 2010. Regeneration dynamics in remnant Tsuga canadensis stands in the northern Lake States: potential direct and indirect effects of herbivory. Forest Ecology and Management 269:519-525
Holmes, S.A, and C.R. Webster. 2010. Acer saccharum response to concurrent disturbances: the importance of stem layering as an adaptive trait. Canadian Journal of Forest Research 40:1627-1635
Webster, C.R., D.J. Flaspohler, R.D. Jackson, T. Meehan, C. Gratton. 2010. Diversity, productivity and landscape-level effects of grasslands managed for biomass production. Biofuels 1(3):251-461.(invited)