Rodney A. Chimner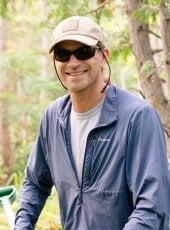 "We are what we imagine ourselves to be."
—Kurt Vonnegut, Jr
Contact
906-487-1464
Noblet Building 114
PhD, Ecology, Colorado State University
MS, Forest Hydrology, Michigan State University
BS, Earth Science, Northern Michigan University
AA, Philosophy, Kellogg Community College
Wetlands
Michigan Tech is superbly located in an area of high wetland abundance and diversity, facilitating both research and instruction. The proximity and diversity of wetlands is what allows the Wetlands class (FW4220) to spend three hours a week in the lab portion of the class getting dirty, wet and obtaining hands on experience. As an applied ecologist, I feel that the experiential learning is crucial to supplement traditional classroom learning.
My research areas focus on wetland ecosystem science, ecohydrology and wetland restoration. My main goal is to develop ecosystem knowledge of wetlands and use that knowledge to: 1) understand how they will be affected by climate change and other perturbations, 2) improve management and conservation of wetlands and 3) restore degraded wetlands.
Links of Interest
Areas of Expertise
Peatland and wetland restoration
Peatland and wetland carbon cycling
Mountain wetlands
Tropical peatlands
Ecosystem carbon cycling
Wetland ecohydrology
Recent Publications
Gallego-Sala, A. and others. 2018. Latitudinal limits to the predicted increase of the peatland carbon sink with warming. Nature Climate Change 8(10), p.907. https://doi.org/10.1038/s41558-018-0271-1.
Chimner, R.A., D.J. Cooper, M. Bidwell, A. Culpepper, Kay Zillich, Koren Nydick. A new method for restoring ditches in peatlands: ditch filling with fiber bales. 2018. Restoration Ecology. DOI: 10.1111/rec.12817.
Lilleskov, E., McCullough, K., Hergoualc'h, K., Castillo Torres, D., Chimner, R.A., Murdiyarso, D., Kolka, R., Bourgeau-Chavez, L., Hribljan, J., Aguila Pasquel, J., Wayson, C., Warren, M. 2018. Is Indonesian peatland loss a cautionary tale for Peru? A two-country comparison of the magnitude and causes of tropical peatland degradation. Mitigation and Adaptation Strategies for Global Change.DOI:10.1007/s11027-018-9790-3
Sánchez M.E., R.A. Chimner, J.A. Hribljan, E.A. Lilleskov, E. Suárez. 2017. Carbon dioxide and methane fluxes in grazed and ungrazed mountain peatlands in the Ecuadorian Andes. Mires and Peat. 19(20), 1-18; 10.19189/MaP.2017.OMB.277
Hribljan J.A.,E Suarez, L. Bourgeau-Chavez, S. Endres,E.A. Lilleskov, S. Chimbolema, C. Wayson, E. Serocki, R.A. Chimner. 2017. Multi-date, multi-sensor remote sensing reveals high density of carbon-rich mountain peatlands in the páramo of Ecuador. Global Change Biology. 23:5412–5425. DOI:10.1111/gcb.13807.
Hribljan*J.A.,E.S. Kane, and R.A. Chimner.2017. Implications of altered hydrology for substrate quality and trace gas production in a poor fen peatland. Soil Science Society of America Journal. DOI:10.2136/sssaj2016.10.0322.
Comas X, N. Terry, J.A. Hribljan, E.A. Lilleskov, E. Suarez, R.A. Chimner, and R.K. Kolka. 2017. Estimating belowground carbon stocks in peatlands of the Ecuadorian páramo using ground penetrating radar (GPR). Journal of Geophysical Research – Biogeosciences.DOI: 10.1002/2016JG003550.
Chimner, R.A.,T.G. Pypker, J.A. Hribljan*, P.A. Moore and J.M. Waddington. 2017. Multi-decadal changes in water table levels alter peatland carbon cycling. Ecosystems 20:1042–1057. DOI:10.1007/s10021-016-0092-x.
Chimner, R.A.,D.J. Cooper, F.C. Wurster, L. Rochefort. 2017. An overview of peatland restoration in North America, where are we after 25 years. Restoration Ecology 25:283-292. DOI: 10.1111/rec.12434.
Ott*, C.A. and R.A. Chimner.Long Term Peat Accumulation in Temperate Forested Peatlands (Thuja occidentalis Swamps) in the Great Lakes Region.2016. Mires and Peat 18: Art. 01.; 10.19189/MaP.2015.OMB.182.
Hribljan J.A. E. Suarez, K. Heckman, E.A. Lilleskov, and R.A. Chimner.2016. Peatland Carbon Stocks and Accumulation Rates in the Ecuadorian Páramo. Wetland Ecology and Management 24: 113-127.
Recent Funding
Resh, S.C. (PI), T. Ball, R.A. Chimner, J. Schmierer, A. Storer, C.R. Webster. 2018-2020. Tree Planting for EAB mitigation on community trails. USDA-FS and Great Lakes Restoration Initiative. $100,000.
Chimner, R.A. 2018-2021.Cedar Reclamation on CSA's in Northern Michigan. Carmeuse Lime and Stone. $249,159.
Dewi. S. (Kolka R. and Chimner R.A.USG Sponsors) 2017-2020. Developing Biodiverse Agroforests on Rewetted Peatlands in Indonesia. Partnerships for Enhanced Engagement in Research (PEER). $300,000.
E.S. Kane and R.A. Chimner. 2017-2021. Peat Accumulation Rates in Lake States Forested Wetlands. USDA Forest Service Hiawatha National Forest.$30,028.
Chimner, R.A. Collaboration for Research and Capacity Building in Wetland Carbon Cycling in Tropical Ecosystems. 2017-2021. US Department of Agriculture, Forest Service. $120,474.
Bowser, G., A.B. Taber, K.R. Young, R.B. Boone, and R.A. Chimner. 2016-2021. CNH-S: Andes Bofedales and Cattle: The Impacts of Changing Hydrology and Glacial Retreat on Community Livelihoods in Peru's Cordillera Blanca. $499,992 ($65,921 to MTU).
Chimner, R.A., J. Bess, C. Webster, P. Toczydlowski, E. McDonald. 2016-2017. Developing a restoration plan for Point Abbaye Wetland, Baraga County, Michigan. Fish and Wildlife Service Region 3, Coastal Program. $45,000.