Rodney A. Chimner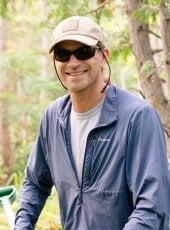 "We are what we imagine ourselves to be."
—Kurt Vonnegut, Jr
Contact
906-487-1464
Noblet Building 114
PhD, Ecology, Colorado State University
MS, Forest Hydrology, Michigan State University
BS, Earth Science, Northern Michigan University
AA, Philosophy, Kellogg Community College
Wetlands
Michigan Tech is superbly located in an area of high wetland abundance and diversity, facilitating both research and instruction. The proximity and diversity of wetlands is what allows the Wetlands class (FW4220) to spend three hours a week in the lab portion of the class getting dirty, wet and obtaining hands on experience. As an applied ecologist, I feel that the experiential learning is crucial to supplement traditional classroom learning.
My research areas focus on wetland ecosystem science, ecohydrology and wetland restoration. My main goal is to develop ecosystem knowledge of wetlands and use that knowledge to: 1) understand how they will be affected by climate change and other perturbations, 2) improve management and conservation of wetlands and 3) restore degraded wetlands.
Links of Interest
Areas of Expertise
Peatland and wetland restoration
Peatland and wetland carbon cycling
Mountain wetlands
Tropical peatlands
Ecosystem carbon cycling
Wetland ecohydrology
Chimner, R.A. Sidebar 7.2: Cedar Swamp Restoration in Northern White-Cedar, The Tree of Life, by Gerald L. Storm and Laura S. Kenefic. In Press. Wednesday, May 27, 2020
Kolka, R., C. Trettin, W. Tang, K. Krauss, S. Bansal, J. Drexler, K. Wickland, R. Chimner, D. Hogan, E. J. Pindilli, B. Benscoter, B. Tangen, E. Kane, S. Bridgham, and C. Richardson, 2018: Chapter 13: Terrestrial wetlands. In Second State of the Carbon Cycle Report (SOCCR2): A Sustained Assessment Report [Cavallaro, N., G. Shrestha, R. Birdsey, M. A. Mayes, R. G. Najjar, S. C. Reed, P. Romero-Lankao, and Z. Zhu (eds.)]. U.S. Global Change Research Program, Washington, DC, USA, pp. 507-567, https://doi.org/10.7930/ SOCCR2. 2018. Ch13.
Bourgeau‐Chavez, L.L., Endres, S.L., Graham, J.A., Hribljan, J.A., Chimner, R.A., Lilleskov, E.A., Battaglia, M.J. 2017. Mapping peatlands in boreal and tropical ecoregions. Chapter in: Comprehensive Remote Sensing, Elsevier.
Hribljan, J.A. and Chimner, R.A. Mountain peatland formation and carbon cycling in the tropical Andes. Chapter in: Bofedales Alto-Andinoa de Bolivia, The Nature Conservancy, in press.
Wickland K.P. Krusche A.V. (Coordinating Lead Authors), Kolka R.K., Kishimoto-Mo A.W., Chimner R.A. and Serengil Y. (Lead-authors), Ogle S. and Srivastava N. (Contributing Authors) of the IPCC Chapter 5 "Inland Wetland Mineral Soils" for the IPCC 2013 Supplement to the 2006 IPCC Guidelines for National Greenhouse Gas Inventories: Wetlands. Hiraishi, T., Krug, T., Tanabe, K., Srivastava, N., Baasansuren, J., Fukuda, M., and Troxler, T.G. (eds). 2014. Published: IPCC, Switzerland. 354 pp.
Cooper D.J., R.A. Chimner, and D.M. Merritt. 2012. Western Mountain Wetlands. In: Wetland Habitats of North America: Ecology and Conservation Concerns (eds: Batzer D. and Baldwin A.). University of California Press.
Chimner, R.A. and D.J. Cooper. 2011. Fens of the San Juan Mountains. In the Eastern San Juan Mountains, Colorado: Geology, Ecology, and Human History. Edited by Rob Blair.
Resh, S.C. (PI), T. Ball, R.A. Chimner, J. Schmierer, A. Storer, C.R. Webster. 2018-2020. Tree Planting for EAB mitigation on community trails. USDA-FS and Great Lakes Restoration Initiative. $100,000.
Chimner, R.A. 2018-2021.Cedar Reclamation on CSA's in Northern Michigan. Carmeuse Lime and Stone. $249,159.
Dewi. S. (Kolka R. and Chimner R.A.USG Sponsors) 2017-2020. Developing Biodiverse Agroforests on Rewetted Peatlands in Indonesia. Partnerships for Enhanced Engagement in Research (PEER). $300,000.
E.S. Kane and R.A. Chimner. 2017-2021. Peat Accumulation Rates in Lake States Forested Wetlands. USDA Forest Service Hiawatha National Forest.$30,028.
Chimner, R.A. Collaboration for Research and Capacity Building in Wetland Carbon Cycling in Tropical Ecosystems. 2017-2021. US Department of Agriculture, Forest Service. $120,474.
Bowser, G., A.B. Taber, K.R. Young, R.B. Boone, and R.A. Chimner. 2016-2021. CNH-S: Andes Bofedales and Cattle: The Impacts of Changing Hydrology and Glacial Retreat on Community Livelihoods in Peru's Cordillera Blanca. $499,992 ($65,921 to MTU).
Chimner, R.A., J. Bess, C. Webster, P. Toczydlowski, E. McDonald. 2016-2017. Developing a restoration plan for Point Abbaye Wetland, Baraga County, Michigan. Fish and Wildlife Service Region 3, Coastal Program. $45,000.