Alumni
ECE Academy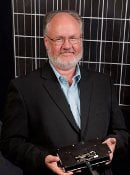 Ron Van Dell '79
Alumni spotlight | A new way to harvest solar energy "A lot of people think of solar panels as being all there is to solar," says Ron Van Dell, President and CEO of Austin-based SolarBridge Technologies. "They tend to think if panels were cheaper, then solar would be affordable. But, with the price of solar panels falling fast, what used to be the dominant cost . . .
Alumni News
---
Follow Us
Kristin Tolentino
'01
Alumna finds her dream and her niche. When she was but a youngster, Kristin Nelson Tolentino, of Ashland, Wisconsin, had a dream of working at Disneyland. So where does this 2001 alumna, age thirty, work these days? At Disneyland, of course. "I'm sort of amazed by it," she says.
Charles Putnam
'50
Mr. Putnam began his career at Clark Controller Company in 1950. He attended Cleveland-Marshall Law School evenings and earned a J.D. law degree in 1955 becoming General and Patent Counsel for the Clark Controller Company. In 1963, Charlie began his career with Whirlpool Corporation as a Patent Attorney. After holding several key executive positions, he was elected to the position of Executive Vice President of Administration . . .
Derek Chapel
'05
Why did you choose Michigan Tech? Michigan Tech has a well-deserved reputation for being a great engineering school. I wanted to become an engineer, and growing up in Northern Michigan I am the type of person who is used to winter weather and likes to do things outdoors. I decided Tech was a great place for me to go and get away from home, yet still get in-state tuition, and be able to do lots of outdoor activities . . .
Alumni Links
Take pride as a member of the Michigan Tech alumni family with over 70,000 members living and working in more than 100 nations around the world!
The Alumni reunion is a wonderful time to reunite with classmates and reminisce about your time at Michigan Tech.
Take advantage of continuing education and career planning and assistance, or even get help finding a job.
Being an alumnus of Michigan Tech has advantages other than a world-class education.
Chances are we are one of your favorite networks. Let's share.
Stay current with department news and research.
What You Can Do
Your experience and knowledge is incalculable. Share it with a student or recent graduate.
Update your Information: where has your education led you?
Volunteering is a great way to give back to your alma mater while helping future and current young alumni.
Enjoy alumni events in your local area.
Be a part of MyMichiganTech and discover your network. Find old friends in the directory, plan an alumni event, review classifieds, and get the latest alumni news.
We appreciate your gift no matter the size.