Jenna Burns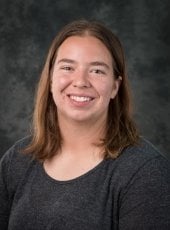 BS Electrical Engineering 2017
MS Business Administration 2018
Why did you choose Michigan Tech?
I knew I wanted to go to engineering, so that really focused the schools I looked at. Then I looked into the activities I could do. At Tech I was able to be on the Track and Field team and be in the Huskies' Pep Band. And that finalized it for me, a good education and two of the activities I wanted to continue.
Tell us about a memorable experience you had with a class or about a favorite professor.
In Electromagnetism my third year we had to write a story that involved electromagnetism in nature. I wrote a fictional story about a young Viking boy that used a sun stone to navigate. Sun stones are thought to be used by the Vikings and it's something I had never heard of. Jeremy Bos was the professor, and it was a super interesting assignment. He found a way to make a pretty difficult subject a lot more intriguing.
Now, how about a memorable experience outside of class?
I can think of two memorable experiences. As a member of the pep band, you get a lot of opportunities to cheer on our teams at tournaments. When the hockey team made the NCAA tournament, we were able to travel to Cincinnati to play at the games. It was so much fun traveling with some of my favorite people and being able to play on a pretty big stage. Then traveling to every meet for track was an adventure in itself. I really cherish the relationships I was able to build with my teammates, and I consider them my family after all of our seasons together. But my second year, I was lucky enough to travel to some of the bigger meets. At Gina Relays, I broke the school record for shot put. I really wasn't expecting it, and I was thrilled. It was such an awesome meet, and I got to celebrate with all my teammates. After that meet, every time I PRed it was a new record and that was an awesome feeling. Though I wasn't able to improve too much on that distance my final year because of an ACL tear, I'm very happy about all the lessons I've learned through track over the years.
How well did Michigan Tech prepare you for your career?
It prepared me really well for my career. We work in a lot of teams at my current job, and all the team projects really helped me learn how to work with different types of people. Also, Tech gave me an incredible knowledge base that I can build off of and continue to grow in my career. Lastly, going through such a challenging curriculum, I learned how to learn and push myself to be a better engineer.
What was your first job after graduation and how has your career progressed?
I just finished my MBA this past summer (2018), so I haven't been in the real world very long. I interned with Dematic for three years and then came on full-time this past May while I finished up my MBA. Dematic designs and implements supply chain logistics and material handling systems. It's a lot of conveyor belt and sorter systems in warehouses. I'm a controls engineer and I work on programming the system and the hardware design.
Tell us about a few of your career highlights and notable achievements.
A highlight of my career thus far is just seeing a project from start to finish. It's really awesome to see how your drawings turn into conveyor in real life and then watch it run.
Please tell us why you share your time, talent, and treasure to support Michigan Tech students and/or alumni or volunteer in your community.
There's a lot of places that have impacted me throughout my life and I just want others to have similar or even better experiences than I had. Track and Pep Band gave me a lot of life experiences, and I want the next round of students to have similar experiences and can grow as well. It's really cool to see how you can impact others.
What advice on being successful would you give to Tech students and young alumni?
Push yourself. Don't just settle into something that's easy. You won't learn much that way. Take a challenging class or two. Or take a training class at work to broaden your horizon and get new responsibilities.
Would you share your philosophy of life?
Just be yourself. You know yourself best and continue to grow and learn.
Updated 3/12/19